Taiwan: Six Thousand Practitioners Line Up to Form Gigantic Image - A Spectacular Sight Forbidden in Mainland China
November 28, 2013 | By Minghui correspondent Huang Yusheng in Tainan, Taiwan
(Minghui.org) A spectacular sight, not seen in Mainland China since the persecution began, is flourishing in Taiwan.
This year, prior to the annual Taiwan Falun Dafa Cultivation Experience Sharing Conference, nearly 7,000 practitioners from eight countries and across Taiwan held a character and image formation activity on the square in front of the Tainan City Government on November 23, 2013.
More than 6,000 practitioners gathered to participate in the activity and perform the Falun Gong exercises. The scene was magnificent, spectacular and orderly, demonstrating the peacefulness and beauty of Falun Dafa.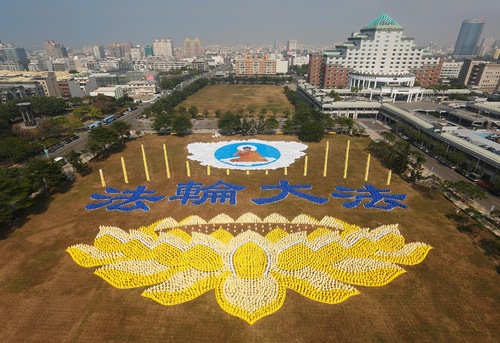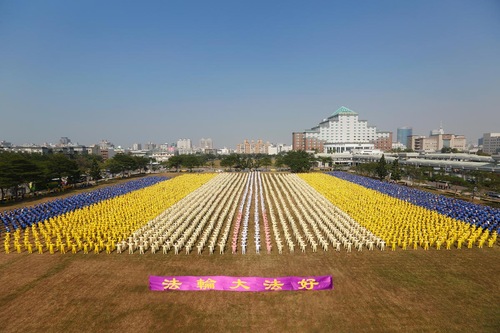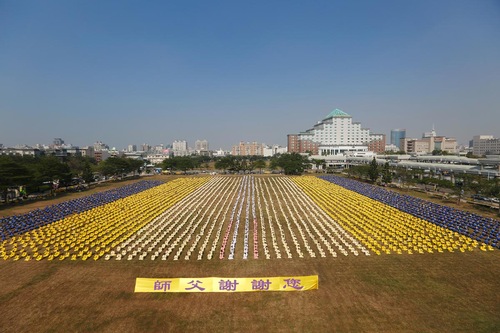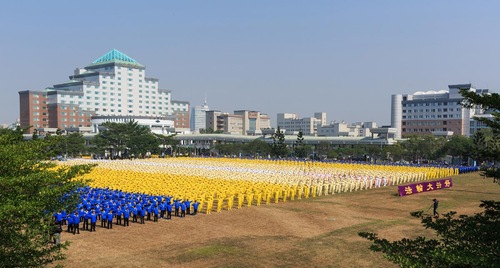 More than 6,000 practitioners held a large-scale group practice and formed images at the square in front of the Tainan City Government.
Demonstrating Dafa's Spread around the World and Expressing Gratitude to the Founder of Falun Gong
Mr. Wu Ching-Hsiang, who has designed the formation of Chinese characters and images for Falun Dafa activities for many years, said that Falun Dafa has been embraced by people in more than 100 countries and regions. He hopes to manifest the grand occasion of Dafa's growth around the world through his designs.
Mr. Wu said, "This year we've formed four huge Chinese characters which read 'Falun Dafa,' with 15 rays of light behind the characters. Master Li's image is at the top. With Lord Buddha's blessing, Buddha's light illuminates everywhere. The brilliant light of Dafa shines all over the world. Below the Chinese characters is a lotus formation with the lotus seedpod in the middle of 29 petals. This makes the entire lotus flower look quite three-dimensional. It symbolizes that the lotus root has matured and the Fa has been rectified."
Mr. Wu began practicing Falun Gong in 1995. He said that after he took up the practice he no longer felt puzzled about life and is now healthy, both physically and mentally. He is very grateful to Mr. Li Hongzhi and hopes that people will cherish the opportunity to learn about Falun Dafa and perhaps even begin practicing.
Huang Chunmei, vice chairperson of the Taiwan Falun Dafa Association, said that Taiwan has the largest number of practitioners outside mainland China, and is capable of holding large-scale word or character formation activities that were once popular in China. She said that the image formation is an expression of gratitude from practitioners to Master Li, and demonstrates the wide dissemination and wonderfulness of Falun Dafa.
A Stark Contrast Between Mainland China and Taiwan
Large-scale assemblies of Falun Gong practitioners and character and image formation used to be common in China prior to 1999, the year the persecution began. At that time, more than 100 million people in China practiced Falun Gong and benefited from the practice both physically and mentally, which saved the country a lot of medical expenses. Moreover, since practitioners follow the principles of Falun Dafa – Truthfulness, Compassion and Forbearance – to be better people, they had a significant impact on upgrading social morality.
However, the Chinese Communist regime started persecuting Falun Gong in 1999 out of the fear of Falun Gong's popularity. Since then, practitioners have been subjected to brutal persecution. As of today, at least 3,733 practitioners have died as a result of persecution, and countless practitioners have been put in forced labor camps or prisons where they have been subjected to torture. Many have even had their organs harvested when they were still alive.
Despite the severe, genocidal persecution in mainland China, Falun Gong is thriving in Taiwan. Since Falun Gong was introduced to Taiwan in April 1995, people from all walks of life have taken up the practice. Over one thousand practice sites can be found in over three hundred townships and towns across Taiwan.
Taiwanese practitioners have held large-scale group practice and word or character and image formation activities on many festive occasions. Besides expressing practitioners' gratitude for revered Master's public introduction of Falun Dafa, they also hope to further raise awareness about the persecution and call on people to help end it as soon as possible.
City Councilor: Tainan City Government and City Council Wholeheartedly Support Falun Gong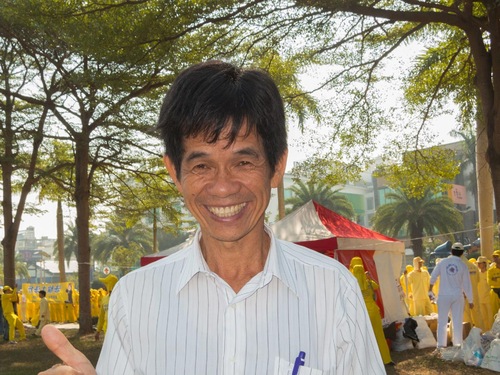 Mr. Lee Wen-cheng calls on every Taiwanese to pay attention to and stop the Chinese Communist regime's persecution of Falun Gong
Tainan City Councilor Mr. Lee Wen-cheng (李文正) was impressed by the spectacular scene of the practitioners' image formation. He said it shows that Falun Dafa is recognized and supported by people in Taiwan and around the world. He feels that it's inconceivable that such a good practice, which has been so beneficial to people's physical and mental health, has been subjected to such severe persecution in mainland China.
Mr. Lee said, "I hope people in every corner of Taiwan will pay more attention to Falun Gong. The Chinese regime must stop the persecution immediately; otherwise it will be condemned by all countries and punished by heaven."
Falun Gong Is the Hope for China's Future
Mr. Huang Nan-jung, who is in charge of the Guangyuan Biochemical Technology Co., Ltd., made a special trip with his practitioner friend from Yunlin to attend the image forming activity. He said he admires Falun Gong's Master, because he has been working so hard to enable such a large group of people to uplift their minds and bodies through cultivation, and has made tremendous contributions to society.
Mr. Huang Nan-jung
Mr. Huang believes that Falun Gong is the hope for China in the future, because in a society where morality has declined to such an extent, it is important to have people who have cultivated in such a positive practice and who strive to improve themselves physically, mentally and spiritually.
Ms. Zhou came with her parents to participate in the activity. She was impressed by the peaceful and orderly scene involving such a large number of people. She has witnessed her parents' improvement physically and mentally after they began practicing. She also saw practitioners talk to Mainland Chinese visitors at tourist attractions about the persecution of Falun Gong. Ms. Zhou believes that everyone has the right to speak out about injustice. She said she would tell people what she has learned about Falun Gong.
Ms. Zhang, who was married in Taiwan ten years ago, described her feelings upon seeing the magnificent word formation, calling it, "Uplifting."
She said she had read the slanderous reports on Falun Gong when she was in China. However, her husband's younger sister suffered from a serious illness and she recovered after practicing Falun Gong. Ms. Zhang saw for herself the contrast between the lies of the Chinese regime and the goodness of Falun Gong, so she began listening to the audio tapes of Master Li's lectures and watching the exercise instruction video a month ago. She gained a deeper understanding of the practice and feels that Falun Gong is great.
"I'm so fortunate," Ms. Zhang said. She added that she was sad that many residents in her hometown had not learned the truth about Falun Gong.
To find an earlier report on large-scale group practice and large-scale word, character or image formation activities in Taiwan, please read: Taiwan: Large-Scale Group Practice and Word-Formation Activities (Photos)