"The Global Gender-Based Violence Threat" U.S. Congressional Hearing Includes Falun Gong Practitioners' Testimonies in Official Records
(Minghui.org) "The Global Gender-Based Violence Threat" hearing in the U.S. Congress was held at the Rayburn House Office Buildings on November 20, 2013. This hearing, hosted by the Congressional Tom Lantos Human Rights Commission, included testimonies of two Falun Gong practitioners in its official hearing record. The practitioners are Ms. Ma Chunmei, victimized in Northeast China, and Ms. Wang Chunying, victimized at the notorious Masanjia Labor Camp in China.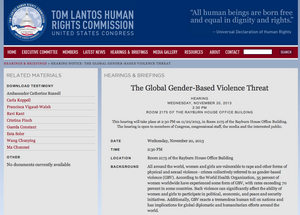 Screenshot of the web page of the official records for "the Global Gender-Based Violence Threat" congressional hearing. Ms. Ma Chunmei and Ms. Wang Chunying's names appear on the left panel. Clicking their names on the website open the PDF versions of their testimonies.
According to the official hearing web page: "This hearing will explore the range of threats that women and girls face around the world. It will also examine the extent to which U.S. development and humanitarian assistance programs address the specific needs of gender-based violence (GBV) survivors in emergency, post–emergency, and development environments."
GBV is physical and sexual violence specifically targeting women and girls. The hearing was attended by Catherine Russell, Ambassador-at-Large for Global Women's Issues, Department of State, and Carla Koppell, Chief Strategy Officer, USAID (Former Senior Coordinator for Gender Equality and Women's Empowerment), and representatives from many non-government organizations (NGO).
In her written testimony, Ms. Ma Chunmei describes the tortures she endured at the Heizuizi Labor Camp in Changchun City, Jilin Province:
"I was deprived of visitation from my family members. I was not given any change of clothes nor many opportunities to wash myself or my clothes.
"Lice and scabies made my entire body itchy and inflamed. Co-opted prisoners kept me under constant monitoring. Every aspect of life in the camp was torture, so one day I stood up in the dining hall and exposed these crimes to the 700 or 800 people there.
"A group of guards tackled me, covered my mouth, and dragged me away. The pain and fear were too much, and I began banging my head against the wall in order to knock myself out. They dragged me up two flights of stairs and hung me up by handcuffs. After I regained consciousness, the guards cuffed me onto a metal bed frame spread eagle for three full days. I was provided no food or water."
Ms. Ma's husband was forced to divorce her during her imprisonment in 2003.
Ms. Wang Chunying's testimony reveals a blood test at the Masanjia Labor Camp on the afternoon of May 12, 2008. Ms. Wang was one of over 200 Falun Gong practitioners detained there who had their blood forcefully drawn. As a registered nurse, Wang knew that to test the functions of the liver and kidneys, only 2 ml of blood is necessary. Yet she had 5 ml of blood drawn from her. She suspected that Masanjia was involved in covert operations, such as getting detainees ready for tissue matching for forced organ harvesting.
The Minghui web site has documented forced abortions, miscarriages as a result of severe beatings, sexual abuse and rape, and many other cases of GBV in the persecution of Falun Gong in China. (See " Brutal Persecution Suffered by Female Falun Gong Practitioners in China ")