Northern India: "Everybody in Ladakh Knows that Falun Dafa Is Good"
November 25, 2013 | By a Dafa practitioner from India
(Minghui.org) On a recent annual visit to Ladakh, a mountainous region in northern India, a practitioner was warmly welcomed by the locals and pleasantly surprised to see that all of her efforts over the years to raise awareness about Falun Dafa had borne fruit.
Several informational displays set on the Main Street (Bazaar) in Leh Town allowed people to learn about Falun Dafa and the ongoing persecution in China. People not only from Leh, but also from near and far-away villages, as well as tourists from other parts of India and abroad, have learned about Dafa there. Many people expressed deep concern about the atrocities happening in China.
Widespread Support
Most people eagerly took the informational materials to share with their families, neighbors, colleagues, and friends back home. In this way, as tourists and locals came and went, Falun Dafa has reached countless people for thousands of miles beyond Ladakh.
Many schoolchildren who passed by the displays viewed the posters attentively and requested the practitioner to visit their schools. Falun Dafa stickers and posters that the practitioner had given out in previous years could still be seen in many places, and more were put up this year.
School Teachers and Students Eager to Learn about Falun Dafa
The practitioner visited 15 schools this year, including one in Leh and others in nearby villages. She had previously introduced Falun Dafa in 5 of these schools. Now, she was welcomed there with joyful greetings of "Falun Dafa is good" or "Falun Dafa Hao" (in Chinese).
Children from around 3 to 17 years of age got a chance to learn about Falun Dafa during these visits. Most of the kids were very enthusiastic about the practice, and many teachers also participated in learning the exercises.
Most of the kids and teachers in the area are local Ladakhis and Tibetans. Many come from nomadic families. They are of different faiths and include Buddhists, Muslim, Hindus, Christians, and Sikhs.
The practitioner introduced Falun Dafa in several morning assemblies and teachers' meetings. She also discussed the persecution currently ongoing in China. After that, the children, as well as their teachers, had the opportunity to learn the five exercises of Falun Dafa.
Children, teachers and principals all requested the practitioner to return again next year.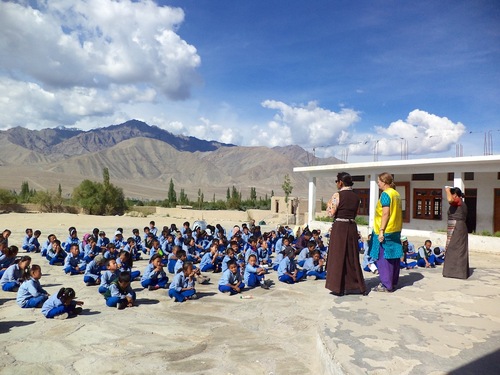 At the morning assembly, the children learn about Falun Dafa.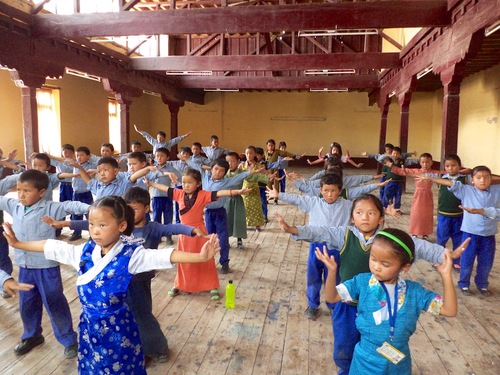 Children do the first exercise.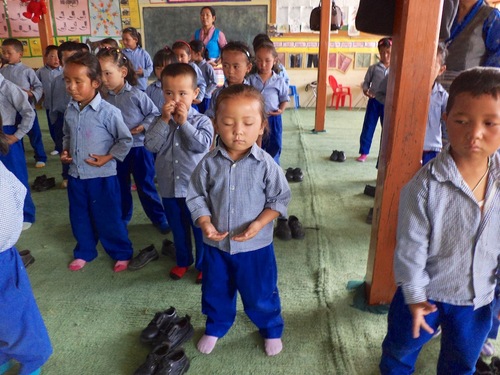 Children do the second exercise.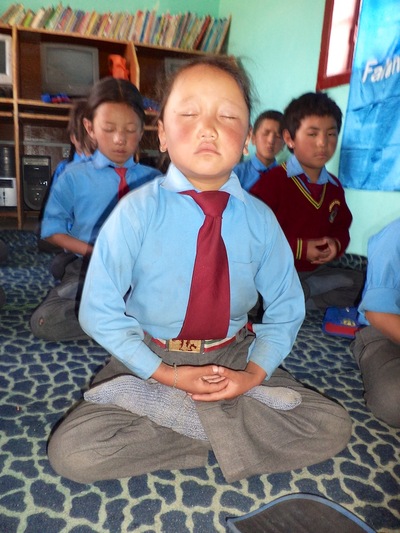 A Ladakhi schoolgirl does the sitting meditation.
Although the weather had been unusually hot in Ladakh this year, the children managed to do all five exercises. Any of their discomfort often mysteriously disappeared after doing the meditation. It was heartening to see the children sit in a calm meditative state.
Children in many schools loved singing "Falun Dafa Hao," and some wrote down the words to the song to sing to their relatives and friends.
The principal of the Leh school, which has branches in more remote areas of Ladakh, took the initiative to distribute Falun Dafa informational materials to these far-away schools, so that more people could learn about Dafa.
In another school, the librarian has been giving these materials to children for years. She always reminds the children to remember that Truthfulness-Compassion-Forbearance is good and Falun Dafa is good.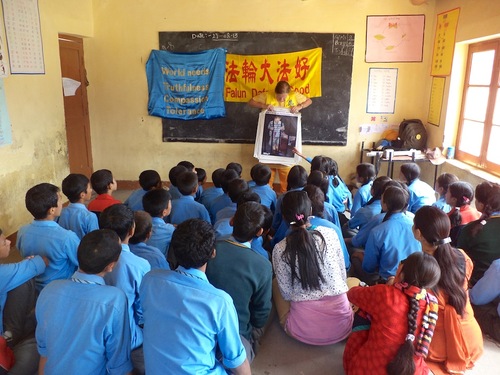 Children look at the posters with the words" Truth-Compassion-Forbearance."
Beautiful paper lotus flowers and colorful stickers were put in classrooms for all of the children to see. Many teachers said that they would continuously remind the children of the importance of practicing truthfulness, compassion and forbearance in school and at home.
The children watched with great interest short video clips and photos featuring the Divine Land Marching Band (composed of Falun Dafa practitioners), as well as clips showing practitioners doing the exercises as a group.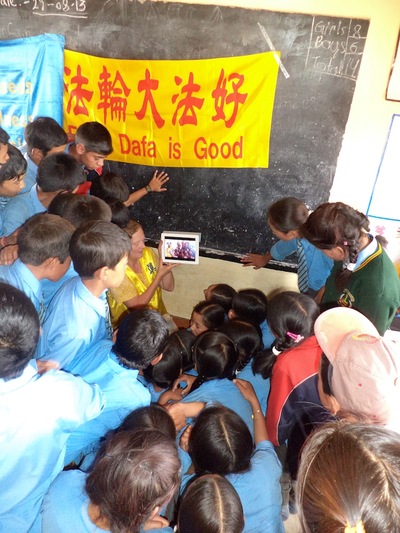 Children look at video clips and photos of Dafa practitioners on an iPad.
The practitioner also showed posters featuring the artwork of practitioners around the world, which depicted the trying circumstances practitioners in China have faced amidst the persecution. The children were visibly moved by this display and came to know that in spite of difficult circumstances, there is always hope and courage to be had, and that one can endure sorrow without anger or hatred, as expressed in the paintings.
Falun Dafa Welcomed Everywhere
Not only in schools, but also in many offices, hospital and health centers and government institutions, political leaders and concerned citizens were happy to receive updated informational materials about Falun Dafa. Many took extra copies to distribute among their colleagues, families, and friends.
People everywhere continued to express shock and concern about the ongoing persecution in China, and the Chinese regime's atrocious crime of organ harvesting from living Falun Dafa practitioners.
Every year the practitioner is touched by the simple, heartfelt reactions of these simple folk with pure hearts.
Three girls in one school thanked the practitioner from the bottom of their hearts for introducing Falun Dafa to them. Out of gratitude, they wanted to contribute to Falun Dafa by offering 10 Rupees each. Of course, the practitioner did not accept their money, but their sincere gesture moved her.
Two schoolboys passed by the informational display on the Main Street and said that they would always remember Falun Dafa and try to put the principles of Truthfulness-Compassion-Forbearance to practice in their lives.
A Tibetan working in another school said that he had practiced Falun Dafa in Tibet before the persecution began. He spoke highly of the practice.
When the practitioner walked into a police station, which she visits every year to distribute informational materials, she was greeted loudly with, "Falun Dafa is Good!" Soon, someone chimed in, "Everybody in Ladakh knows that Falun Dafa is good!"