Taiwan: Practitioners' Elegant Performances Shine at Dong Hwa University Celebration (Photos)
November 25, 2013 | By a practitioner in Hualien, Taiwan
(Minghui.org) National Dong Hwa University is the first comprehensive university in eastern Taiwan. The institution celebrated the anniversary of its founding on November 11, 2013, and campus-based Falun Dafa Society was glad to participate in the event.
Dafa practitioners' elegant demeanor in the parade added to the brilliance of the celebration, letting the students, faculty and staff gain a deeper appreciation of the peacefulness and beauty of the Falun Dafa spiritual meditation practice.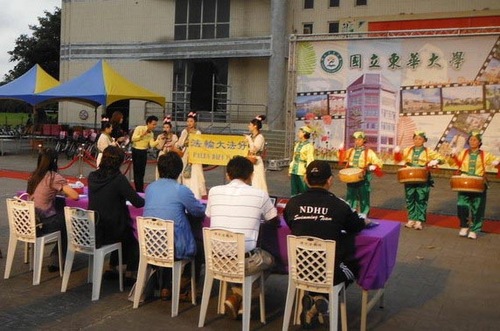 Practitioners introduce Falun Dafa.
Professor Maw-Kuen Wu, President of Dong Hwa University, has his photo taken with Dafa practitioners.
Practitioners are frequently invited to participate in all kinds of community events and festival celebrations in Taiwan, where Falun Dafa is highly regarded for benefiting society and representing traditional Chinese culture.
For the parade held by Dong Hwa University, some practitioners from Hualien County dressed in golden costumes to demonstrate the Dafa exercises, while others donned celestial maiden costumes to showcase traditional Chinese culture. The group also gave a musical performance on Tang Drums.
Practitioners' performances were warmly received by the audience, with some people commenting that they were the highlight of the entire parade.
One student said enthusiastically, "The Falun Dafa Society is the most outstanding in the parade procession!"