Falun Gong Practitioner Hit With Baseball Bat Now in Critical Condition
November 02, 2013 | By a Minghui correspondent from Shandong Province, China
(Minghui.org)
Summary of Key Facts:
Name: Yang Naijian(杨乃健) Gender: Male Age: 32 Address: Xinvgushan Village, Chengyang District, Qingdao City(青岛城阳区西女姑山村) Occupation: Farmer Date of Most Recent Arrest: May 2, 2013 Most Recent Place of Detention : Jimo East Cape Detention Center(青岛即墨普东看守所) City: Qingdao Province: Shandong Persecution Suffered: Detention, interrogation by torture , chest hit with baseball bat, hanging up by handcuffs, sleep deprivation, handcuffed and shackled, brutal beatings
Falun Gong practitioner Mr. Yang Naijian from Qingdao City was arrested on May 2, 2013, and incarcerated in the Jimo East Cape Detention Center. Guards at this center have tortured him in an attempt to extort a confession from him.
He is now in critical condition and near death. The guards have repeatedly used violence against him and concocted so-called "evidence" to try to coerce him to admit that he has done bad things, which he has not. They did this in an attempt to impress their bosses.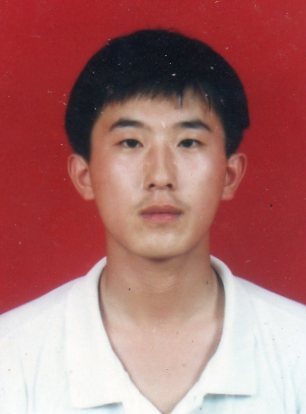 Mr. Yang Naijian
According to insiders, Mr. Yang has lost over 40 pounds within just a few months as a result of being tortured. Formerly a healthy young man, he is now emaciated and has lost consciousness several times. He suffers from heart and chest pain, shortness of breath, abdominal pain, and has blood in his stool. He feels cold even in warm weather.
Litany of Abuses
The guards have looked for ways to intensify his abuse and have used extreme violence, deception, threats, and intimidation in order to force him to renounce his faith in Falun Gong.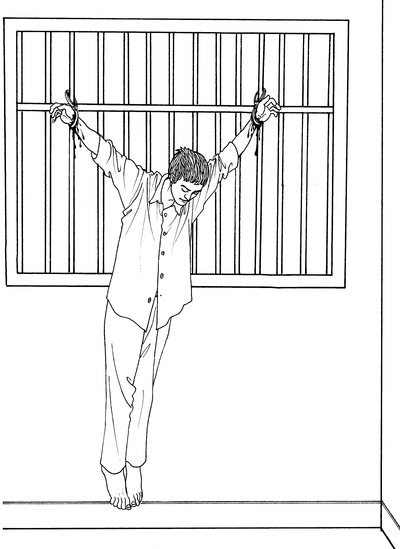 Torture reenactment: Hanging up
Once, Mr. Yang was verbally abused non-stop for three days and nights while he was handcuffed and shackled.
Another time, the guards attempted to fabricate evidence to frame him for a "case" that involved the persecution of Falun Gong practitioners in 2008. When Mr. Yang refused to cooperate with them, the guards handcuffed him and hung him up from the window bars for another three days and nights. They also warned him not to tell anyone about how he had been tortured.
Since he had blood in his stool, they took him to Chengyang Hospital and attempted to force the doctor to write a note stating that he had "hemorrhoids." The doctor examined Mr. Yang and didn't think he had hemorrhoids, so he recommended further lab tests. The guards refused to accept his recommendation.
One day one of the guards told Mr. Yang, "I don't care if you are made of iron or steel, but you have to open your mouth today." He then pounded his chest with a baseball bat. Afterward, Mr. Yang had chest and heart pain and difficulty breathing. When the guard noticed that he did not respond, he got scared and checked his pulse to see if he was still alive. Mr. Yang has suffered from chronic pain ever since.
Mr. Yang was tortured by different guards on duty for quite some time, but he always remained silent. Subsequently, he went on a hunger strike in order to protest his maltreatment. In the end, the guards ran out of tricks and dragged him back to the cell.
100 Police Officers Arrest Six Practitioners
On May 2, 2013, the Qingdao Municipal Public Security Bureau mobilized nearly 100 police officers to surround and arrest practitioners Mr. Yang; Mr. Yang's mother, Ms. Liu Xiuzhen; Lu Xueqin; Yuan Shaohua; Cui Luning; and Li Hao. The police charged them with "using a cult organization to undermine law enforcement."
On June 4, the Chinese television station CCTV, Xinhua.net, and other official government media declared that the Qingdao Public Security Bureau had "cracked" a case that involved Falun Gong practitioners who reenacted methods of torture used in prisons in China.
Charged with "Subversion"
Shortly after, the local police received orders to change the charge brought against the practitioners to "incite subversion of state power," a more serious charge. The police ordered the families of these practitioners to sign the indictments.
Practitioners use reenactment photos to demonstrate the almost unthinkable cruelty that takes place in the Chinese communist regime's prisons, forced labor camps, brainwashing centers, and detention centers. Because this regime is a threat to all Chinese citizens, exposing its wickedness will serve to protect the rights of all.
The Qingdao 610 Office, the Public Security Bureau, the Domestic Security Division, and the guards in the detention center have subjected practitioners to torture to try to extort confessions from them, despite the fact that the Chinese communist regime denies that it tortures its own citizens.
Mr. Yang; his mother, Ms. Liu Xiuzhen; and Lu Xueqin, Ciu Luning, Li Hao, and Yuan Shaohua are still being detained in the Jimo East Cape Detention Center in Qingdao.