Spanish Lawyer Calls on Nations to Enact Legislation to Help Stop Forced Organ Harvesting in China (Part 1)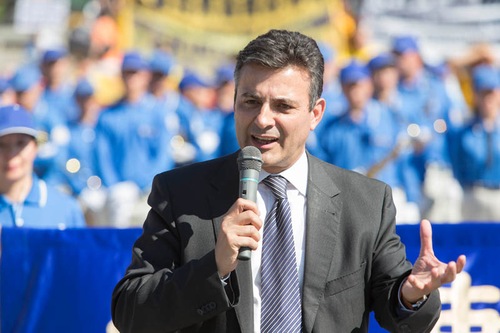 Spanish human rights lawyer Carlos Iglésias speaks in Copenhagen at a July 20, 2013 rally attended by Falun Gong practitioners and human rights activists from 27 European countries.
(Minghui.org) During a United Nations Human Rights Council meeting in Geneva in September 2013, Spanish human rights lawyer Mr. Carlos Iglésias spoke about the systematic, nationwide persecution of Falun Gong in China and highlighted the crimes of live organ harvesting – killing people on demand for their organs.

Mr. Iglésias currently represents Falun Gong practitioners in lawsuits filed in Spain against former Chinese president Jiang Zemin and other Chinese Communist Party (CCP) officials for crimes against humanity, genocide, and torture, perpetrated in the 14-year persecution of Falun Gong.

He recently shared his insights regarding the organ harvesting issue and provided updates on the lawsuits against Jiang.

New Laws in Other Countries Can Stop Organ Harvesting in China

Mr. Iglésias called upon other countries to revise their organ trafficking laws so as to prosecute and punish the crime of human organ trafficking, and ultimately, to have the perpetrators in China who carried out these terrible crimes against humanity brought to justice.

In 2010, with the collaboration of the National Transplant Organization, the Ministry of Health and Social Policy of Spain introduced a new law. The law establishes penalties of up to twelve years in prison for people who encourage, promote, facilitate or advertise the procurement of illegal human organ trafficking.

The law was enacted, in fact, only after legislators and organ transplant specialists in Spain were made aware of a report by two Canadian researchers, David Kilgour, a former parliamentarian and crown prosecutor, and David Matas, a human rights lawyer, about the mass harvesting of organs from practitioners of Falun Gong, a spiritual discipline under persecution in China.

"Kilgour and Matas gave their report to the National Transplantation Organization, and recommended that the Ministry of Health issue instructions and recommendations not to travel to China for organs," Mr. Iglésias says. That was in November 2006.

Mr. Iglésias believes that the change in the Spanish criminal law will have a direct impact in helping stop the persecution of Falun Gong practitioners in China. He explained, "Because this law not only punishes those who commit these crimes of organ trafficking, but also helps prevent the situation from happening."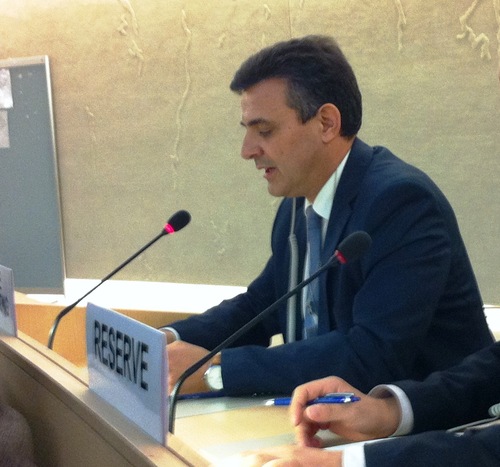 Spanish human rights lawyer Mr. Carlos Iglesias speaks at the 24th Regular Session of the Human Rights Council on September 26
Killing on Demand
Chinese hospitals promise tissue matching in a matter of two weeks and a backup organ in a week if the first organ transplant fails. In other countries, it can take years before a suitable organ is found for a patient. Nothing else can explain the exceptionally fast turn-around time for organs in China, except for the presence of a huge live organ bank where people are killed on demand. Inf fact, the nationwide, systematic persecution of Falun Gong in China, with hundreds of thousands of practitioners incarcerated, makes the crimes of large-scale organ harvesting possible. Falun Gong practitioners' organs are preferred because of the fact that many are young and healthy.

The issue of China's illicit organ harvesting has been taken up within the medical field. In a February 2013 article published in the Croatian Medical Journal, "Transplant ethics under scrutiny – responsibilities of all medical professionals," Dr. Torsten Trey, Arthur Kaplan, and Dr. Jacob Lavee wrote, "The underlying crime against humanity appears as unbelievable as it is disturbing. One might be tempted to rather not believe it, as to avoid the outrage that one would otherwise feel. Yet, when Kilgour and Matas called 17 hospitals across China in 2006, the medical doctors in the Chinese hospitals admitted that they use 'fresh' organs from Falun Gong practitioners.

And when the World Organization to Investigate the Persecution of Falun Gong (WOIPFG) called Dr. Chen Rongshan in spring 2012, he admitted that the court had arranged the organ harvesting from detained Falun Gong practitioners."

Similar Law Has Been Effective in Israel

A law similar to Spain's new legislation, passed in Israel, has been effective in stopping Israeli citizens' involvement in the illicit organ trade. Israel was unique in that transplant tourism patients used to obtain almost full reimbursement from insurance companies or sick funds. Then, a new law, the Organ Transplant Act, 2008, passed.

The law defines organ trade and trafficking as a criminal offense, which may result in up to three years in jail and a large fine, regardless of whether the offense is performed in or outside of Israel.

In his opinion article "Saving Lives Locally" published in October 2012, Dr. Jacob Lavee, director of the Heart Transplantation Unit at Sheba Medical Center, and chairman of the Heart and Lung Transplantation Committee of the Israel National Transplant Center, said that the Organ Transplant Act, 2008 had completely stopped organ tourism to China from Israel: "Orders banning insurance companies and sick funds from reimbursing illegal transplant tourism went into effect shortly after the new law has been enacted, which brought transplant tourism of Israeli patients to illegal venues where organ trade took place to a halt. Thus, for example, the traveling of Israeli patients to China has stopped completely."

"Zero Tolerance on Organ Trafficking"

"The National Transplant Organization of Spain has taken a very solid step forward to prosecute these crimes that are being carried out in China. And their words are very clear: zero tolerance on organ trafficking," Mr. Iglésias said.

"We believe that any initiative of the Transplant Organizations of all the countries should follow that line, not permit these atrocities to take place without punishment. The punishment must be brought to the perpetrators for a simple reason. ...I think that nobody, no human being can do these terrible crimes and go unpunished.

"We must not forget that history will judge us not only for what we do but for the things we should have done and didn't. Silence is not possible in human rights issues, in human rights violations. Any silence in matters of human rights violations, any silence in a genocide is a collaboration, and history will judge all of those who know what is happening in China but don´t step forward for justice."

Mr. Iglésias said that with Jiang's order to "eliminate them [Falun Gong practitioners] physically," thousands of thousands of innocent Falun Gong practitioners were locked up in forced labor camps and other places of detention, and used as a living organ bank. The CCP killed these innocent people to take their organs and sell them to Westerners who traveled to China, paying up to $150,000 for an organ. The CCP has run a ghoulish, corrupt and bloody business with the lives of innocent people.

Trying His Best to Help Falun Gong

Mr. Iglésias recalled that when first heard people telling him about the persecution of Falun Gong more than 12 years ago, it really was something shocking for him. After he saw and spoke with more victims of the tragedy in China, he was moved to tears. Upon learning that so many good, innocent people were being persecuted, he decided that he had to try his best to help bring about justice.

(To be Continued)