Ms. Yin Hongmei Locked in an Iron Cage--More Dalian Falun Gong Practitioners Detained at Yaojia Detention Center
November 01, 2013 | By a Minghui correspondent from Liaoning Province, China
(Minghui.org) When Ms. Yin Hongmei's husband went to visit her at Yaojia Detention Center, she was locked in an iron cage.
Ms. Yin is a Falun Gong practitioner from Wafangdian, Liaoning Province. She was arrested by police from Dalian and Wangfangdian at around noon on June 13, 2012. Before attempting to arrest her, the police had monitored her Internet use for three months.
According to a witness, three Internet police officers from Dalian, several officers from Xinhua Police Station, and three officials from the Wafangdian 610 Office went to Ms. Yin's home and arrested her. They forcefully took her by her arm to the police car. The police left after ransacking her home.
Ms. Yin was detained at Yaojia Detention Center for more than a year, where she was tortured and mistreated.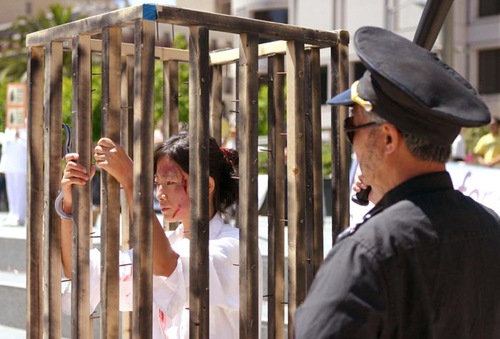 Torture reenactment: Locked in an iron cage
Ms. Yin walked to Beijing on December 26, 1999, to appeal for Falun Gong. She was arrested by the Beijing police and taken back to Wafangdian by Wang Dafu and other officers from the Xinhua Police Station. Ms. Yin was sentenced to a year and a half of forced labor, and served her term at the notorious Masanjia Forced Labor Camp.
This summer, when the 12 th National Games took place in Dalian from August 31 to September 12, 2013, many practitioners were detained, to "maintain stability" during the games. The police officers even had a slogan, "We'll arrest 1,000 innocent people rather than release one Falun Gong practitioner."
Officers from Zhuanghe District Police Department broke into a shop and arrested the owner, Mr. Xu Minghua, and employees Zhao Meichun, Yu Shulian, and Zhang Yingjun on the morning of September 25, 2013. They were taken to Yaojia Detention Center. Ms. Zhang Yingjun was released because she failed the physical exam.
Practitioner Mr. Qu Bin was arrested on the morning of August 30, 2013. He had become emaciated after extreme persecution at Yaojia Detention Center, and he is currently in critical condition. His blood pressure was only 70/40 mm Hg. He is very weak and has a very severe case of vomiting. He has lost consciousness twice within ten days.
It was reported that Yaojia Detention Center submitted an application to Zhongshan District Court, stating that Mr. Qu Bin shouldn't be detained. But judge Liang Yongguo from the Zhongshan District Court replied that the evidence provided by the detention center was insufficient for Mr. Qu's release.
In addition to those mentioned above, many other practitioners from Dalian are still being detained at Yaojia Detention Center, including Ma Dongmei, Wang Renguo, Song Xuecun, and others.