Atrocities Committed in the Chinese Communist Regime's Brainwashing Facilities
(Minghui.org) The Chinese communist regime has set up numerous brainwashing centers all over China to detain, brainwash and torture Falun Gong practitioners, including the elderly and pregnant women. These facilities are euphemistically labeled "Legal Education Training Centers" to deceive the public.
1. Brainwashing Centers Exist to "Transform" Falun Gong Practitioners
Brainwashing is part of the official governmental structure of the Chinese Communist Party. Here are 2 examples:
The "main responsibilities" procedural document of the brainwashing center in Shouguang, Weifang, Shandong Province, clearly states: "Persecute Falun Gong to make them "transform" and renounce their faith.
According to the "Responsibilities of the Legal Training Center of the City" document, made public by the Political and Legal Affairs Committee of Qingzhou in Weifang, Shandong Province, the center's responsibilities have nothing to do with "legal training" and everything to do with "transforming" Falun Gong practitioners.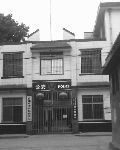 The Legal Training Center (a.k.a. Brainwashing Center) in Qingzhou, Weifang
2. Tactics Used in the Brainwashing Centers
a. Detention of Babies and Young Children
Two babies several months old were detained with their mothers (practitioners Ms. Li Hu and Ms. Chen Huilan) at the Zhuhai District Brainwashing Center in Guangzhou City on December 15, 2000.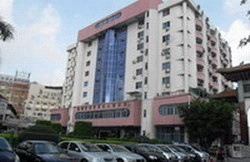 Zhuhai District Brainwashing Center in Guangzhou
A five-year-old was detained with their grandmother (practitioner Ms. Rao Huoli) in the Fujian Brainwashing Center by the 610 Office of Changting County on August 3, 2011.
b. Detention and Abuse of the Elderly
It's been a common practice to detain practitioners over the age of 50 in the brainwashing centers.
Mr. Zhu Xianghe, 64, was beaten to death in the Sutang Village Brainwashing Center of Suining County, Xuzhou City, on May 4, 2005. His eyes were dug out, and his organs were cut out.
Mr. Liu Shaobo, 65, was tortured to death in the brainwashing center in the Zhuhai District in Guangzhou City.
Ms. Jiang Meilan, 65, was injected with unknown drugs, shocked with electric batons, and tortured to death in the brainwashing center in Laodaohe, Changsha City.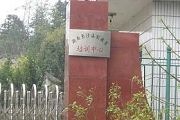 Laodaohe Brainwashing Center
Gongjiawan Brainwashing Center in Lanzhou City hung up practitioner Ms. Luo Qingshu by handcuffs for 12 days and nights. Qi, a guard at the facility, boasted to her, "You are against the Communist Party, so I will hang you up by the handcuffs 100 times."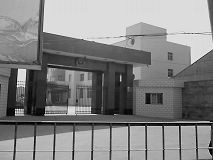 Gongjiawan Brainwashing Center in Lanzhou City
c. Detention of Pregnant Women and Forced Abortion
Pregnant women have also been detained in the brainwashing centers.
Pregnant practitioner Ms. Luo Zhixiang was tortured to death in the brainwashing center in the Huangpu District, Guangzhou City, in 2002.
The Zhuhai District Brainwashing Center in Guangzhou City carried out a forced abortion for a practitioner named Lin. Another pregnant practitioner, named Zhou, was detained in the brainwashing center in Jinan City.
d. Brutal Forms of Torture
Brainwashing facilities have used different kinds of torture, including the death bed, forcing practitioners to stand for long periods of time, kicking and breaking ribs, injecting unknown drugs, applying burning substances to the nose and eyes, putting a helmet on the victim's head and hitting the helmet with a wooden stick, burning with cigarettes or boiling water, stuffing the nose with cigarettes while covering the mouth, kicking the lower part of the body, slapping in the face, hanging up practitioners by handcuffs or hanging them upside down, pushing the head into the toilet, beatings with a steel rod, piercing with needles, pouring detergent into the stomach, hitting the chest with an iron rod, peeling off nails with pincers, piercing fingers with toothpicks, squeezing the penis, pulling out pubic hair, covering the mouth with tape, flicking the eyeballs, etc.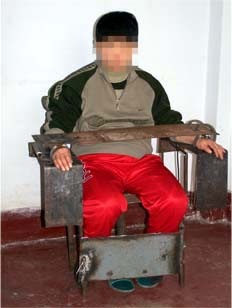 Torture Reenactment: Iron Chair
Shouguang Brainwashing Center in Weifang, Shandong Province, bound practitioner Mr. Fu Jian to an iron chair with both hand and ankle cuffs. They kept him from sleeping day and night. They slapped his face, hit him in the chin, pulled out his beard, and hung him up by the handcuffs in an attempt to "transform" him. The authorities also stole his car and put it inside the yard of the brainwashing center. Mr. Fu was detained from April 15 to April 21, 2013.
3. Systematic Persecution Using Brainwashing
Take the Shouguang City Brainwashing Center in Weifan, Shandong Province, as an example. The directive for systematic persecution using brainwashing there includes:
a. Arrests. Ascertain the state of mind of all practitioners in the city. Arrest, detain and "train" practitioners registered with the government, batch by batch.
b. Brainwashing. For those who do not "reform," follow the steps to strike them down, one by one. Subject each one to brainwashing in the center, targeting their different reasons for practicing Falun Gong. For the elderly and weak practitioners unable to go to the center, go to their homes to brainwash them.
Practitioners who finish their prison or forced labor camp terms are not released. They are taken to a brainwashing facility. An "assistant coach" is assigned to talk to them there, assessing how "well" they've "transformed" after being detained in the prison or forced labor camp. After this assessment, the brainwashing begins.
Brainwashing centers typically set up an "exhibition room" with various propaganda to brainwash people who are sent there. Since around 2009, they have organized brainwashing sessions for more than 6,000 people, including those from government agencies, enterprises and factories, teachers and students.
Brainwashing centers also set up a torture chamber. The police and the head of the center typically conspire to persecute practitioners through torture and other means.
Practitioners who've gone to Beijing to appeal for the right to practice Falun Gong are especially targeted for detention in brainwashing centers. In addition, local authorities are instructed by higher-level organs to maintain control during dates that are deemed "sensitive."
4. Extortion
Authorities routinely extort money from practitioners and their families. Here are a few examples:
The Dongshan District Brainwashing Center in Guangzhou City extorted 30,000 yuan from practitioner Zhang Anmei in 2001.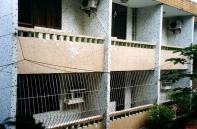 Dongshan District Brainwashing Center in Guangzhou City is surrounded by iron fences.
A brainwashing center and union committee in Fujian Province fined the employer of each practitioner 10,000 to 20,000 yuan.
Brainwashing center in Jieluqiao, Yongzhou, Hunan Province, extorted 10,000 yuan from each practitioner. Between October and December 2011, 47 practitioners were illegally arrested and taken to the Yongzhou Brainwashing Center; the extortion sum totaled at least 470,000 yuan.
The huge amount of money squeezed out of practitioners has all gone into the pockets of those who work at the brainwashing centers. For example, Yu Jingzhi at the Yichun Brainwashing Center in Heilongjiang Province gets 1,500 yuan every month for torturing practitioners.
At the brainwashing center located in Lannigou, Jinzhu Town, Guiyang City, over 400 agents on staff get more than 48,000 yuan each year for persecuting Falun Gong practitioners, plus bonuses and allowances.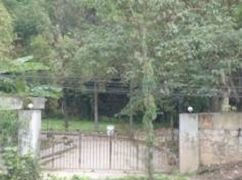 Lannigou Brainwashing Center Makes Money Persecuting Falun Gong
5. A Waste of Taxpayers' Money
The Chinese communist regime builds brainwashing centers and sets up monitoring systems to persecute innocent people. This is a huge waste of taxpayers' money. Here are some examples:
The brainwashing center in Huaihua City, Hunan Province, used to be a dormitory for workers of the Arts Printing Factory of Huaihua City. In October 2005, the Political and Legal Affairs Committee and 610 Office of Huaihua City spent 2.8 million yuan to purchase this building and set up a brainwashing center. There was no signage put in place to indicate to outsiders that this is a brainwashing center.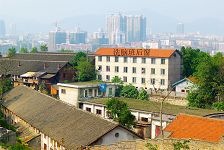 The Brainwashing Center of Huaihua City cost 2.8 million yuan.
The brainwashing center of Jinan City, Shandong Province, spent 103,035 yuan to install a monitoring system in May 2012 to target and persecute Falun Gong practitioners.
Hunan Province spent nearly 20 million yuan on brainwashing in 2011 alone.
The Laodaohe Brainwashing Center, located in the Kaifu District of Changsha City, used to be a condominium residence for seniors. In 2002, the 610 Office of Hunan Province spent a great sum of money to purchase this building. They built a fence with iron netting around it and closed the gates tightly, even during daytime. They also put bars on the windows.
During the past 10 years, they have arrested nearly 1,000 Falun Gong practitioners from all over Hunan Province.
The brainwashing center in Beijing was built using tens of millions of taxpayers' money. According to information provided by some police officers, the daily expenditures there run as high as 400,000 to 500,000 yuan at peak time.