Mr. Pang Guangwen Severely Persecuted by Shanghai Police (Photo)
October 05, 2013 | By a Minghui correspondent from Shanghai
(Minghui.org) Before Falun Gong practitioner Mr. Pang Guangwen was illegally arrested, he was president of a successful logistics company in Shanghai. From April 2012 to July 2013, Mr. Pang was arrested twice by Domestic Security Division personnel in Changning District, Shanghai. His family was extorted for 20,000 yuan. Mr. Pang was sentenced to five years in prison. To protest the persecution, he went on a hunger strike for 45 days until August 21, 2013. He was sent to Shanghai Prison General Hospital, where he suffered forced-feeding and was kept tied to a bed the entire time.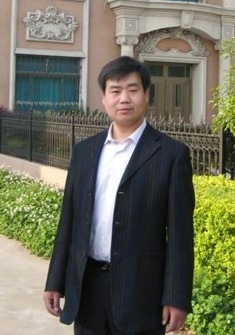 Mr. Pang Guangwen
Below, Mr. Pang's wife, Ms. Zhong Xiaoyan, talks in detail of the persecution her husband has suffered. She's urging the public to help secure her husband's release.
My husband Pang Guangwen was a student at Shandong University. After the persecution began on July 20, 1999, he kept practicing Falun Gong, so the university confiscated his graduation certificate. After we married, we ran a delivery service company, and our business did very well.
On the evening of April 2012, a group of people suddenly broke into our home and arrested my husband. We later learned that these people were from Sanzao village, including officer Tang Ping and other officers from the Jiangsu Road Police Station. The majority of them were plainclothes police, and no one showed identification. They took away our computer, printer, Dafa books and our personal belongings.
After Mr. Pang was arrested, our company couldn't operate normally. Our staff couldn't work, and our company almost shut down. With little money coming in, I couldn't afford to send our 3-year-old daughter to nursery school. My daughter is sensitive. She noticed I was in a low mood, but she wouldn't ask. When she couldn't hold it back any longer, she would quietly ask me, "Where is my daddy?" As I didn't have enough time to look after her, I had to send her to our hometown to stay with our grandmother.
Mr. Pang's grandmother is 85, and she loves her grandson. After we told her he had been arrested, she cries every day. Everyone knows that the Party abuses Falun Gong practitioners. She's grieved so much that she almost lost her hearing. When she's alone, she talks to herself, "I may never see my grandson again."
While my husband was held in the Changning District Detention Center, he started a hunger strike to protest being placed in handcuffs and shackles. He was sent to the Shanghai Prison General Hospital, and as a form of torture, he was tied to a bed and brutally force-fed.
On August 1, 2012, with help from home and overseas, as well as through Mr. Pang's effort, he was released on bail for medical treatment. However, Changning Domestic Security personnel extorted our family for 20,000 yuan.
On July 5, 2013, the court informed Mr. Pang that his trial would be held at 2:30 p.m. on July 11. He went to the 610 Office to clarify the truth on July 8, hoping to cancel the trial against him, but he was arrested.
At that time, Mr. Pang's father was diagnosed with esophageal cancer, and was receiving treatment in the Fudan University Shanghai Cancer Center.
At 2:30 p.m. on July 11, Mr. Pang Guangwen and Mr. Zhao Bin were put on trial by the Changning Court. Mr. Pang was sentenced to five years and Mr. Zhao Bin was sentenced to four years. Mr. Pang started a hunger strike on July 8. On the day of the trial, he was pushed in and out of the court, his eyes were closed the whole time, and he said nothing. His Beijing lawyer Guo Haiyue defended him in court but was interrupted twice by the judge.
Mr. Pang held a hunger strike for 45 days starting on July 8, 2013 until now (August 21). He was sent to Shanghai Prison General Hospital on July 19, where he was kept tied to the bed. He couldn't move his hands and feet, and a plastic tube for force-feeding was fastened to his head.
Now I face huge bills: for Mr. Pang's father's medical treatment, my daughter's education fees and our business cash flow. I'm under a great deal of pressure. Since I could no longer pay for my daughter's education, she has to stay at home. Every day is filled with stress and worry. I have to appeal for my husband's release, take care of the business, and look after my daughter. I'm extremely worried about my husband's condition. I also have to look after Mr. Pang's father who's in the hospital.
I myself was once held at Wanjia Forced Labor Camp for three years. At one point I nearly died there. I couldn't work properly after returning home. Now my daughter and I live an extremely difficult life.
Contact information for personnel involved in the persecution of Mr. Pang Guangwen: Zhong Xiaoyong (钟晓咏), head of the Changning District Political and Law Committee Wei Guozong (魏国宗), head of the Changning District 610 Office Yang Huixin (杨惠新), Criminal Tribunal of the Changning District Court: +86-21-52574999 ext. 18180 Judge Zhou Weimin (周伟敏): +86-21-52574999 ext. 18120 Wang Jue (王珏), Changning District Domestic Security Division Police officer Qiao (乔), Jiangsu Road Police Station: +86-21-23030060 or +86-21-62106334 Tang Ping (唐平), officer at Guangming Village, Sanzao Township, Nanhui District