Mr. Shu Ming from Nanchang City Illegally Tried and Imprisoned (Photos)
October 05, 2013 | By a Minghui correspondent in Jiangxi Province, China
(Minghui.org) At 9:30 a.m. on July 25, 2013, the Xihu District Court in Nanchang City, Jiangxi Province, illegally tried Falun Gong practitioner Mr. Shu Ming. The lawyers hired by Mr. Shu's family members presented a well-developed and justified defense. However, after the trial was postponed by the judge, Mr. Shu was secretly jailed in Nanchang Prison.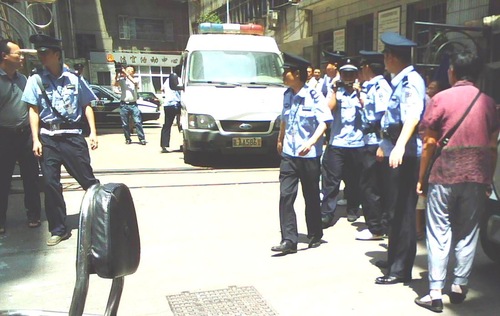 Heavy police presence around courthouse during Mr. Shu Ming's trial
The court staff checked and made copies of the ID cards of each person who entered the court. They video-recorded everyone who entered the court, and forbade Falun Gong practitioners from coming in. Several video cameras were installed around the court gate. Police officers both in uniform and plainclothes were everywhere inside and outside the court building, some of them recording with video cameras.
Early on the morning of July 25, Mr. Shu's wife, his 90-year-old father and 88-year-old mother waited at the court gate.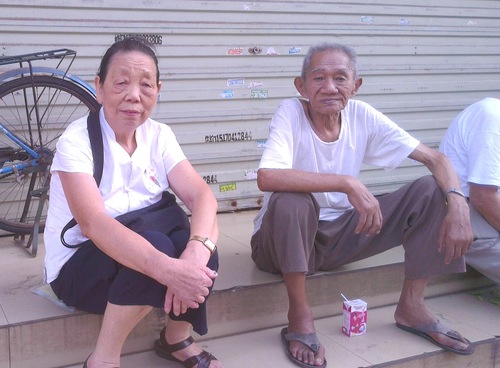 Mr. Shu Ming's parents
Arrested Again after Repeated Persecution
Mr. Shu Ming, 52 years old, used to work at the Nanchang City Shipping Board. Because he refused to give up his belief in Falun Gong, the JiangXi Province 610 Office and the Xihu Police Station in Nanchang City subjected him to ongoing persecution. He was repeatedly arrested and imprisoned. In 2008, the Xihu Police Station in Nanchang City listed Mr. Shu as wanted online again, and he had to leave home and lead a homeless life for over five years.
In January 2013, Yu Hongping, head of the Xihu Police Station and Liu Ye, head of the Chaoyang Farm Police Station, went to Mr. Shu's home and lied to his parents: "Ask Shu Ming to come back; we have taken him off the online wanted list and rescinded the order against him. He needs to come back to do his second-generation ID card." Mr. Shu's parents were nearly 90 and they greatly missed their son, so they believed the authorities and called Shu Ming back home.
However, less than one week after Mr. Shu came home, he was illegally arrested by officers from the Jiangxi Province 610 Office, the Xihu Police Station and the Chaoyang Farm Police Station. The arrest took place around 10:00 a.m. on February 4, 2013.
On February 5, Mr. Shu's family members went to the Xihu Police Station to request his release. While his family were there, Mr. Shu was secretly taken out through the back door and sent to the Nanchang City No. 2 Detention Center. Mr. Shu's family members asked the head of the police station, "Didn't you say you had canceled the online wanted order against Shu Ming? " The police head said, "Yes, but we didn't say we would never arrest him again!"
In the court, the prosecutor showed the so-called "evidence" of criminal activity taken from Mr. Shu Ming's home: over 100 Falun Dafa truth-clarification videos and cash bills with Falun Dafa information written on them. Another accusation against him was that somebody confessed that he had provided a CD recordable drive to a Falun Gong informational materials production site and taught others to use it.
Lawyers Present a Defense of Innocence
Two lawyers hired by Mr. Shu's family presented a not-guilty defense from the perspective of the law and of conscience. The lawyers stated, "This is a frivolous conviction and therefore it's illegal to accuse the defendant solely based on a few pieces of paper, a so-called confession, with no witness or evidence of wrongdoing." The lawyers also explained in great detail Falun Gong's principles of Truthfulness-Compassion-Forbearance, and held that belief in Falun Gong is beneficial instead of harmful to society; therefore practicing it should not be deemed a "crime." The lawyers also stressed again that the accusation against the defendant had no legal basis. The prosecutor tried to silence the lawyers many times. The lawyers protested the prosecutor's rude behavior. One of them asked, "Who authorized you to interrupt us?" The prosecutor was embarrassed and became speechless.
At the end of their defense, the lawyers said loudly, "One violates no laws by practicing Falun Gong!" The judge was startled and immediately silenced the lawyers, and announced a court suspension and postponement of the trial.
Immediately after the trial, the court secretly jailed Shu Ming at Nanchang Prison, without informing his family or his lawyers.
Nanchang Prison in Jiangxi Province: +86-791-83710340 Prison head: Huang Yunping (黄云萍) political head Hong Huimin (洪惠民): +86-791-3710572 (Office), +86-791-83710357 (Home), +86-15879176042