Orders from Chaoyang Communist Party Head: Beat Practitioners and Don't Talk About It (Photos)
(Minghui.org) Wang Mingyu, head of the Chaoyang City Communist Party in Liaoning Province, recently gave secret orders to Chaoyang police regarding persecuting Falun Gong. He told them to beat and mistreat practitioners without talking about it. Wang's order has now been passed down to every office.
The file number of the order document is 43 and came from the Chaoyang Police Station. It's dated September 16, 2013. Regarding the campaign to persecute Falun Gong, which involves about 1000 police officers locally, Wang wrote, "This persecution effort is long-lasting and needs to be effective."
He told them, "Plan well, increase the intensity, and reduce publicity." More specifically, he instructed the officers to beat and mistreat practitioners without talking about it or telling anyone. This document was distributed by the Chaoyang Police Department on September 18.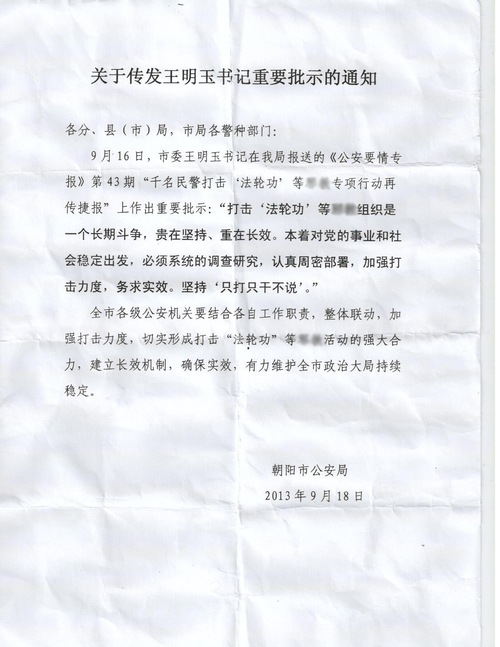 Wang's secret order
Wang was born on October 29, 1964. He was appointed Chaoyang deputy mayor in August 2010 and was later appointed mayor. He became the city's Party head in January 2013. It's been documented that he gave orders to mistreat Falun Gong practitioners while he was mayor.

Wang Mingyu
Under Wang's leadership, Chaoyang police chief Li Chao held meetings on August 12 and 13 to intensify the persecution.
An Incomplete List of Recent Arrests
Jiajiadian Town police arrested practitioner Hao Guifen from Chaoyang County on September 10. Nanta Police arrested 75-year-old Chaoyang City practitioner Wang Chunfen on September 9. Zhao Hongli, a practitioner from Jianping County in Chaoyang City, was arrested at home on September 8. Liucheng Police arrested Chaoyang County practitioners Li Yuhuan and Guo Hairong at home on September 6. Three Jianping County practitioners (Yu Shuqin, Qi Xiuying, and Heng Jingxia) were arrested at home on September 5. Beigoumen police arrested Chaoyang County practitioner Xiao Guofen on September 5. Jianping County practitioners Xin Suying and Yang Ying were arrested at home on September 5. Zhangzi Town police arrested Lingyuan City practitioner Shao Jianhui at home on September 4.
Practitioners Sentenced
Several practitioners were also illegally sentenced and imprisoned. For example, Lingyuan City court sentenced practitioner Ms. Du Qingxiu to six years on April 12, 2013. Ms. Du appealed and Chaoyang City Intermediate Court held a second trial on July 11. During the trial, Ms. Du told the spectators that she was innocent, hadn't violated any laws by telling others about the persecution of Falun Gong, and asked to be released.
Shuangta Court tried 61-year-old Ms. Chen Guilan on August 9. Her attorney made a strong defense, but the judges still sentenced her to 7 years.
Jinzhou Railroad police arrested 56-year-old practitioner Ms. Sun Baoying on July 27, 2013. Officials sentenced her soon afterward.