Ms. Wei Jun Sent to Brainwashing Center Following Imprisonment, Now Missing (Photo)
October 30, 2013 | By a Minghui correspondent from Heilongjiang Province, China
(Minghui.org) Oftentimes when Falun Gong practitioners are released from prison, the 610 Office immediately sends them to brainwashing centers.
Ms. Wei Jun of Daqing City was to be released on August 27, 2013, after enduring five years at the Heilongjiang Women's Prison. The night before her release, Yuan, a prison guard from the No. 10 supervision unit, sent Ms. Wei Jun's sister a message, telling her that Ms. Wei would be released the next morning.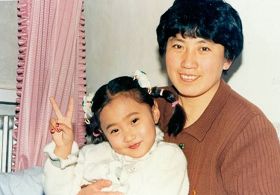 Ms. Wei and her daughter
Ms. Wei's family went to the prison the next day a 10 a.m. and waited for Ms. Wei to be released.
Lied to and Mislead
One of the guards on duty asked who they were waiting for. When Ms. Wei's family told him, he said, "She already left."
Shocked, they asked, "When? Who did she leave with?" The guard said he didn't know.
Ms. Wei's family exclaimed, "We were told to wait for her here! The Communist Party is so deceitful!"
The family realized that they had been misled. They immediately phoned guard Yuan, who had told them to wait for Ms. Wei in the reception room, but no one answered. The security guard finally managed to locate Yuan, who said that the provincial 610 Office had already picked up Ms. Wei and taken her home.
When the family got home, Ms. Wei was not there.
Her family immediately went to the provincial 610 Office in Daqing City. No one there knew anything about Ms. Wei. Her family had gone to this office several times, but they had never spoken to anyone there.
Detained in a Brainwashing Center
On September 14, 2013, Ms. Wei's family got a call from a stranger, who told them that Ms. Wei was being detained in the Mishan Brainwashing Center in Jixi City.
Two days later, Ms. Wei's family went to the provincial 610 Office in Daqing City again. This time they saw Liu Xiping, the head of the 610 Office.
Ms. Wei's family told Liu that Ms. Wei was missing and the Communist Party was not being honest with them. Liu got furious and started hitting Ms. Wei's family, and punched Ms. Wei's younger sister in the chest.
Ms. Wei's family went to the Mishan Brainwashing Center on September 24, 2013. A guard told them, "Wei Jun was transferred to the Jixi City Brainwashing Center."
Jixi City had three brainwashing centers, which include the Diantai Road Brainwashing Center in the Jiguan District (closed), the Xinghua Brainwashing Center in the Chengzihe District (closed), and the Brainwashing Center in Mishan City.
Ms. Wei is still missing.
According to a September 23, 2013 report on Minghui.org, when Ms. Wei Jun was practicing the exercises in the Mishan Brainwashing Center, the guards tried to stop her by hitting her. Ms. Wei shouted, "Falun Gong is good! Heaven will destroy the Chinese Communist Party!"
Threatened to Harvest Her Organs
The guards tried to force Ms. Wei to sign a guarantee statement to renounce her faith in Falun Gong. When she refused, they threatened her, "If you don't sign your name, we will cut your chest open, harvest your organs, and sell them."
Ms. Wei was also deprived of sleep for three days and nights. The brainwashing center hired two so-called "reform experts" to "reform" her in September 2013. After they failed, they hired someone named Du, who wasn't successful either.
We urgently call on people of conscience around the world to help locate and rescue Ms. Wei.
Parties Involved in Persecuting Ms. Wei:

Yuan, guard in the Number 10 Supervision Unit of Heilongjiang Women's Prison: +86-451-82550096
Liu Xiping, head of the provincial 610 Office in Daqing City, Heilongjiang Province: +86-459-5973166(Office), +86-459-5988028(Home), +86-13936772469(Cell), liuxp@cnpc.com.cn
Xie Wei, deputy director of the provincial 610 Office in Daqing City, Heilongjiang Province: +86-459-5988571 (Office), +86-459-5106399 (Home), +86-13089068000 (Cell), xiew@cnpc.com.cn
Wang Kuixiu, deputy director of the Political and Legal Affairs Committee of Mishan City, principal of Mishan City Brainwashing Center: +86-467-5241610 (Office), +86-467-5224331 (Home), +86-13946862639 (Cell)
Yu Xiaofeng, head of the 610 Office of Mishan City, assistant principal of Mishan City Brainwashing Center: +86-467-5228610, +86-467-5241639, +86-13091583339 (Cell), +86-15146782555 (Cell)
Wei Jun's workplace (which assisted in sending Ms. Wei to the brainwashing center): Venture Group of the Coal Mine Company of Daqing City: +86-13059049999 (Cell)
Related articles:
Firsthand Account of the Persecution: Ms. Wei Currently in Heilongjiang Women's Prison (Photos)
Ms. Wei Jun, a Teacher from Daqing City, Tortured in Heilongjiang Women's Prison