A Peasant Woman, Her Immediate Family, and Other Relatives Relentlessly Persecuted in Hebei Province (Photos)
October 28, 2013 | By a Minghui correspondent from Hebei Province, China
(Minghui.org) Ms. Han Yuhong, a peasant in Sigezhuang Village, Baichigan Township, Zhuozhou City, Hebei Province, was illegally arrested many times and put into a labor camp because she refused to give up practicing Falun Gong. Her mother-in-law passed away as a result of being persecuted for practicing Falun Gong. The Chinese Communist Party (CCP) seized Ms. Han's ID and has yet to return it. Without an ID in China, a person faces restrictions on work, study, living, travel, and even shopping.
Land Stolen, Crops Burned, Father Framed for Murder
When Ms. Han was 12 years old, Baichigan Township government sold her family's land, which included their residence. So they had to live in a thatched cottage. Then a gang from the township government burned the crops her family had harvested.
This was one of the encounters her family endured for appealing for justice after her father, Mr. Han Baogui, was framed by the CCP for the murder of three members of a family. Because Mr. Han Baogui and his friend had visited the family, they were arrested as suspects by the Fangshan Police Department. They were tortured to get them to "confess." When the wife of the family regained consciousness from her injuries, she told the police that Mr. Han and his friend were innocent. However, Mr. Han could no longer walk due to the torture. Fangshan Police Department officers then left Mr. Han Baogui on the roadside and informed his family to pick him up.
After he was released, Mr. Han developed symptoms of schizophrenia. The family was once again in despair. His five children had to drop out of school.
Lifted from Despair and Resentment after Learning Falun Dafa
Later, people helped to post photos of the Hans thatched cottage and the children who had to drop out of school on the Internet to appeal for help. The police station saw this and offered to give them 400,000 yuan to keep quiet about what had happened to them.
By that time, Mr. Han's family had started to practice Falun Gong. The whole family practiced kindness, and they experienced health and happiness. Mr. Han's physical and mental health was also restored. When police station officers asked Mr. Han about compensation, he replied, "I practice Falun Gong and fully recovered. I don't need money from the State, and we do not need to track down whoever is accountable."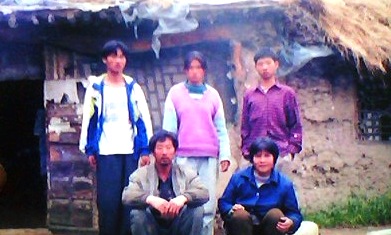 Han Baogui (front, first left) in his thatched cottage
No Peace Since 1999
In July 1999, the CCP began to openly persecute Falun Gong. There has been no peace for Mr. Han's family since then. The police broke into their home countless times and harassed Ms. Han over and over. One day they came four times: morning, noon, evening, and midnight. Mr. Han, his wife, and daughter went to Beijing to appeal for Falun Gong. Laishui County Police Station and the 610 Office blacklisted them. The family was detained several times. They were also fined, put into a brainwashing center, and monitored.
Ms. Han Yuhong was framed in 2000 by the Zhuozhou 610 Office, police department, and Baichigan Township officers. She was sentenced to three years of labor. She was sent to two labor camps, then she was put into a brainwashing center after she was released from the labor camp. Because she vomited blood, she was transferred to the Zhuozhou County Hospital. Because she could not pay for medical treatment, she was sent home. The CCP has never stopped persecuting her.
Husband's Family Persecuted, Mother-in-law Passes Away
In 2002, Ms. Han Yuhong married Mr. Qiao Jinghai, whose family lived in Zhaogezhuang Village, Wangcun Township, Laishui County, Hebei Province. Her husband's family also practiced Falun Dafa.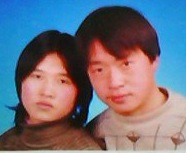 Mr. Han Yuhong and her husband, Mr. Qiao Jinghai
During the SARS epidemic in 2003, the Laishui Police Department and 610 Office sent agents to Mr. Qiao Yongfu's place of work. (Mr. Qiao Yongfu is Ms. Han's father-in-law.) They tried to make him write a guarantee statement stating that he would not go to Beijing to appeal. When her father-in-law refused, the police told team leader Qiao Yonghai to write a guarantee statement for Qiao Yongfu.
In the meantime, a dozen people from the Laishui Police Department and 610 Office in masks and civilian clothes broke into the home of Ms. Han Yuhong's husband's family and harassed them. Four months pregnant at the time, Ms. Han started trembling and fell down. The authorities searched the house anyway. Mr. Qiao Jinghai, holding his wife, shouted at them, "You have to take full responsibility for whatever happens to my wife and child!" The officials arrested Ms. Han Yuhong's mother-in-law, Ms. Zhang Xiuling, and held them for three days.
After her mother-in-law was released, more than a dozen people barged into their home again. Mr. Qiao Jinghai was taken to the detention center where he almost lost his life. When he got out, the couple became homeless and destitute to avoid further persecution. The evildoers harassed their relatives and friends.
Her father-in-law was forced to become homeless and destitute in 2006. On October 14 that year, Dai Chunjie from the Laishui Police Department and Wang Fucai from the 610 Office instigated a group of villains to smash her in-law's house and yard when they were away. Her father-in-law returned home in 2007 and repaired the house after he sold the grain.
Her mother-in-law, Ms. Zhang Xiuling, could no longer withstand such long-term persecution. She was taken to Laishui Hospital in 2008. Right after she came home, four Wangcun Township officials barged in and tried to confiscate their home. It just so happened that the oldest son and his wife and the second son and his wife were at home taking care of Ms. Zhang. Because there were four extra people in the home, those from the Township didn't dare to tamper with them. On April 1, 2009 Ms. Zhang Xiuling passed away.
On June 12, 2010, when Mr. Qiao Yongfu, Ms. Han's father-in-law, was home by himself, seven or eight officers from the Wangcun Township Police Station broke into his home again and took his Dafa books.
ID Withheld
As of now, the Zhuozhou 610 Office, the police department, and Baichigan Township have still not returned Ms. Han Yuhong's identity card.
In March 2013 Ms. Han went to Zhuozhou City Domestic Security Team head Yang Yugang for her ID card. Yang Yugang and Ma, the head of Baichigan Township, tried to force her to slander Dafa. They told her that they would not return her ID card if she refused to cooperate. She refused to comply. Ma tried to seize her and take her to the township. Ms. Han balked and Ma gave up.
Ms. Han's children need to have ID cards to go to school and a registration card for permanent residence. Her father-in-law, Mr. Qiao Yongfu, went to the office in the village and township to get the registration card for permanent residence and senior cards. The officer from Wangcun Township called up to threaten Mr. Qiao Yongfu: "What kind of activities you are engaging in?!" Qiao Yongfu was intimidated, so he never went again to ask for the registration cards.
Contact Information for the Parties Involved:
Yang Yugang (杨玉刚), 610 Office agent: +86-13333126768 , +86-13344126780 Baichigan Township head Ma (马): +86-13603328707