Police Ignore Little Boy's Plea, "Don't Take My Mom Away!" (Photo)
October 26, 2013 | By a Minghui correspondent in Liaoning Province, China
(Minghui.org) "Don't take my Mom away! Come back, Mom!" screamed Ms. Guo Hairong's son as about eight police officers took his his mother away on September 6, 2013.
Captain Zhao Qiang of the Domestic Security Division of the Chaoyang County Police Department and about eight police officers from the Liucheng Police Station arrested Ms. Guo at her home in Dazhangzi Village, Chaoyang County, Liaoning Province.
Ms. Guo was her family's sole means of support. With this being harvest season, her arrest has put a great burden on her family.
Her husband, Lu Shujun, suffers from a brain disease, her father-in-law has kidney problems, and her mother-in-law is in ill health. The family is extremely poor.
Practitioners Think of Others' Needs First
The Chinese Communist Party (CCP) persecution of Falun Gong caused Ms. Guo great distress. She even had separated from her husband due to the stress.
She returned home after calming down and remembering that Falun Dafa requires one to think of others' needs first. She knew that her husband and parents-in-law had no one to take care of them, so she decided to go back to her husband. She knew that without Falun Dafa she would not have the perseverance to take care of her family.
Not long after she returned home, she gave birth to a boy, who brought much happiness to the family. Falun Dafa made them a happy family, and Ms. Guo told her relatives and friends about the practice.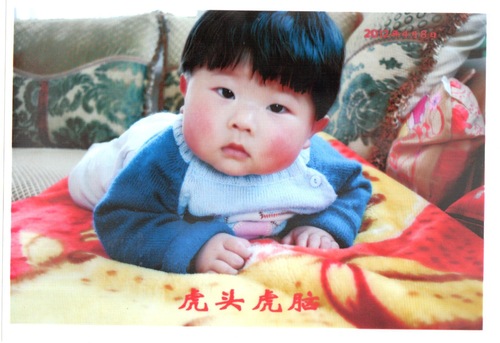 Ms. Guo's son
Facing Persecution
The family was disturbed by officers from the Chaoyang City and County Police Department and the Liucheng Police Station. Gao Tiejun and about eight officers went to Dazhangzhi Village in Liucheng Township, along with village secretary Miao Yongjun and accountant Li Jinghe, ransacked Ms. Guo's home. They confiscated her husband's computer. They forced her husband, who had just been discharged from the hospital and was still medicated, to sign documents at the police station. They released him when they realized that he was indeed ill.
Even so, the police still would not let up. On September 6, 2013, they ransacked her home and arrested Ms. Guo. Her father-in-law cried for three days and nights and could not fall asleep.
Chinese Police Heartless
The locals were upset when they heard what happened. Ms. Guo's father-in-law could not stop crying and said to whoever would listen, "My family is so poor. No one was willing to marry my son. She came into our home and brought blessings because she is a Falun Dafa practitioner."
He also told everyone that when his son was critically ill, she took great care of him. He couldn't believe that someone that good would be arrested. He worried who would take care of his grandson and harvest the crops.
Chaoyang Police Department is unconcerned about the hardship the family now faces. They transferred Ms. Guo her to the Chaoyang City Detention Center and changed the category of her arrest from administrative to criminal detention. They said that they would not let her go.
Violating China's Constitution
Ms. Guo has not committed any crime. The constitution clearly states that Chinese citizens have freedom of speech and religion.
Everything Falun Dafa practitioners do conforms to the constitution. Practicing Truthfulness-Compassion-Forbearance benefits the country. Practitioners always consider others before themselves.
Individuals Responsible for the Persecution of Ms. Guo:
Liucheng Police Station: +86-421-2957934 Wang Wenshan (王文山), political commissar of Chaoyang County Police Department: +86-421-2915962 Zhao Qiang (赵强), chief of the Domestic Security Division: +86-13942138899 (office), +86-421-2929315 Wu Kairong (吴凯戎), deputy secretary of the Chaoyang Political and Legal Affairs Committee: +86-421-2800955, +86-15104211891 Miao Yongjun (苗永军), Village Party secretary: +86-13004217738 Li Jinghe (李景和), village accountant: +86-421-8741819