German MP, 'I Know About the Organ Harvesting, I'll Sign'
October 02, 2013 | By a Falun Gong practitioner in Germany
(Minghui.org) On September 21, 2013, Falun Gong practitioners in Germany held another information activity in Freiburg, a well-known city in the southwest of Germany, to expose the Chinese Communist Party's (CCP) crime of live organ harvesting from Falun Gong practitioners. They collected signatures to stop this atrocity.
Many residents and tourists alike stopped and read the information. They said that the forced organ harvesting is by no means a small matter, and must be stopped as soon as possible.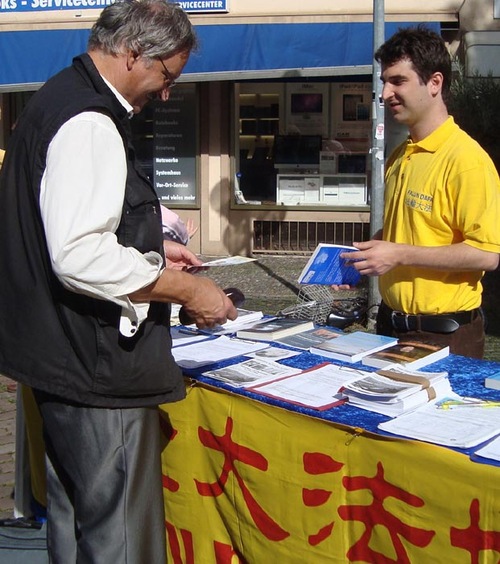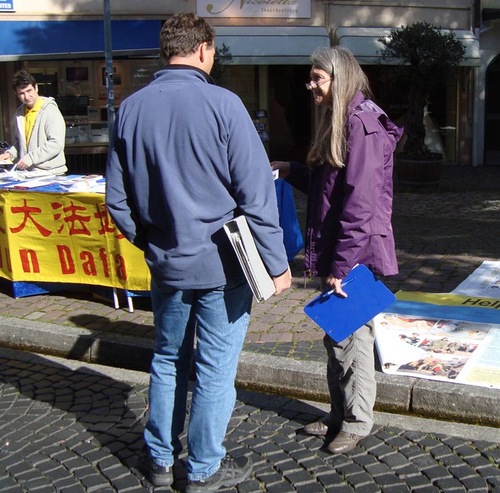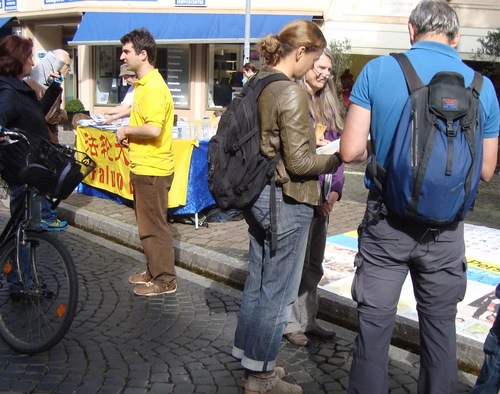 People learn the facts of Falun Gong on Information Day in Freiburg, a well-known city in the southwest of Germany
After a medical student signed, he asked for a petition form in Swedish. He said he has dual citizenship in Germany and Sweden, "I will sign! We need more people to stand up and put a stop to this."
A young couple came by and a practitioner asked if they would like to sign the petition. They asked if Falun Gong practitioners were being targeted. The practitioner said yes. They signed and said they received materials about the persecution in Switzerland. They said that it was necessary to expose the crime, and that the more exposure it gets, the sooner it will end, "You are doing the right thing, keep it up, it's very important to us."
German MP: "I know about the organ harvesting, I'll sign"
Just before the German election last Saturday, many information booths had been set up by the major political parties along Freiburg's streets, and all the MP's from the area came to talk to their constituents. Practitioners visited their booths and told the candidates that hundreds of residents had signed the letter to their MP's to call for an end to the CCP's live organ harvesting from Falun Gong practitioners, so please pay attention to it. One German MP looked at the petition and said, "I know about the organ harvesting, I'll sign."
People Who Know the Facts Tell Others
One practitioner talked to a young German man. His English wasn't very good and the practitioner's German wasn't very good either, so they had problems communicating. While this young man stood there, hesitant to sign the petition, a man came and said that he received some materials from this practitioner and signed the petition. He also mentioned that he took the materials home and carefully read them. He also did some research and is now pretty clear about the CCP's atrocities. He spoke to the young man in German and carefully explained about the live organ harvesting in China. This young man attentively listened and kept nodding. Then he signed the petition, and sincerely thanks both the man and the practitioner.
The German man said that he believes what practitioners are saying about the CCP's organ trafficking. He said, "My little brother had kidney problems. The doctor told him there were kidneys available, and asked him whether he wanted a kidney transplant." He said the doctor mentioned the kidney wouldn't come from Germany, right during the period of time when the Chinese organ transplant market was at its peak.
This German man said his neighbor was a politician and asked for a petition form to take home, as he wanted to ask his neighbor to sign. Before leaving, he also warmly invited the practitioner to visit his home.
Moroccan Lawyer: "It can be presumed that forced organ harvesting is the CCP's normal behavior"
A middle-aged man walked around the English language display boards several times and read them several times. He said after signing: "I'm a lawyer in Morocco, I studied international law." He said that he and his colleagues have paid attention to the live organ harvesting in China for a long time. He said, "Organ trafficking has taken place in many areas in the world, but these were sporadic, minor cases compared to the large scale major cases happening in China. I'm certain that the latter cases were conducted by the government. It involves large numbers of people being slaughtered. The CCP has committed the most serious crimes against humanity."
He said, "I don't have direct evidence to prove it's done by the CCP, but looking at the analysis of the facts, it's not difficult to come to this conclusion. Consider those that have been targeted - why is the regime focusing on Falun Gong, Xinjiang Uygur and Tibetan Buddhists groups? This is an obvious characteristic of genocide, just like the Nazi's slaughter of the Jews. Moreover, it's gone on for a long time, and there are always some cases in the news. The CCP is an iron-fisted regime, otherwise it wouldn't be difficult to stop these terrible cases from happening!
"Under normal circumstances, these types of crimes would not be allowed to continue because they are so cruel, they have crossed the bottom line of human morality. Those involved in China are the army, the police, government hospitals and jails that have forcibly taken organs to do business, so aren't these agencies governmental? After years of international public pressure, if up till now this thing has still not stopped, it can only mean that the government is involved, because individuals and any non-governmental organization cannot accomplish what has happened.
"There are many rich people in Morocco, and China's 'transplant tourism' held a large scale marketing exhibition business directed at them. It showed that they have a large enough organ supply, enough for all the rich people in the world to get transplants, as long as they can afford it."
"Please continue to appeal"
A Malaysian woman held her baby while she signed the petition and said, "These last couple of years I heard of organ trafficking, lost children, etc. through the Internet and the media. This world is unsafe and scary. But today this is the first time I learned that in China, it's the government (CCP) involved in these atrocities, and they have killed a lot of people. This is even more horrible. The Chinese regime is the devil killing people, just unimaginable! For world peace, please continue to appeal until it's completely stopped."