Mr. Pang Guangwen Denied His Bachelor's Degree Certificate, Sentenced Instead to Five Years in Prison
October 19, 2013 | By a Minghui correspondent in Shanghai, China
(Minghui.org)
Summary of Key Persecution Facts:
Name: Pang Guangwen (庞光文)
Gender: Male
Age: 36
Address: Shanghai
Date of Most Recent Arrest: July 8, 2013
Most Recent Place of Detention: Tilanqiao Prison in Shanghai (提篮桥监狱)
City: Shanghai
Persecution Suffered : Electric shock, sleep deprivation, forced labor, brainwashing, illegal sentencing, forced injections/drug administration, beatings, hung up, imprisonment, solitary confinement, torture, rape, sexual assault, force-feedings, extortion, fired from workplace, physical restraint, mental hospital, home ransacked, interrogation, detention, denial of restroom use, denied visitation
Mr. Pang Guangwen has been arrested twice in Shanghai since April 2012 for practicing Falun Gong, despite China's Constitution guaranteeing its citizens the freedom of belief. He was sentenced to five years in the Tilanqiao Prison in Shanghai, and he is currently in critical condition due to torture.
Mr. Pang was born in October 1977 in Guangrao County, Dongying City, Shandong Province, China. He earned a bachelor's degree from Shandong University, but the school refused to issue a certificate of graduation because he persevered in his constitutional freedom of practicing his faith, and refused to renounce Falun Gong.
Arrested and Tortured
He started a business in Sanzao Town, Nanhui District, Shanghai, but the Chinese authorities would not leave him alone. The police from Jiangsu Road, Changning District, Shanghai illegally arrested him on April 27, 2012 for practicing Falun Gong, and he was incarcerated in the Changning District Detention Center.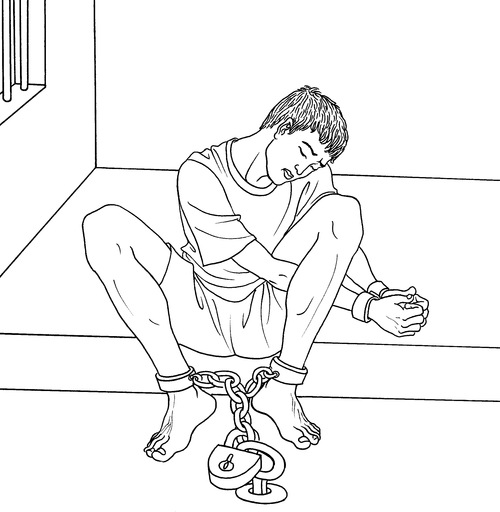 Torture illustration: handcuffed and shackled
Mr. Pang faced brutal abuse and torture in police custody. The guards chained his hands and feet together on May 14, 2012. He went on a hunger strike as a non-violent means to protest the deprivation of his right to practice his faith and his personal freedom.
He was sent to a prison hospital on May 27 where he did not get proper medical treatment, but faced additional torture. He was subjected to force feeding through his nose, not as a means of nourishment, but as a punitive measure. He was bound to a hospital bed all day, was force fed with six cups of liquid food and was given five bottles of unknown contents through intravenous injections every day. He was eventually released on August 1, 2012 as his condition got worse.
Tried and Sentenced
Mr. Pang received a notice from the Changning District Court on July 5, 2013, that he must appear in court on July 11 to face trial.
He visited the 610 Office in Changning District on July 8, 2013 in an attempt to clarify the truth about Falun Gong and persuade them to stop the trial. However, he ended up being arrested and detained at the Changning Detention Center. He was taken to the court for trial on July 11.
Mr. Pang was taken to the courtroom on a stretcher on July 11 because he had been on a hunger strike protest since he was arrested on July 8. He was transferred to the Shanghai Prison General Hospital on July 19, where he was bound to a hospital bed and again force fed. When he began to eat on his own, he was sent to the Tilanqiao Prison on September 3, 2013.
His family received a call from prison on October 2, 2013 that Mr. Pang had been sent to the Shanghai Prison General Hospital because his body rejected food and he vomited everything he ate, and he was in critical condition.
His repeated arrests took a toll on the health of his father, who was receiving chemotherapy in Shanghai for esophageal cancer before Mr. Pang was arrested in 2013. When his father heard the news that his son had been sentenced to five years in prison for practicing Falun Gong, his health deteriorated and he passed away ten days after the chemotherapy started.
Mr. Pang's four-year-old daughter had to withdraw from kindergarten after he was arrested because the family had lost their income from Mr. Pang.
Relentless Persecution of Falun Gong Practitioners
The plight faced by Mr. Pang and his family is very representative of the plight of Falun Gong practitioners in China. Having an advanced degree of education or being a successful businessman will not prevent Falun Gong practitioners from discrimination or persecution .
The Chinese communist regime banned Falun Gong in 1999 as it feared the rapidly increasing popularity of the cultivation practice might threaten its rule. Falun Gong has no political agenda and is an apolitical spiritual practice in its teachings. However, the Chinese communist regime destroyed Falun Gong publications in 1999 and blocked the Chinese people from accessing any website containing information that is different from its hate-filled propaganda against Falun Gong.
The actions of the local police and the justice system against Mr. Pang have been documented and will be used for future legal purposes to uphold justice for Mr. Pang.