Ms. Ma Changyue from Shenyang City Dies as a Result of Persecution
October 11, 2013 | By a Minghui correspondent from Liaoning Province, China
(Minghui.org)
Summary of Key Persecution Facts:
Name: Ma Changyue (马昌月)
Gender: Female
Age: 60
Address: Shenyang City
Occupation: Unknown
Date of Death: August 28, 2013
Date of Most Recent Arrest: June 2012
Most Recent Place of Detention: Shenyang City Detention Center (沈阳市看守所)
City: Shenyang
Province: Liaoning
Persecution Suffered: Illegal sentencing, torture, detention
Falun Gong practitioner Ms. Ma Changyue from Shenyang City was arrested in June 2012 while distributing truth-clarification materials. She was then taken to the Shenyang City Detention Center where she was severely tortured. As a result, Ms. Ma's life was in imminent danger. Officials at the detention center released her on medical bail to avoid responsibility.
Officials from Dadong District Court in Shenyang City still unlawfully held a trial at Ms. Ma's home on March 28, 2013 and sentenced her to three years in prison. However, Ms. Ma's health didn't improve and she passed away at around midnight on August 28, 2013, at the age of 60.
Many Practitioners Arrested in Shenyang City This Year
The police in Shenyang City arrested more than 30 practitioners on March 20 and March 21, 2013. Several practitioners have been released, but one male and 10 female practitioners are still held at the Shenyang City Detention Center.
Ms. Fu Hui, 43, was taken to the Tiexi District Xinggong Police Station after her arrest. Three officers took her to a room with no windows and tied her to a metal chair. They shocked her legs and genital area with electric batons until she was at the brink of death.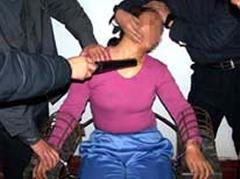 Torture Re-enactment: Tied to a metal chair and shocked with electric batons
Ms. Zhao Shuyun, 60, was closely monitored by the police. She was arrested by police from the Dadong District Police Station and taken to the Dadong District Detention Center. There, she suffered a mental collapse as a result of torture.
Ms. Wu Shuyan from Dadong District was severely persecuted during the seven years she was imprisoned at Liaoning Women's Prison. She had fluid in the peritoneal cavity as a result of torture. Ms. Wu passed away on June 2, 2013, at the age of 47 years old. She leaves behind her husband, daughter and 80-year-old father.