Pingdu Court of Shandong Illegally Tries Ms. Sheng Shuli
October 10, 2013 | By a Minghui correspondent from Shandong Province, China
(Minghui.org) Ms. Sheng Shuli, a Falun Dafa practitioner from Zhugou Town, Pingdu City, Shandong Province, has been imprisoned in the Pudong Detention Center in Jimo since her arrest on May 24, 2013. Judge Hou Jingyu from the Pingdu Court held a secret trial for Ms. Sheng on August 1. Ms. Sheng has a daughter in primary school and a son with cerebral palsy who needs her assistance.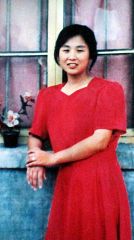 Ms. Sheng Shuli
Ms. Sheng was reported to police for clarifying the truth about Falun Gong on May 24, 2013. Officers from the Jiudian Town Police Station arrested her, and took her to the Pudong Detention Center in Jimo the next day. Jiudian authorities falsified evidence, claiming that officers searched her home and discovered a lot of informational materials.
Actually, several officers went to the store that Ms. Sheng owns on the morning of May 25, attempting to search it. Her husband refused to let them in, so the officers walked away empty handed. They did not even dare to step inside the door.
Ms. Sheng was formally arrested on June 6, 2013, and Ms. Sheng's case was transferred from the Procuratorate to the court on July 16. Judge Hou Jingyu of the Pingdu Court held secret trial for Ms. Shuli on August 1, without notifying her family.
Judge Hou was the same judge who sentenced Pingdu Falun Gong practitioner Ms. Li Li to four years of prison in 2012. Ms. Li is still suffering persecution in Shangdong Women's Prison.


Hou Jingyu
Ms. Sheng, 45, began practicing Falun Dafa in 2004. Before she began practicing Falun Gong, her son was diagnosed with cerebral palsy, and he lost the ability to take care of himself. Worrying over her disabled son, Ms. Sheng developed severe headaches, which often hurt so much that she could not even open her eyes. Soon after she began cultivating, she experienced the wonderful feeling of being free of disease. Because she persisted in her belief, she was repeatedly persecuted by the Pingdu police.
Officers from Zhugou Police Station and agents from the Pingdu 610 Office detained her in the Pingdu Brainwashing Center for 40 days, beginning on June 2, 2005.
As Ms. Sheng was telling villagers about Falun Dafa in Zhengjia Village, Jiudian Town on December 13, 2007, village security officers took her to the village office. Zheng Quanjun, the village Party secretary, reported her to the Jiudian Police Station. She was arrested by officers from the Jiudian Police Station and later sent to the Wangcun Forced Labor Camp for a year.
This is the third time that Ms. Sheng has been arrested. Her family went to Pingdu Court on August 7, 2013 to inquire about her. When the family asked why they were not notified about the trial, Judge Wang Zhongfu of the Pingdu Court, also a classmate of Ms. Sheng's younger sister, actually said, "Blame me, I forgot to tell you" and then carelessly added, "I am already on the evildoers list, the last person on the list is me." Wang Zhongfu falsely sentenced Pingdu Falun Gong practitioner Ms. Zhang Youqin to three years in prison in 2012. Ms. Zhang is being detained at Shandong Women's Prison.
Since the Chinese Communist Party's persecution of Falun Gong began in 1999, judges of Pingdu Court have repeatedly betrayed their conscience, frequently issued illegal sentences, and given harsh sentences to Falun Gong practitioners. In 2012 alone, eight practitioners were sentenced to prison terms ranging from six months to five years. In 2013, besides Sheng Shuli, 70-year-old Ms. Zong Huiqing was sentenced to three years in prison. Ms. Zong is being held in Shandong Women's Prison.
Falun Gong practitioners still being detained in Pingdu Prison include Zhang Huirong, Wang Yunchong, Wang Guangwei, Sun Suling, Li Li, Wang Xiyu, Sui Guanghua, Li Jihua, Liu Yaqi, Zhang Youqin, Zong Huiqing, Zhang Yaping, and Wang Yuzhen.
Persons involved in this persecution:
Cui Xuwei, director of Jiudian Police Station: +86-13370818885 (Cell)
Zheng Quanjun, Zhengjia Village secretary: +86-13863919712 (Cell)
Yu Naijiang, Party secretary of Pingdu Legal and Political Affairs Committee: +86-532-88315018 (Office), +86-13963949998 (Cell)
Zhang Jinrong, director of Pingdu 610 Office: +86-13953216049 (Cell)
Hou Jiarui, deputy director of Pingdu Police Department (in charge of persecuting Falun Gong): +86-13806395105 (Cell), +86-53266587008 (Office)
Hou Jingyu, Pingdu Court Criminal Tribunal: +86-18853253663 (Cell)
Wang Zhongfu, Pingdu Court Criminal Tribunal: +86-13506394008 (Cell)
Related articles:
Ms. Sheng Shuli of Pingdu, Shandong Province, Arrested
Pingdu Police Falsify Charges to Arrest Falun Gong Practitioner Ms. Sheng Shuli