Ms. Zhu Guilin from Shimen County Persecuted for Over a Decade (Photo)
January 27, 2013 | By a Minghui correspondent from Hunan Province, China
Name: Zhu Guilin (朱桂林)
Gender: Female
Age: 48
Address: Shimen County, Hunan Province
Occupation: Unknown
Date of Most Recent Arrest: October 12, 2012
Most Recent Place of Detention: Shimen Detention Center
City: Changde
Province: Hunan
Persecution Suffered: Detention, forced labor, solitary confinement, forced feeding, injected with drugs that destroy central nervous system
(Minghui.org) Ms. Zhu Guilin, 48, started to practice Falun Gong at the beginning of 1998. After the communist regime launched the persecution of Falun Gong in July 1999, she was repeatedly arrested and detained. Below is a summary of the persecution she has suffered from 2001 to the present.
Ms. Zhu was illegally arrested at home by Shimen Domestic Security officers in February 2001. She was incarcerated in a detention center, where she went on a hunger strike to protest the persecution. She was then sent to the Psychiatric Ward of Shimen People's Hospital, where Dr. Tan Shibing injected her with a nerve-damaging drug. As a result, she had symptoms of dementia and blurred vision.
In 2004, Ms. Zhu was sent to the Baimalong Forced Labor Camp in Zhuzhou, where she was detained for more than two years and inhumanly tortured. She was on the verge of death when she was finally released.
Ms. Zhu's husband was forced to divorce her as a result of the persecution. Ms. Zhu had no place to go and stayed at her younger brother's home. In October 2007, she was taken to the Changde Brainwashing Center.
The Changde Town610 Office and the Shimen County 610 Office conducted a mass arrest on October 27, 2011. Ms. Zhu was taken into custody by several officers from the Shimen Police Department and the Dongcheng Police Station. Jia Zhenhan, chief of Shimen Domestic Security Division, led people to ransack her home and confiscated her personal property worth approximately 6,000 yuan. That night, Ms. Zhu was sent to Shimen Detention Center.
Ms. Zhu went on a hunger strike to protest the unlawful detention. Five days later, the 610 Office ordered the detention center to force-feed her. The guards inserted a hard tube into her nose and poured liquid mixed with unknown drug(s). She had a lot of bleeding whenever the tube was pulled out. As a result of the brutal treatment in the detention center, Ms. Zhu was on the verge of death.
Ms. Zhu was sent to a hospital for emergency treatment on November 23, 2011. The next day, the police forced her older brother to sign a guarantee statement that she would not practice Falun Gong. Afterward, she was released on bail.
In April 2012, Shimen Domestic Security Division and Shimen Procuratorate informed Ms. Zhu's family that she needed to go to the Procuratorate. Ms. Zhu did not cooperate.
On October 12, 2012, Ms. Zhu was taken away from her relatives' home in Jiaxing, Zhejiang Province, where she helped take care of a 2-month-old baby. She was brought back to Shimen that night. The next morning, she was sent to Dongcheng Police Station in Shimen.
Cai Conglin, deputy director of the Shimen Police Department, Shen (surname), chief of the Dongcheng Police Station, policeman Tan Zuncheng and others then transferred Ms. Zhu to the Shimen Detention Center. On October 17, 2012, she was transferred to Laodaohe Brainwashing Center in Changsha, Hunan Province. However, the brainwashing center refused to accept her because of her poor physical condition. Nevertheless, the Shimen 610 Office did not let Ms. Zhu go.
On October 19, 2012, Ms. Zhu was taken to her younger brother's home by director Wen Jun of Chujiang Town Comprehensive Administration Office in Shimen, Party secretary Peng Xinzhong of Shimen Political and Legal Affairs Committee, Hu Tingying from the Laoximen Neighborhood Committee, director of public security Li Shujian and others. They welded an iron door with a lock on to her brother's home to imprison Ms. Zhu there. Two people from the Neighborhood Committee took turns to monitor Ms. Zhu.
On October 23, 2012, director He Liangping of the Shimen 610 Office and chief Jia Zhenhan of the Shimen Domestic Security Division ordered the Neighborhood Committee to add another anti-theft door at the main entrance. Ms. Zhu was detained at her brother's home for more than 20 days. During that period, on November 9, 2012, the Shimen Court issued a letter intending to prosecute Ms. Zhu with fabricated charges. Later, Ms. Zhu managed to bypass the persons assigned to monitor her and was able to escape.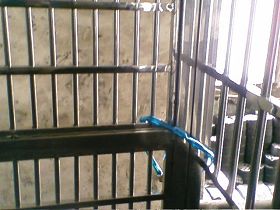 The locked door in front of Ms. Zhu's younger brother's home, where Ms. Zhu was unlawfully imprisoned by the authorities.
Parties involved in the persecution:
Jia Zhenhan, chief of Shimen Domestic Security Division: +86-736-5169995 (Home), +86-736-5152995 (Office), +86-13973642986 (Cell)
Gao Tao, instructor at Shimen Domestic Security Division: +86-13707367156 (Cell)
Wang Shaocheng, deputy director of Laoximen Neighborhood Committee:+86-13875173410 (Cell)
Li Shujian, public security director of Laoximen Neighborhood Committee: +86-13975663387 (Cell)
He Liangping, deputy Party secretary of Shimen Political and Legal Affairs Committee and director of the Shimen 610 Office
Peng Xinzhong, Party secretary of Chujiang Political and Legal Affairs Committee
Zeng Xiaodong, head of Shimen Court
Wen Jun, director of Chujiang Comprehensive Administration Office
Hu Tingying, Party secretary of Laoximen Neighborhood Committee, Chujiang Town, Shimen County
Liu Liaoming, director of Laoximen Neighborhood Committee
Related articles:
"Baimalong Forced Labor Camp in Zhuzhou City, Hunan Province, Detains Falun Dafa Practitioner Ms. Zhu Guilin Past the Legal Limit" http://en.minghui.org/emh/articles/2007/4/23/84832.html
"Ms. Zhu Guilin Persecuted in Baimalong Forced Labor Camp, Hunan Province" http://en.minghui.org/emh/articles/2007/8/20/88758.html
"Arrested by 610 Office, Zhu Guilin Is Persecuted Again in Changde City Brainwashing Center" http://en.minghui.org/emh/articles/2008/1/21/93477.html