Vancouver, Canada: Chinese Theatergoers Express Their Heartfelt Gratitude and Praise for Shen Yun (Photos)
January 23, 2013 | By Ran Zhang, Minghui Correspondent
(Minghui.org) The Shen Yun Performing Arts Touring Company staged five heartwarming shows at the Queen Elizabeth Theatre in Vancouver, B.C., Canada on January 10-13, 2013. Vancouver—the most populous city on the west coast of Canada—is home to a large community of Chinese immigrants, many of whom attended the sold-out performances.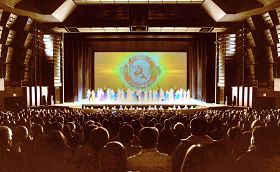 Shen Yun Performing Arts Touring Company warmly welcomed at Queen Elizabeth Theatre in Vancouver.
Chinese Tourist: "Shen Yun Promotes Basic Human Values"
Mr. Zhu, a Chinese tourist, brought his entire family to see the Shen Yun show. He said the brilliant performance touched his heart so deeply that he could not hold back his tears.
"I was very moved during the show. Our 5,000-year Chinese culture is so graceful. There were many brilliant moments in the performance, especially the programs featuring the Tang and Han dynasties."
Mr. Zhu said that the Chinese Communist Party (CCP) has severely damaged Chinese civilization.
"Chinese traditional culture has its roots in China. But the current regime promotes literary inquisition, which has severely damaged traditional Chinese culture, especially during the Cultural Revolution, when an ardent, anti-Confucius crusade was launched. As a result, there is a complete lack of morality in contemporary Chinese society.
"Nowadays, it is not uncommon for a son to murder his father, however this sort of thing would never have happened before the CCP took over China. Such a crime can only occur when basic human values are turned upside down. "
In contrast, he said, Shen Yun advocates morality and virtuous living.
"Shen Yun promotes basic human values to return to truth, compassion, and beauty. Why do human beings exist and develop? Because enlightened beings know that the purpose of human life is for humans to return to their original true selves. Only in this way can a society continue to develop, and only in this way can a civilization be preserved."
Mr. Zhu concluded, "Shen Yun is promoting ancient Chinese civilization, helping humans purify their minds and hearts, and restoring morality and basic human values."
Chinese Visitor: "It's as if Divine Beings Were on Stage!"
Mr. Zhang, who is in his sixties, is from China. He was in Vancouver visiting relatives when he heard about the Shen Yun show.
"Shen Yun's superb artistry is unknown to most people in China. I, along with eight family members, thoroughly enjoyed every aspect of the show. We especially liked the ethnic values portrayed in the dance sets and the fine movements of the dancers, which showed their inner bearing and spirit. I have never seen anything like this before!"
Mr. Zhang was touched by Shen Yun's animated backdrop, saying it is very high-tech. "From the very opening act, my heart was touched. It seemed like there were divine beings on stage, and we paid humble tribute to them. It was as if all of my feelings and senses emerged at once. My hands were trembling and sweating, and sometimes I even shed tears."
"I am in my sixties," Mr. Zhang said, "and hold an official position in China. It is not very easy for me to experience this range of emotions and feelings, as my view of the world is firmly set. Thus, I was even more touched by what I saw today.
"In China, I have heard only one point of view, for so many years. Today, I was exposed to another point of view and out of habit, I initially rejected it. That is because I have been completely duped by the CCP propaganda.
"During the show, I went from rejecting the truth about the CCP, to knowing that I had been fooled by the very regime that I spent my whole life defending. After watching Shen Yun, my entire family knows that Falun Gong is good. Thank you for putting on such a lovely performance. It is really worth watching!"
World-Renowned Chinese Baritone: Shen Yun Presents "The Core Values of the Human Soul"
Among the many arts enthusiasts who attended the show, was renowned Chinese baritone Song Xuewei, also known as Marco Song.
This was his second time seeing the Shen Yun Performing Arts, and he was clearly moved by the experience.
"What Shen Yun has presented are the core values of the human soul—truthfulness, compassion, and beauty," said Mr. Song.
"Shen Yun also promotes another aspect of morality, which is that people should never betray their conscience. This is what is most precious," he explained.
Mr. Song is a top opera singer in China, and regularly performs at the China National Opera House. The renowned Russian conductor, Alexander Mikhailovich Anisimov, once praised Mr. Song's singing and performing skills, calling him "China's most distinguished opera singer."
Mr. Song explained that unlike the shows in China, Shen Yun's artists performed from the heart and expressed the traditions and principles of ancient China.
"In terms of the level of artistry, Shen Yun is completely different from performances in China," he said.
"Shen Yun's dancers perform with a kind of belief, steeped in the values of the human soul, truthfulness, compassion, and beauty. And that is very important." Song said.
"Average dancers perform their movements in a mechanical way, without thinking, and they can also dance very beautifully. However, if the performers dance with their souls, then it is different, and the audience can feel that too."
Mr. Song said that the essence of Shen Yun resonated deep in his heart.
"Seeing Shen Yun is like making a friend. Casual friends say 'Hello' to each other when they meet. Friends who are closer to each other gather together for tea and delicious food. The closest friends can share their minds and souls, and Shen Yun is exactly this kind of performance," he said.
Mr. Song also praised the New York-based company's original musical compositions, especially noting the tenor and soprano singers.
"The lyrics written for the performance are also magnificent," said Mr. Song. "They convey high ideals and values."
He also appreciated the Shen Yun Orchestra, saying it was "ineffable" and "extraordinary."
He said that Shen Yun is a show that can be enjoyed again and again.
After seeing the performance in the United States in 2007, Mr. Song told everyone it was an "absolutely beautiful experience. I recommend it to everyone."
Shen Yun Promotes Righteousness and Prevails Against Evil, Says Chinese Immigrant Investor
Chinese immigrant investor He Jianmin said he felt "fortunate" to see the show.
"The performance was great and the values of truth and compassion are very good. They are exactly what people need today, because only with truth and compassion can humans live happily. Without truth and compassion, life would become meaningless. I think everyone, including the Chinese, should promote this performance," he explained.
Mr. He continued, "The Shen Yun show presents China's 5,000-year traditional culture. It is very good and authentically presented. Each program is meaningful, containing principles of being kind towards others and punishing evil."
Chinese Student: The Stage Design Is Magnificent
Adriana Cao, a Chinese student majoring in modern dance at Simon Fraser University in Vancouver, also enjoyed the show.
Ms. Adriana, who graduated from a university in Sichuan Province where she majored in dance, is very well versed in Chinese traditional dance and ballet. She praised Shen Yun's stage design, saying it was both "magnificent and unique."
"The dancing was perfectly integrated with the costumes, lighting, and backdrops, which made for a complete sensory experience. Coupled with the sleeves of the traditional Chinese costumes, the performance was grand and elegant. This is my absolute favorite stage show.
"The performances not only showed the grace, elegance, and dignity of the female dancers, but also the male dancer's heroic masculinity. Behind each dance are different cultural connotations, as well as the history of the various ethnic groups, which are colorful and beyond words."
She continued, "The dance skills demonstrated in the show are outstanding! For example, the tumbling and jumping, and the use of the body's expression. All of this shows the different personality traits of each of the performers. It is very moving."
Ms. Cao said the stage lighting and all the costume colors "were coordinated just right," adding, "The movements of the female dancers were integrated with the colors very well."
Ms. Cao said that Shen Yun Performing Arts is a great show and recommends that everyone come see it.