Ms. Yang Mei Arrested and Again Sent to Hubei Province Women's Forced Labor Camp
September 04, 2012 | By a Minghui correspondent from Hubei Province, China
Name: Yang Mei (杨梅)
Gender: Female
Age: 36
Address: Unknown
Occupation: Unknown
Date of Most Recent Arrest: September 28, 2010
Most Recent Place of Detention: Hubei Women's Forced Labor Camp (湖北省女子劳教所)
City: Huanggang
Province: Hubei
Persecution Suffered: Illegal sentencing, beatings, hanging by handcuffs, torture, sexual assault, force-feedings, physical restraint, suffocating
Key Persecutors: Gao Lin (高林), Wu Najun (吴娜军), Yin Yuro (殷玉容) and Xie Hongying (谢红英)
(Minghui.org) Ms. Yang Mei, 36, is a resident of Xishui County, Huanggang City, Hubei Province. She managed to escape from the Hubei Province Women's Forced Labor Camp on April 13, 2009. The camp officials declared that they would beat her to death if she were caught. Ms. Yang was arrested in Guangzhou City, Huangdong Province in 2010 and sentenced to one year and nine months of forced labor. She was detained in the Guangzhou City Chatou Women's Forced Labor Camp. In late May 2010 she was transferred to the Hubei Province Women's Forced Labor Camp before her term expired, which was scheduled for June 2010.
Ms. Yang was subjected to a variety of brutal tortures in the Hubei Province Women's Forced Labor Camp during her first detention there, including being sexually assaulted.
Tortured During First Detention
On August 4, 2008, shortly before the Beijing Olympics, Ms. Yang Mei was arrested and sentenced to one year of forced labor. She was sent to the Hubei Province Women's Forced Labor Camp on September 1, 2008. She was tortured every day, along with other Falun Gong practitioners, by various means, including kicking, beating, suffocating by stuffing rags into their mouths, slapping, hitting their backs with elbows, hitting their chests with knees, hitting their feet and toes with stools, and pulling their ears, etc. She was often full of bruises and bumps on her head. It was often too painful for her to wash her hair, and she lost a lot of hair. The camp guards also often punched her breasts and pinched her nipples.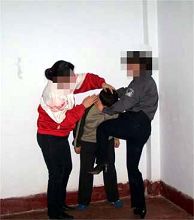 Torture re-enactment: Beating
One night in September 2008, the camp guards tried to force Ms. Yang to renounce Falun Gong. They kicked and punched her, and then they pushed her down, forcing her to sit on the ground. Inmate Wang Fang twisted her hand behind her back, inmate Gao Lin pulled her hair, inmate Wu Najun sat on her legs, and inmate Li Rong sat one her calves. They forcibly put a pen in her hand and forced her to sign a letter renouncing Falun Gong. After the torture, her fingers were swollen, she had difficulty eating and washing clothes, and her legs were so painful that she needed help walking up stairs.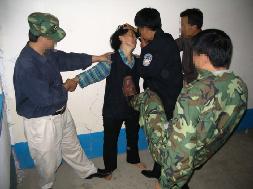 Torture re-enactment: Punching and kicking
On the evening of September 13, 2008, inmates Li Rong and Gao Lin pushed Ms. Yang to the ground on her back and each held down one hand. Inmate Wu Najun kicked her stomach and chest and then stomped on her. She almost lost consciousness. When she refused to cooperate with the inmates on September 20, 2008, they brutally beat her. Her nose bled and she had a big bump on her forehead. They kicked her and caused her to fall down to the ground. Her tailbone was injured and she had difficulty sitting. Her entire body ached and was full of bruises.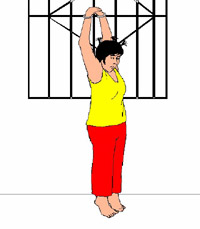 Torture re-enactment: Hanging by handcuffs
Because Ms. Yang refused to participate in the exercises as a protest, beginning on November 9, 2008 inmates Gao Lin, Wu Najun, and Yin Yurong tortured her by hanging her from a window rail for two days and a night. They stripped her clothes and poked her body with needles, slapped her face and head with a rubber hot water bottle filled with boiling water, beat her eyes, and pulled her hair. Her eyes were injured as a result and she was unable to see clearly.
The inmates also poked her private parts with a toothbrush and kicked her. Her private parts and thighs were black and full of bruises, and she had trouble using the restroom.
Ms. Yang managed to escape from the labor camp on the morning of April 13, 2009.
Persecution in Guangdong Province Women's Forced Labor Camp
After Ms. Yang walked out of the Hubei Province Women's Forced Labor Camp, she did not go home but went to Guangzhou City and used an alias, Li Jing. She worked at the Yimanning Clothing Factory.
On September 28, 2010, after Ms. Yang went shopping using money with truth-clarification words written on it, she was followed to her workplace. The plainclothes police that followed her searched her and found more of this kind of money on her. She was arrested and taken to the Kangle Village Fengyang Police Station in Haizhu District of Guangzhou City.
Ms. Yang was sentenced to one year and nine months of forced labor. She was sent to the Chatou Forced Labor Camp on October 4, 2010, and as of October 7, she had not eaten anything. Her ankles and wrists were full of bruises and scars, and so were her limbs. She was tied to a chair and force-fed on October 11.
It was reported that the camp guards Zhuo Xiuling, Ruan Ling, Lu Chunlin, and Liao Rongrong tortured practitioners Ms. Li Jing (Ms. Yang Mei) and Ms. Zhang Xiaoling, by beating and cursing at them. They also ordered inmates to monitor them, forcing them to sit on small stools from 6:20 a.m. until 1:00 a.m.
A camp guard ordered inmate Xie Hongying to torture Ms. Yang. Xie and five inmates once took her to the bathroom and scraped the lower part of her body harshly. Her skin was stripped off and bled.
Ms. Yang was subsequently in poor health, with an injured back and swollen legs. Since Ms. Yang did not disclose her identity, her family did not know her whereabouts.
When officials from the Hubei Province 610 Office came to identify her in late May 2011, she was sent back to the Hubei Province Women's Labor Camp.