Western Australia: Art Exhibition Displays Hope and Perseverance (Photo)
(Minghui.org) On August 10, a 2-week-long "Truthfulness-Compassion-Forbearance" Art Exhibition opened to the public at the Gary Holland Community Exhibition Centre in Rockingham, Western Australia. While the exhibition has visited many cities in Western Australia, this was the first time for it to visit Rockingham. An opening ceremony held the night before the public viewing was attended by many locals.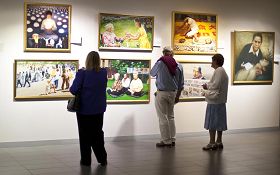 Visitors admire the paintings in the "Truthfulness-Compassion-Forbearance" Art Exhibition in Rockingham, Western Australia
At the opening ceremony, photographer Danny commented that the paintings held very deep meaning that is hard to describe. "Compared to the story and meaning behind each painting, technique, lighting, color and materials all become secondary," he said. "As a photographer, I am deeply touched by each painting and the story behind it."
This comment was echoed by many other exhibition visitors. Linda Davies wrote in the guest book that the paintings portrayed serenity with beautiful strokes, and praised the message conveyed by the exhibition.
Dawn Dawson commented that the paintings were very touching, letting the visitor experience beauty through sorrow and sadness.
Another visitor said, "One thing I appreciate very much is the docent who gave me a more complete picture of the artworks. These paintings deeply touched me. I never knew that such suffering could happen to anyone!"
Damyl Sinclair wrote: "Extremely moving and thought provoking!"
At the end of the opening ceremony, one visitor commented, "Though some paintings use dark colors, you can feel hope from the portrayed determination and perseverance."
On August 15, middle school teacher Angela Lueva brought her students to the exhibition. She divided her students into groups to view the paintings together and have group discussion. She also picked one of the paintings to discuss with the students. Ms. Lueva said, "I feel compassion and deep sympathy. Compared to their suffering, I know only a little. These paintings help me know more about the truth about Falun Gong." Her students also asked many questions, which were answered by the docents.