Ms. He Haifen Arrested Again after Recovering from Severe Torture
September 13, 2012 | By a Minghui correspondent in Hebei Province
Name: He Haifen (何海芬)
Gender: Female
Age: 50s
Address: Qianzhuang Village, Anping County
Occupation: Farmer
Date of Most Recent Arrest: August 14, 2012
Most Recent Place of Detention: Hengshui Brainwashing Center (衡水洗脑班)
City: Hengshui
Province: Hebei
Persecution Suffered: Sleep deprivation, forced labor, brainwashing, illegal sentencing, forced injections/drug administration, beatings, torture, force-feedings, detention
Key Persecutors: Zhu Tiejun (祝铁军), Su Zengmao (苏增茂)
(Minghui.org) On August 14, 2012, Falun Gong practitioner Ms. He Haifen from Qianzhuang Village, Anping County, Hebei Province, was arrested by Communist Party officials who broke into her house. She was taken to Anping Town Police Station, and, in the afternoon, she was transferred to Hengshui brainwashing center.
After the Communist regime began its persecution of Falun Gong in July 1999, Ms. He Haifen was arrested and detained many times. Three times she was tortured until she was on the brink of death. At one point she was tortured into a vegetative state.
After Ms. He was arrested this time, her family went every day to those responsible for her arrest to ask for her release. They went to see the town Party secretary Zhu Tiejun. Each time, he alternately hid from them or threatened to send them to the detention center. Her daughter told them, "You arrested my mother. Now our family is broken, and we are not afraid of detention."
From her youth, Ms. He's daughter witnessed how her mother was tormented by illness and she saw with her own eyes how Falun Gong gave her mother a new lease on life. She also watched her mother being repeatedly arrested by the Communist Party officials, detained and tortured until she nearly died. The following is her daughter Xiaoxia's account of the persecution her mother endured.
The Sounds of My Mother's Painful Agony Accompanied Me to Sleep
"Before my mother practiced Falun Gong, she suffered from migraine headaches, high blood pressure, a slipped disk, and many other illnesses. In summer, she had to wear a large hat when she went outside and afterwards, she was so ill that she could not get out of bed.
Ever since I could remember, every night I fell asleep listening to the sounds of my mother in painful agony. During breaks from farm work, my father would borrow money and take my mother to seek medical treatment. We spent all our money, but her illnesses became more severe and we could only bring her home.
My mother was tortured by sickness for 11 years. Later, she was in such pain that she even harbored thoughts of suicide.
Falun Gong Saved My Mother and Our Family
In 1996, my father brought home a book, Zhuan Falun, which he obtained outside our village. After my mother began reading this precious book and conducting herself according to Truthfulness-Compassion-Forbearance, our family underwent a huge change. My mother could get out of bed and walk around our yard. Soon, she no longer needed to take medication and she could cook and do the washing.
She miraculously regained her health completely, and I often heard my parents chatting and laughing.
Persecuted by the Communist Regime, Our Nightmares Began Again
After July 1999, Jiang and his gang of thugs started to fanatically arrest and detain Falun Gong practitioners. My mother was one of them. Our lives once again became a nightmare.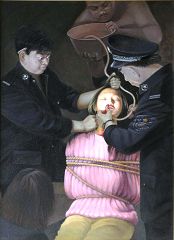 Torture Re-enactment: Brutal Force-feedings (Drawing)
In early 2001, my mother was illegally arrested and detained at Hengshui. She was force-fed and, as a result, her stomach and throat were damaged. She threw up the food that she was force-fed and there was blood in it. Subsequently prison guards told us to bring her home for fear that they might be held responsible if she died. For two whole months, my mother could only eat a little liquid food. Six months later, due to her firm belief, my mother miraculously recovered from the torture.
Injected with Poison, My Mother Falls into a Vegetative State
In August 2001, police officers broke into our house and took my mother to Shijiazhuang Forced Labor Camp. In less than two months, we received a letter telling us to bring her home.
When I saw my mother, I was so shocked by her appearance I nearly fainted. From a healthy weight of 105 pounds, she had been reduced to a skeleton lying on a wooden board. Her face was black, her eyes were shut and when I lifted her, she was cold. But I was sure she was still alive. Later, the guards brought her home in a car.
I fed her small spoonfuls of liquid food three times a day. I cannot help being amazed by the power of Dafa. In the short period of a few months time, and without any medical treatment, my mother, who had fallen into this state as a result of the persecution, could stand up.

Torture Re-enactment: Injected with unknown drugs
My mother told me afterwards that when she was detained at Hengshui, she was beaten, abused, and watched by guards on shifts. She was forced to stand for long periods of time, forbidden to sleep, and was not allowed to sit. At Shijiazhuang, she was injected with unknown drugs.
For the Third Time, My Mother Was Tortured Until She Nearly Died
In 2002, the police arrested my mother again and took her to a brainwashing center. In a few month's time, she was again tortured until she nearly died.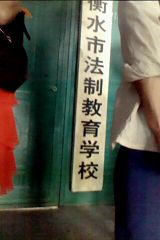 Henghsui brainwashing center
After my mother recovered from the persecution I tried to stop her from practicing Falun Gong but was unsuccessful.
This time when my mother was arrested again, I regained my senses. I know my mother isn't breaking any laws and that it is not wrong to practice Truthfulness-Compassion-Forbearance. Dafa saved my mother's life. It is the Communist regime that has robbed us of our peaceful and happy life.
I hope all those who read this article will censure those who have chosen to closely follow the Communist regime in participating in the persecution of Falun Gong practitioners. Upholding justice and kindness is also upholding our true, traditional Chinese society and culture."
Those who were primarily responsible for and participated in persecuting He Haifen:
Zhu Tiejun, Anping Town Party secretary +86-18903182118
Zhang Yueqi, secretary of Anping Town Political and Legal Committee +86-13315822999
Su Zengmao, Police Office at Anping Town Police Station
He Huan, prison guard: +86-13784850665
Zheng Genqi, Hengshui City 610 Office deputy head, head of Hengshui brainwashing center: +86-318-2026026 (Office), +86-13383383636, +86-318-2135585(Home)