Japan: Clarifying the Truth about Falun Gong at the Hiroshima Memorial (Photos)
(Minghui.org) On August 6 2012, memorial activities were held in Peace Park to mark the 67th anniversary of the nuclear bombing of Hiroshima. Representatives from 71 countries and the European Union attended the event. Because of the earthquake and nuclear radiation leakage which took place last year, the painful memory of the nuclear explosion 67 years ago connected history to the present. The day turned out to be a time and place for people to pray for peace. Days before the event, people from other cities and foreign countries began to arrive in Hiroshima. During those days, local Falun Dafa practitioners also launched a series of activities to clarify the truth about Falun Gong and expose the 13-year-long persecution in China.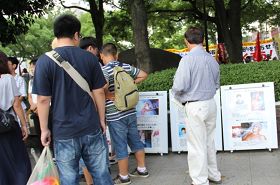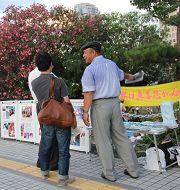 People are reading the display boards to learn more about Falun Gong.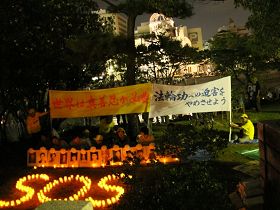 Candlelight vigil held to commemorate fellow Falun Gong practitioners who died in the persecution.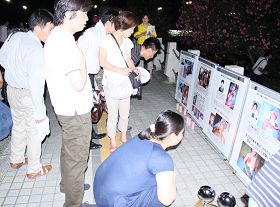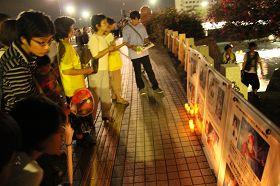 At night, people read the display boards about Falun Gong and the persecution in China.
During the days' activities, many passersby saw the word "Falun Dafa" on practitioners' T-shirts and said, "Hi, Falun Gong. Please give me a flier." Many of them continued to encourage the practitioners. Even though the temperature was high, many people talked to the practitioners for a long time, asking questions such as why Falun Gong is being persecuted and why practitioners are so persistent with their belief in the face of such brutal persecution.
On the night of August 6th, the practitioners held a candlelight vigil to commemorate the 3582 practitioners who are known to have died in the persecution. The banners read "The World Needs Truthfulness Compassion Forbearance" and "Stop the Persecution of Falun Gong". The candles formed three letters "SOS". The solemn event exposed what is happening in China and called for justice and conscience. A lot of people walked by, while many watched from the side and took photos and videos.
Many young people read the display boards too, as their parents actively explained the truth to them. One child about 3 years old asked his mother what it is about. The mother said, "They are good people, the bad guys beat them like this. Look, they are in pain." Another parent talked to his children, "They are the same people as those doing exercises in the park. This is to ask us for help"
In the past, usually the people would leave after 9 p.m., but this time was different, as a lot of people were still lingering around after 10 p.m., and many came to view the truth-clarification display boards.