Ms. Wang Guanrong Tortured to Death in Shuangyashan City, Heilongjiang Province
August 03, 2012 | By Minghui correspondent in Heilongjiang Province, China
Name: Wang Guanrong (王关荣)
Gender: Female
Age: 53
Address: Qixing Mine Family Housing, Baoshan District, Shuangyashan City
Occupation: Accountant
Date of Death: April 2009
Date of Most Recent Arrest: December 7, 2002
Most Recent Place of Detention: Heilongjiang Province Women's Prison (黑龙江省女子监狱)
City: Harbin
Province: Heilongjiang
Persecution Suffered: Sleep deprivation, brainwashing, illegal sentencing, beatings, imprisonment, solitary confinement, torture, physical restraint, interrogation, detention
(Minghui.org) Ms. Wang Guanrong was from Shuangyashan City in Heilongjiang Province. The communist regime sentenced her to 12 years of imprisonment in September 2003 and held her in a detention center. Officials tortured her for more than 50 hours, including depriving her of food and water, having her maintain the "flying an airplane" position, cuffing her hands behind her back, stomping on her feet, kicking her in the knees, etc.
During three years at Heilongjiang Women's Prison, Ms. Wang lost feeling in both legs and feet. She lost her sight completely, and she was in a life-threatening condition. Prison officials released her to shirk responsibility for her wellbeing. Ms. Wang died at a local hospital in April 2009. She was 53 years old.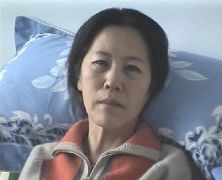 Ms. Wang Guanrong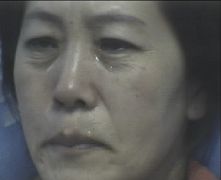 Ms. Wang in tears after going to blind
The following information was obtained from an audio recording by Ms. Wang before her death.
Ms. Wang was an accountant in Shuangya City Grain Reserve. She previously suffered from diabetes, lumbar disk disorders, and other ailments. She began practicing Falun Gong in April 1999, and within two weeks, she was able to walk normally and work.
Arrested When She Went to Appeal and Forced to Stay Away from Home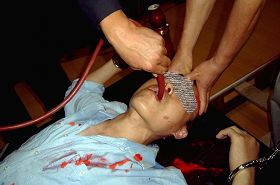 Torture re-enactment: Force-feeding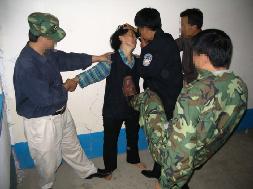 Beating
The Chinese Communist Party (CCP) began persecuting Falun Gong in July 1999. Ms. Wang Guanrong went to Beijing in early 2001 to appeal and was arrested by agents from the Qianmen Police Station. Officials held her in Yanqing County for five days, where she held a hunger strike for five days. She was then detained at Dagang Police Station in Tianjin for five days, where she also held a hunger strike to appeal. Guards force-fed her, grabbed her by the hair, and slammed her head against the wall. She was then kept in a cage in Dagang Criminal Division, where she was half asleep for 4-5 days. She was later transferred back to Shuangyashan City Detention Center and detained there for more than four months.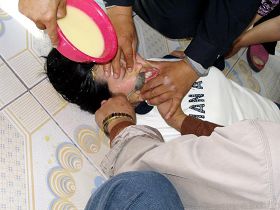 Torture re-enactment: Force-feeding
Ms. Wang was arrested again in October 2001 and held for 15 days. Later she was forced to stay away from home to avoid arrest.
Agents from the Heilongjiang Police Bureau, along with local police, went to her home in April 2002 to arrest her. They threatened her husband that he would be arrested too, attempting to get him to reveal where she was. Her husband was forced to close the hostel they owned, despite its success, and move away to avoid harassment and possible arrest.
Blacklisted, Arrested, and Tortured
When Ms. Wang clarified the truth in Jixian County on December 7, 2002, the police arrested her and put her in the Jixian County Detention Center. She was blacklisted by the police because someone said that she had spent 50,000 yuan to produce Falun Gong materials.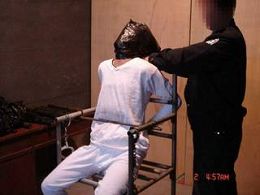 Torture re-enactment: Covering the head with a plastic bag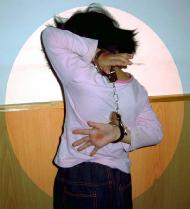 Torture re-enactment: Handcuffing behind the back
The Shuangyashan Police Department created a special team to interrogate practitioners during this time. Ms. Wang and Ms. Sun Fengjie were interrogated together. The two harshest interrogations occurred on December 12 and December 30. The two practitioners were called out at 3:00 p.m. on December 12 and did not return until 1:00 a.m. on December 14. About 17 agents, divided into two groups, tortured them by slapping their faces, pulling their ears, and pulling their hair until they bled. The practitioners were also forced to bend over at a 90-degree-angle, with their legs apart and arms behind them in a position called "flying an airplane." When they were too exhausted to continue, the guards kicked their faces and heads. This continued for two hours, and the two were bleeding the entire time. The guards also struck Ms. Wang's back. Guard Li Sen ordered the practitioners to step on Master Li's image. When they refused to, the guards stepped on their feet. Both were covered with bruises, and they coughed up blood for several days after returning to the cell. Ms. Wang could not walk for two weeks.
One day, when Jixian Detention Center guard Li Bo saw Ms. Wang doing the sitting meditation at midnight, she beat her with a hard plastic pipe three centimeters in diameter.
Tortured in Harbin Women's Prison
The first day after Ms. Wang was transferred to the prison, she and Ms. Sun were handcuffed with their hands behind their backs and forced to squat down for more than an hour. They then had to bend down for more than an hour. Officer Wang Xiaoli slapped her in the face. As a result, her face, arms, and legs were swollen.

Torture re-enactment: "Flying an airplane"
Guards also forced these 20-plus practitioners to run for more than two hours. They had to lift their feet at least six inches off the ground and run both in the morning and in the afternoon.
At that time, Ms. Wang's feet were severely swollen and bleeding. When she recalled this, Ms. Wang said, "Because my feet were swollen and I was too tired to run, guard Tao Dandan forced me to squat down with my hands behind my back. When I was exhausted and sat down, she kicked my back and legs."
Tortured in Solitary Confinement
When guards ordered the practitioners to watch videos that slandered Falun Gong on January 7, 2005, Ms. Wang stood up to stop them. She was thus put in solitary confinement for two months.
There was no heat in solitary, so it was very cold. Her arms were handcuffed to an iron ring on the ground, and she could not move. This continued around the clock.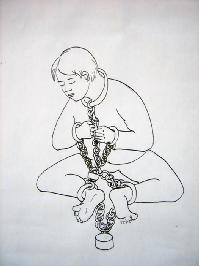 Torture re-enactment: Iron ring on the ground
Because it was very cold in solitary, Ms. Wang's legs cramped, and she had diarrhea. But the guards did not allow her to use the toilet. She was kept in solitary for two months and not allowed to use the toilet.
After leaving solitary, Ms. Wang was transferred to a large cell. Three inmates were assigned to monitor her around the clock, and she was not allowed to leave the cell or interact with anyone. The inmates ordered her to read books that defamed Falun Gong. After two months, she returned to her original cell.
When the other inmates pinched her feet and legs, Ms. Wang had no feeling. By then she knew her legs and feet had lost sensation.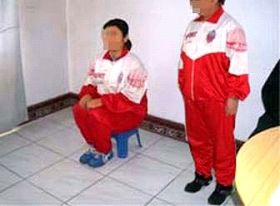 Forced to sit on stool for a long time
Paralyzed and Blinded Due to Torture
In the intensified unit, practitioners had to get up at 5:00 a.m. and go to sleep at 9:00 p.m. They were forced to sit still all the time other than their one trip to the bathroom. After the intensified unit was disbanded, Ms. Wang was detained in the division for ill inmates. During the following two months, her legs and eyesight continued to deteriorate.
According to Ms. Wang, her legs were swollen during her entire three years at the intensified unit. This was because right after arriving at the prison, she was forced to run for two hours every day, followed by two months of solitary and a two-month stay in the big cell. Plus, she had to sit still 15 hours per day, and was otherwise tortured and brainwashed. In the end, her legs lost sensitivity, and she lost sight in both eyes.
After doctors recommended that Ms. Wang be bailed out due to her poor health, the prison officials continued to detain her for another three months, until she could no longer take care of herself at all.
When doctors examined her, they found four plus glucose in her urine and a blood sugar level of 42. Moreover, she had no feeling in her legs, and she was blind in her right eye. She could only see a little light with her left eye. Prison officials then contacted Ms. Wang's family to take her home.
Family Suffers
After Ms. Wang's physical health improved in 1999 due to practicing Falun Gong, her family opened a hostel, and business was very good. After the CCP started persecuting Falun Gong, she was on their blacklist and was forced to stay away from her home to avoid illegal arrest. The police could not find her and began to harass her husband. Her husband could not stay at home either, and they had to close the hostel. Ms. Wang once recalled, "My husband dares not to come out during the day or turn on the light at night. He was forced to close the hostel and is under tremendous pressure. All these things were caused by the CCP."
After Ms. Wang was sentenced to prison, her entire family relied on her husband's low salary, about 500 yuan per month, for income. Because Ms. Wang was unable to take care of herself after her release, her child had to stay home to look after her after graduating from college.
Ms. Wang died in 2009.
People responsible for the persecution of Ms. Wang:
Special team members:
Ling Qingfan (special team group lead), Li Hongbo, Li Sen, Liu Weiguo, Dai Changpeng, Xing Tiefeng, Ling Dawei, Chang (driver for Li Sen), and Zhang Yushan (Jixian County Detention Center)
Jianshan District Court:
Chi Yumin (court head), Yu Fuxin (deputy court head), Jiang Feng (chief judge)
Harbin Women's Prison:
Wang Xiaoli, former deputy head of the intensified unit, currently head of Division 7 (police ID: 2320061): +86-15945663455
Tao Dandan, currently head of Division 11
Related article: "Ms. Wang Guanrong Tortured in Harbin City Women's Prison"
http://en.minghui.org/html/articles/2010/8/17/119315.html#.T_kra_Xuhac