Mr. Qu Bin Severely Persecuted in Yaojia Detention Center
August 25, 2012 | By a Minghui correspondent from Liaoning Province, China
Name: Qu Bin (曲滨)
Gender: Male
Age: Unknown
Address: Dalian City, Liaoning Province
Occupation: Unknown
Date of Most Recent Arrest: July 6, 2012
Most recent place of detention: Yaojia Detention Center (姚家看守所)
City: Dalian
Province: Liaoning
Persecution Suffered: Interrogation, detention, torture, beatings, force-feeding, solitary confinement, restrained and shackled, home ransacked, extortion
(Minghui.org) Falun Gong practitioner Mr. Qu Bin from Dalian City, Liaoning Province, was illegally arrested on July 6, 2012, on his way home from work. He was beaten in police custody and severely tortured in the Yaojia Detention Center, twice requiring emergency resuscitation. Below are the details of the persecution suffered by Mr. Qu since his arrest.
Arrested Without Cause
Mr. Qu left his workplace, the Oriental Fishing Port Hotel in Dalian's Jinzhou District, at around 8 p.m. on July 6, 2012, and walked to the bus stop nearby to wait for the bus. Suddenly two men came up behind him and pushed him into a waiting van. The two men called themselves police. They handcuffed Mr. Qu and pulled his hat down to block his vision. The van drove around the Jinzhou area for about an hour. Then the van stopped and two other Falun Gong practitioners, Mr. Zhang Guoli and Mr. Zhu Chengqian, also employees of the Oriental Fishing Port Hotel, were seized.
The practitioners' residences were ransacked; 1,000 yuan was taken from Mr. Qu's home and has not been returned, and other items are unaccounted for.
The practitioners were taken directly to the Qingniwaqiao Police Station. Another Falun Gong practitioner, Mr. Wang Shouchen from Dafangshen, was also brought to this police station later on. Gao Hongwei, director of the Qingniwaqiao Police Station, was responsible for these arrests.
As the police read a "statement" for Mr. Qu to sign, they ordered him to sit on the floor. When Mr. Qu refused, they finally got a chair for him to sit in. During the interrogation that followed, Mr. Qu refused to answer any questions or sign anything. One police officer asked Mr. Qu whether he had been tortured previously in police custody. Mr. Qu showed his deep scars from electric shocks. The officer then said that police would not torture him this time. Subsequently, Mr. Qu refused to be fingerprinted or have his photo taken. The police then called in two more officers to forcefully obtain Mr. Qu's fingerprints. Since Mr. Qu did not cooperate, one police officer beat him down to the floor.
After 36 hours of detention, the police sent Mr. Qu Bin, Mr. Zhang, Mr. Zhu Chengqian, and Mr. Wang to the Changchun Road Hospital for physical examinations. Later, they were sent to the Yaojia Detention Center.
Severely Tortured in Yaojia Detention Center
Mr. Qu was detained in cell 2-18, under the orders of director Tian. Mr. Qu had started a hunger strike the day he was arrested. On the sixth day, while in the detention center, he was force-fed. He firmly refused to cooperate and pulled out the feeding tube inserted in his stomach. On the second day of force-feeding, the guards pushed the food hose into his trachea, and Mr. Qu almost went into shock due to the excruciating pain. He used his last drop of strength to throw up the food forcibly fed into his body, which was mixed with blood. When one guard realized that the feeding tube was inserted in the wrong place, he said, "He just needs to be tortured. It won't be interesting if he isn't tortured."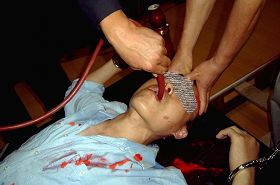 Torture re-enactment: Brutal force-feeding
The guard then continued force-feeding disregarding Mr. Qu's physical condition. Afterward, Mr. Qu collapsed and was carried downstairs by two detainees. When they passed by the gate of the second zone, the leader of that zone accused Mr. Qu of faking his condition. The leader then kicked Mr. Qu's back and placed him in a small cell, chaining his hands and feet to a metal clamp on the floor. Mr. Qu was unconscious while this was taking place.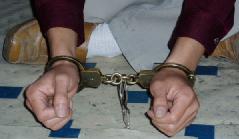 Torture re-enactment: Handcuffed to ground rings
At around 10 p.m., the two detainees assigned to monitor Mr. Qu found him in critical condition and reported this to the director on duty. The director then found a doctor on duty to measure Mr. Qu's blood pressure, which turned out to be 70/40. Mr. Qu was immediately sent to the 210 Hospital for emergency care.
The detention center has a jail ward in the 210 Hospital, containing 3 rooms and 12 beds. Every day there are 3-5 police officers on duty. The team leader's last name is Wang.
Mr. Qu was revived in this jail ward of the hospital. Ten days later he was sent back to the Yaojia Detention Center. That same afternoon he was force-fed again. In order to prevent him from pulling out the feeding tube, authorities assigned him to cell 2-6, which had fewer prisoners and was under the supervision of director Tian.
Two metal clamps were inserted onto the bed board and Mr. Qu's hands were handcuffed to the clamps. The guards thought that Mr. Qu would not be able to pull out the feeding tube when he was restrained in this way. However, at 4 p.m., Mr. Qu successfully pulled out the feeding tube. In the evening, the director Xing Da of the second zone opened the cell door and persuaded Mr. Qu to eat. The director said a hunger strike was useless. He said, "Even if you died, we would not let you go. Here, Falun Gong practitioners die in vain."
At 8 o'clock the next morning, director Tian led three detainees to take Mr. Qu upstairs to continue force-feeding. At 5 p.m. the same day Mr. Qu lost consciousness. The detainees monitoring him immediately reported this to the director on duty, who then found a doctor on duty. The doctor found that Mr. Qu's pupils were dilated and immediately sent him to the 210 Hospital for emergency care.
After the hospital staff examined Mr. Qu, they immediately notified his family to pick him up, and notified the police station. Even in the hospital, the police tried to make Mr. Qu sign their "statement," saying that he would be released as soon as he signed it. They stopped their efforts only when they realized that his condition was very critical.