Name: Yang Guanghui (李良)
Gender: Male
Age: 41 (Born in 1971)
Address: Hedong District, Tianjin
Occupation: Unknown
Date of Most Recent Arrest: June 8, 2012
Most Recent Place of Detention: Beichen Detention Center (北辰看守所)
City: Tianjin
Persecution Suffered: Electric shock, sleep deprivation, forced labor, brainwashing, illegal sentencing, beatings, torture, home ransacked, interrogation, detention
(Minghui.org) On June 8, 2012, a dozen police officers from the Beichen District in Tianjin City as well as the Domestic Security Division broke into Mr. Fan Jinzhu's home and arrested Mr. Li Liang, Ms. Liu Yanli, and five other Falun Gong practitioners. All of them were taken to a police department. Mr. Li is still at the Beichen Detention Center and his current situation is unknown.
Mr. Li Liang, his parents, and two older sisters, Li Hong and Li Ying, started to practice Falun Gong in 1994. He was already an outstanding youth, and, after he began to practice Falun Gong, he treated others even better and many of them benefitted from his selfless assistance.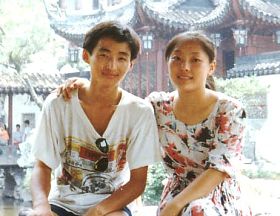 Li Liang and his second sister Li Ying when they were young
On June 8, 2012, around 1 p.m., the police suddenly broke in while Mr. Li Liang and his wife Ms. Liu Yanli were in Mr. Fan Jinzhu's kitchen preparing dumplings. After demanding to know Mr. Li's name, the police made him wait in the living room. Then they took Ms. Liu to the cellar, searched her bag, and confiscated everything in it. The police also confiscated Mr. Li's car, cell phone, wallet, ID, and other personal belongings. Mr. Fan was taken back to the police department as well.
Around 4 p.m., the police escorted them home and ransacked their place. On June 9, Mr. Li's older sister learned that he was detained at Beichen Detention Center.
In the 13 years since the communist regime began its persecution of Falun Gong, Mr. Li Liang has imprisoned for a total of eight years
-Detained for two years in Tianjin Shuangkou Forced Labor Camp in Tianjin
On September 28, 1999, at around 9 p.m., Tianjin Hongqiao Police Branch sent officers to Mr. Li Liang's place to bring him to Hongqiao Detention Center. At the time, Mr. Li Liang worked at the Beijing Cultural book store. He was sentenced to forced labor for 18 months in Tianjin Shuangkou Forced Labor Camp.
In the labor camp, on the 200-meter-long path from the main entrance to the building, deputy head guard Lang Tao and office staff person He Jun viciously hit Li Liang's face as they walked. The beatings became more and more brutal as they progressed. By the time he went up the building stairs, a walnut-sized bump had risen on the left side of Mr. Li's face. In the afternoon, political head Zhen Runzhong attempted to force Mr. Li to write a but he refused. Zhen then hit his face, causing it to bleed. His entire face was covered with blood. There was blood on his shirt and on the ground. Zhen Runzhong ordered a prisoner to wash his injuries with water, then continued to beat him, splashed him with water, and then beat him again. This went on for four rounds until Zhen was exhausted. Once, He Jun made him squat on the ground, stepped on his back, and shocked him with an electric baton.
From June to September 2000, the 5th division stepped up its persecution of Falun Gong practitioners. Every day practitioners were forced to participate in classes where they had to sit without moving and watch speeches defaming Falun Gong, which were played repeatedly. They had to sit this way for nearly 20 hours every day and were only allowed to go to sleep at 4:30 a.m. They had to wake up at 5:30 a.m. Guard Du gave every practitioner a piece of cloth he derisively claimed was the "world's largest piece of rag." The rag was about 2 cm long and 4 cm wide, slightly larger than one's thumb. Practitioners had to wipe the floors, walls, toilets, and urinals with this tiny rag. They could not use a basin and had to use their lunch boxes to hold water to rinse the rag. Practitioners had to finish cleaning up the restroom areas or else they could not go to bed. Often they had to clean until dawn.
In the summer of 2001, because practitioners in the 5th division asked to be allowed to do the exercises, they were forced to sit cross legged on the ground. Their legs were tied with ropes, and someone stood on their legs, pressing hard on them from time to time. They had to lift both hands, palms facing upwards. Then a lighted cigarette was placed on their palms until it was completely burned out. Their hands were burned and festered and the smell of burning flesh permeated the entire room.
On September 13, 2001, Mr. Li was charged with "refusing to ','" and his sentence was extended by another five months on top of an extension of six months which had not expired. He was transferred to Yushan Forced Labor Camp in Jixian, Tianjin. Later, his sentence was extended another month.
At the labor camp, more than 150 people were imprisoned in cells meant to hold only 90. As a result, many of them had to sleep on the floor and in the corridors. The facility lacked labor safety measures, consequently, it was common to sustain injuries such as fingers being rolled over by equipment, fingers burned, and so on. Because there was wax and talcum powder everywhere, the wounds quickly became inflamed and infected. Finger joints became gnarled and nails fell off. If quotas were not met, the guards would not let the practitioners sleep and beat them or made them stand for long periods of time. For a dozen days continuously, practitioners were only allowed to sleep less than two or three hours every day. Worse yet, some of them were forced to work non stop without sleep for three to five days. Many of them fell asleep while working.
Practitioners were often verbally abused and physically tortured. In the first half of 2000, the guards used a large wooden stick bent into a circle, 150 cm in circumference, 10 cm in diameter, to beat several practitioners, who had to stand bent over at a 90-degree angle, face facing the ground, pants stripped off. They were struck up to a dozen times. The beatings continued the next day. When their pants were taken off, extensive bruising and swelling could be seen. Even those who carried out the beatings could not bear to continue.
-Detained for two years at Qingpowa Labor Camp and Jianxin Labor Camp in Tianjin
On April 28, 2002, Mr. Li Liang finished his sentence and should have been released. The guards took him to the office in the morning. There were several unidentified people in the room, two of them in police uniforms.
The strangers wanted to take him away. He said, "I'm waiting for my family." They gave all kinds of excuses to take him away.
One of them then lied to Mr. Li, saying, "Your family is here, they are waiting downstairs." However, when he went outside the main entrance, Mr. Li only saw a white car with seven people in it. They shoved him into the car and took him to Jianxin Forced Labor Camp.
On June 27, 2002, Mr. Li was taken to Qingpowa Forced Labor Camp and subsequently secretly transferred to Jianxin Forced Labor Camp. He was imprisoned for another two years.
-Sentenced to forced labor for two years again
In May 2004, Mr. Li was released. However in less than five months, in October, he was again sent to a
forced labor camp for two years.
His family hired a lawyer but the lawyer could not find the person who was truly responsible for his case. He contacted Liu Guangtao, who had ransacked Mr. Li's house, but Liu said he was no longer in charge of the case and told the lawyer to seek police officer Liu Shiwei. However Liu Shiwei kept avoiding the lawyer. The lawyer did not know who was in charge of the case until November 3, 2004, when Li Liang's family received a letter informing them of his arrest.
-Frequent harassment and short term detention
In October 2006, Mr. Li Liang returned home. On , the police would monitor him around the clock, even sleeping with him. This affected Li Liang's normal life and work.
In September 2007, under the guise of "maintaining stability" during the 17th National People's Congress, Mr. Li was detained for one month in Beijing.
On the eve of the 2008 Bejing Olympics around July 10, the police went to harass Mr. Li again at his workplace, but he happened to be away from work at that time. However, he was forced to leave home to avoid being arrested again.
-Imprisoned again for two years
In December 2008 in Chongqing, Mr. Li was arrested by the Hedong District Police Department 610 Office. He was sentenced to two years. On December 25, 2010, he was released.
-Current arrested
On June 8, 2012, Mr. Li Liang was detained once again. He is still in custody in Beichen Detention Center.
A Family of practitioners brutally persecuted
In 1994, Mr. Li's parents began to practice Falun Gong. Before that, his father couldn't walk without help. Soon afterwards, he could take on the responsibility of looking after and teaching his grandson. His mother was in her 60s. After she started practicing Falun Gong, she could walk swiftly and ride a bicycle like a young person.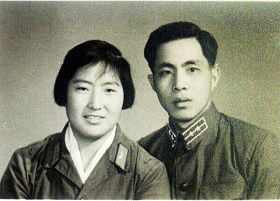 Mr. Li Liang's Parents
Mr. Li has two older sisters, Li Hong and Li Ying. Everyone in his family began to practice Falun Gong.

Li Liang's eldest sister Li Hong (left) and second sister Li Ying (right)
After the communist regime started its persecution of Falun Gong 13 years ago, this family of five has suffered inhumane persecution.
Please read the full story: "A Family Tragedy (Photos)" http://en.minghui.org/emh/articles/2004/10/11/53351.html#.UAL1lfXuhac
Related article: "Calling on People from All Walks of Life to Stage an Urgent Rescue Effort for Falun Dafa Practitioner Li Liang in Tianjin City" http://en.minghui.org/emh/articles/2003/1/12/30803.html#.UALwAPXuhac