A Taiwanese Dentist Cured of Depression Because of Falun Gong (Photos)
August 19, 2012 | By Tang En, a Minghui correspondent in Yilan, Taiwan
(Minghui.org) Lee Su-Hsing, Doctor of Dental Surgery with a dentist office in Yilan City, Taiwan, is the daughter of Mr. Lin, a rich lumber business owner in Kaohsiung, Taiwan in the 50s. Ms. Lee's parents divorced when she was little due to the vast difference of the couple's education levels. She turned from a princess to a pauper overnight.

Dr. Lee Su-Hsing treating a patient
Ms. Lee faced discrimination growing up because single parent families were rare at the time. Sometimes her mother would meet kindhearted people who were willing to look after her and her older brother while her mother was at work, but other times her mother had no choice but to lock them in a room during the day. She and her older brother would go hungry until their mother returned home from work.
Ms. Lee was eager to find a paying job as soon as she graduated from elementary school to help with her family. But no one would hire her because of her age. She managed to find part-time jobs during her summer and winter vacations. The work experiences helped her build her independence and perseverance. Although her parents had been divorced for a long time, her father's name would follow her like a shadow. She found a part-time job at a small lumber yard near Taoyuan during a summer vacation. Someone asked her on her third day at work, "You come from an affluent family. Why are you working here?" She was speechless. They could hardly afford to pay their electricity bills.
Her mother got married again when she was in elementary school. She and her older brother were sent to live with their uncle in Tainan. While there, her aunt was mean to them. She would hide at her friends' houses during the weekends and holidays. One day the school principal decided to take them in, but Lee's mother picked them up six months later.
That was when the real disaster began. Her mother and step-father would argue and physically fight every day. It was a living hell. The domestic violence she witnessed became another traumatizing experience. Now she has three more younger siblings. She often had to go do the laundry in a nearby river carrying her younger brother or sister on her back. She also had to share a lot of housework. She often wondered why life was such a trial for her. She was depressed for six months in her third year in junior high, and often skipped school. Sometimes she hid under her blankets, thinking about committing suicide. She eventually found a way to suppress the painful thoughts in her head—by reading. She would read while walking, on the bus, or doing housework. She read constantly because it was the only way to keep from killing herself.
After she graduated from junior high with flying colors, Lee was admitted to the best high school for girls in Taipei—Taipei First Girls' High School. She was finally able to leave her tumultuous home for a new life in Taipei. The free academic environment and her rich life experiences finally led her to a quest for truth in life. While her peers were busy preparing for the college entrance examination, Lee was considering philosophical questions such as, "Where did life come from?" or "What is the meaning of life?" Yet she continued to feel empty inside and thought often of death.
After she got into college, Lee continued to live alone in a rental unit. She often thought of her biological father and wanted to meet him. However, he disappeared because he did not want to have any contact with her mother. She longed for family affection, and had no friends. She traveled everywhere alone and unhappy.
One day her older brother, who was attending National Chung Hsing University, recommended a type of qigong to her. It made her ill, and she could not eat or sleep. She was tired and became skinny. Finally she had to take time off from college because of her failing health. She often started blankly at the window, feeling hopeless in life. It took her one full year to be nursed back to health and return to school. She then studied a few religions, including Christianity and Buddhism, but she decided they were not for her.
Lee said she felt as though she was led to a pursuit by an invisible force when she was 28. She was interested in reading only books about cultivation practice. She would search for all kinds of books about cultivation practice in her spare time. She wanted to practice sitting in meditation. She wanted to attain internal tranquility. She wanted to truly find out the meaning of life. While she was searching for the truth, she met a dentist, and they got married. She was 30. They decided to live in Yilan and began their dentistry careers after they got married. Things seemed to finally turn positive for her.
Lee spent a lot of money in pursuit of genuine cultivation practice. Once after getting married, she followed a Tantric Buddhist master to as far as Sichuan Province in China where she meditated in a mountain cave. She longed for a righteous force and a true master that would guide her in her cultivation practice without costing her a fortune. She kept on searching until one day, finally, she found Falun Gong!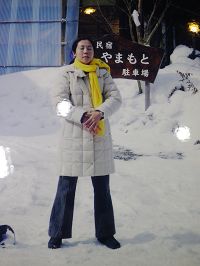 Lee Su-Hsing practicing Falun Gong
It was when the Chinese Communist Party (CCP) began to move towards suppressing Falun Gong in April 1999 that Lee Su-Hsing read about Falun Gong in a newspaper. She found Zhuan Falun, Falun Gong's main text, in a bookstore in Yilan and stayed up reading it that night. She found the book answered her many questions over the years. Despite the lack of sleep and the rain, she went out looking for a public Falun Gong group practice site. Looking at the photo of Mr. Li Hongzhi, the founder of Falun Gong, in the book, she exclaimed, "This is the teacher I have been looking for! You are my teacher!" Soon her dentist friend Mr. Chen and his wife, as well as dentistry technician Mr. Huang, joined her in practicing Falun Gong.
Soon after she started practicing Falun Gong, Lee felt the depression that had haunted her for many years finally disappeared. She thought only of introducing Falun Gong to more people and rescuing Falun Gong practitioners in China. She has also witnessed many other Falun Gong practitioners who have become healthy because of Falun Gong. Asthma, migraines, insomnia, kidney disease, and many other types of illnesses that could not be cured with medical treatment were cured because of Falun Gong. She has also witnessed many Falun Gong practitioners in Yilan who, as a result of practicing, have become better people at work and at home.
Ms. Lee has kept Falun Gong posters in her dentist office for many years. She would introduce Falun Gong to her patients when they asked her about it. Although her husband does not practice Falun Gong, he has been very supportive when she attends different activities to raise awareness about Falun Gong. Her son, who has always excelled academically, attained the second-highest score in the college entrance examination in Yilan, and got admitted to a medical school as a dentistry major. She is very glad that he, too, will become a dentist. She is convinced that her son's achievement is the result of good fortune bestowed by Falun Gong.
Soon after Lee started practicing, she gave a copy of Zhuan Falun to her biological father in person. She felt it brought closure to her longing for his affection. One day her father suddenly called her and they began to keep in touch. He no longer suspects that she was asking for money on behalf of her mother. Today, she finally receives affection from her father. Lee is convinced that her entire family has benefited as a result of her practicing Falun Gong.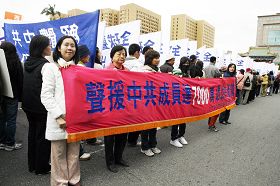 Lee Su-Hsing (left), her mother, sisters, and son at a public rally on March 7, 2012 to raise the awareness of the growing trend of quitting the Chinese Communist Party
Lee Su-Hsing said, "Since I started practicing Falun Gong, I try not to be troubled by anything. I try to remain serene and peaceful. I have felt life is precious and beautiful in the past ten years of my cultivation. One does not seek good fortune in life by practicing cultivation, but to transcend incarnation forever and return to one's true home in the heavens. Falun Gong has given me so much. I just want the world to know that Falun Gong teaches people to return to their true innocent self and to be free of the eternal agony of reincarnation. It is a ladder to heaven. It is truly precious."
There is a sign, "Falun Gong is good," on the door of her dentist office because she wants to share the joy this brings with people. She recommends that people read Zhuan Falun at least once because it might reveal the path they are searching for, too.