Reports on Falun Gong by Media Outlets Around the World (Part 3)
(Minghui.org) Continued from Part 2: http://en.minghui.org/html/articles/2012/8/14/134947.html
On November 24, 1998, a Shanghai TV station broadcast two reports on Falun Gong's immense popularity in Shanghai, as well as other places around the world. In one of the reports, the TV station said that there were already one hundred million people practicing Falun Gong in China, and Falun Gong had spread to many countries in Europe, America, Australia, and Asia.
This was one of the earliest media reports, which reflected the spread of Falun Gong around the world.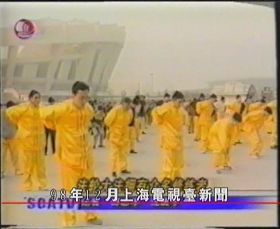 On November 24, 1998, a Shanghai TV station broadcast report on Falun Gong.
After the Chinese Communist Party launched the persecution of Falun Gong in July 1999, the public media in China were forbidden from saying anything about Falun Gong. However, many media overseas reported on Falun Gong. Two of the earliest reports were from Germany (Schwetzingen News) and Tennessee, the U.S.A. (The Tennessean) in September and October 2002. Entitled "Falun Gong in Steffi Graf-Park -- Traditional Chinese Exercises for Inner Peace," the Schwetzingen News introduced Falun Gong to its readers as "Falun Gong, also known as Falun Dafa, is a traditional Chinese qigong school that was introduced to the public in 1992 by Mr. Li Hongzhi. This exercise form has become very popular since its introduction ten years ago and is practiced by 100 million people worldwide."
Falun Gong has been suppressed in Mainland China. Many media have been interested in its development in Taiwan. After veteran journalist Mrs. Zohara Ron from Israel's Masa Aher magazine (National Geographic style magazine in the Hebrew language) visited Taiwan and interviewed Falun Dafa practitioners, she published a long article entitled "The Other China" about the culture of Taiwan in 2002. The article contains positive information about Dafa. This journalist was also interviewed during prime time television. When asked about the Falun Gong issue, she explained to viewers the rapid development of the practice in Taiwan and facts about the persecution in China. This effectively eliminated misconceptions in people's minds due to the untruthful propaganda by the Chinese government.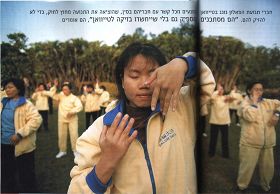 Israel's Masa Aher magazine: Falun Gong practitioners doing exercises in Taiwan
On March 22, 2005, Gengsheng Daily, a newspaper in Taiwan reported the following story. When a senior reporter from an Italian national TV station in New York, Flaminia Lubin, encountered Falun Gong practitioners' anti-torture exhibition on the streets of Manhattan, and practitioners sincerely telling of the brutal persecution encountered by Falun Gong in China, she phoned her TV station headquarters and reported what she saw. Mrs. Lubin was deeply moved by the Falun Gong practitioners' courage and willpower to uphold the truth. She decided to produce a documentary on Falun Gong and human rights, which would record the worldwide spread of Falun Dafa and include stories about the beauty that Falun Dafa brought to people around the world. Since she could not go to China to shoot the documentary, she began her journey in Hualian County, Taiwan.

Photographer from an Italian media is taking video of the group exercises in Hualian County, Taiwan.
The number of practitioners in Taiwan has increased more than ten-fold since the persecution was launched. Now, there are hundreds of thousands of Taiwanese practicing. Falun Gong also has spread to other continents.
On March 12, 2004, Channel 7 of Australian National TV reported on the Falun Gong practitioners' morning practice in the program entitled "Sunrise," and told the TV audience about the upcoming performance by Falun Gong practitioners in Williamstown, Australia.
On May 21, 2005, the New York Daily News published an article by reporter Charles W. Bell, entitled "N.Y.ers Feel The Falun Gong Spirit." Bell interviewed Falun Gong practitioners. He said in the article "... Falun Gong in 1998 was just gaining traction - and devotees - in the U.S. Now it holds its meditation and exercise classes at more than 40 sites in metro New York alone, and Rachlin is a spokeswoman for it." "It is active in more than 50 countries, with some estimates putting the number of its devotees at more than 100 million."
On November 14, 2004, AllAfrica.com published an article by reporter Agnes Asiimwe. Asiimwe interviewed two Falun Gong practitioners, Zhu Ying and Francis Madore, in Uganda. The article said that Falun Gong had spread from China to the world, and received many proclamations in North America for its contribution to the communities.
Hope Africa, a newspaper that circulates in Europe and Africa, published an interview with a Falun Gong practitioner in its fifth issue in 2005. The article is entitled, "What is Falun Gong?" Below is a part of the interview.
Hope Africa: Briefly, what is Falun Gong about?
Biru: Falun Gong is an ancient Chinese cultivation practice based on the three principles "Truthfulness, Compassion and Forbearance" and it has five gentle and easy to learn exercises. First introduced in 1992 in China, it has since been taken up by over 100 million people in 60 different countries.
Hope Africa: What are the basic teachings?
Biru: The basic teachings are on how to become a better person. These teachings, known in traditional Chinese culture as the Tao or Law, are set forth in the book,Zhuan Falun. While the teachings are vast and profound, at their core are the three simple principles of Truthfulness, Compassion and Forbearance. Students of Falun Gong consider these virtues to be the nature of the universe, and it is these that they strive to perfect in themselves.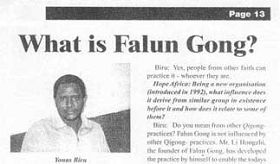 "What is Falun Gong," a report from Hope Africa in 2005
In April, 2011, Yeni Aktuel (New Modern Times), one of the oldest and most popular magazines in Turkey, published an article introducing Falun Gong and telling about the persecution in China in great detail. The article noted: "Falun Dafa, also called Falun Gong, is an ancient Chinese cultivation practice based on the principles of Truthfulness-Compassion-Forbearance. Mr. Li Hongzhi introduced it to the public in May 1992. In seven years, more than 70 million people joined the practice, and benefited from it both physically and mentally." The article mentioned that May 13 is World Falun Dafa Day, and the practitioners all over the world will hold celebrations.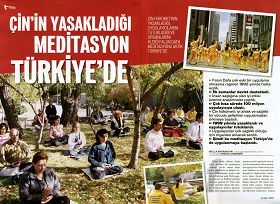 An article introducing Falun Gong on Yeni Aktuel (New Modern Times), one of the oldest and most popular magazines in Turkey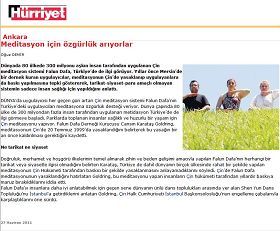 A report about Falun Gong on Turkey's Largest Privately-Owned Newspaper Hurriyet
On June 27, 2011, Turkey's largest privately-owned newspaper Hurriyet published an article in its online edition, entitled, "People Seeking Freedom of Practice." The author, Oguz Demir, interviewed several Turkish Falun Gong practitioners before writing the report. The article first introduced Falun Dafa and discussed how it has spread to more than 100 countries around the world, with millions of people practicing. It stated that many people in Turkey have improved their health and cultivated their hearts and souls through practicing Falun Gong. The article described that every weekend in the parks of several cities in Turkey, many people can be seen practicing Falun Gong. The article also stated that in order to help more people in Turkey become aware of the beauty of Falun Dafa, practitioners overcame considerable interference and obstructions last year, and were able to invite the world famous Shen Yun Performing Arts to successfully present several performances in Turkey.
Falun Gong has successfully spread to every corner of the world. More and more public media are positively covering the stories of Falun Gong, and more and more people have learned the beauty of "Truthfulness-Compassion-Forbearance."