Intensified Persecution in Yanbian City, Jilin Province
August 13, 2012 | By a Minghui correspondent from Jilin Province, China
(Minghui.org) Since April 2012, under instigation and pressure from the local 610 Office and the Chinese Communist Party's (CCP) Public Security Bureau in the Yanbian region of Jilin Province, neighborhood committees have been working in collusion to persecute Falun Gong practitioners on a large scale. They have been forcing local residents to sign a so-called "promise card" not to practice or support Falun Gong. They have set up brainwashing sessions in various places and have intensified the persecution of Falun Gong practitioners in the Yanbian region through arbitrary arrests and detention.
After an illegal detention in a forced labor camp, Lang Yanmei from Yanbian was sentenced to five years in prison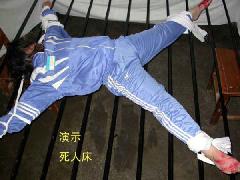 Torture reenactment: Death Bed
Ms. Lang Yanmei, a Falun Gong practitioner from Yanbian, Jilin Province, was illegally arrested around February 10, 2011. On March 4, she was sent to the Heizuizi Forced Labor Camp in Changchun for persecution. She was tied on a Death Bed for five days and five nights, while guards constantly played CDs slandering Dafa in an attempt to brainwash and "transform" her. Because Lang Yanmei did not give in, the Heizuizi Forced Labor Camp of Changchun and the local 610 Office in Yanbian worked together to arrest her again when she was due to be released on May 18. They sentenced her to five years in prison.
Li Qing'e from the Yanbian City Procuratorate participated in the persecution of Falun Gong practitioner Rui Kerong
Under manipulation of the 610 Office, CCP staff members in the Yanbian region and related organizations arrested Liu Chunli, Biao Wenzhe, Tai Hao, Cui Yuzi, Rui Kerong, Zhan Qiuzhen and several other Falun Gong practitioners on the charge of installing satellite dishes to receive signals from New Tang Dynasty Television (NTDTV, an independent television station that often covers human rights issues). With a patchwork of arbitrary charges, the case has been sent to the Yanji City Procuratorate.
Ms. Rui Kerong, in her fifties, is a Falun Gong practitioner in Yanji City who has suffered persecution several times. In 2011, officers from the local National Security Bureau arrested her and brutally persecuted her. Later she was released on medical parole. During that time, Rui Kerong received a court notice telling her that the case had been sent to the city's Procuratorate. Rui Kerong knew nothing about it prior to the notice. Related staff members from the Procuratorate were also surprised that the case had been sent to the city's Procuratorate without even the knowledge of the accused. On June 5, around 8 a.m., police officers Zheng Zhezhu, Li Chengzhe, and others from the National Security Bureau of Yanji City went to Rui Kerong's home. They deceived Ms. Rui into going to the National Security Bureau, and later in the afternoon they sent her to the Yanji City Detention Center. They framed her with charges of installing satellite dishes to promote NTDTV. Li Qing'e said that Rui Kerong's charge was serious. However it is quite normal, and not illegal, to install satellite dishes. Li Qing'e's home also has a dish, yet she would not allow others to watch NTDTV.
Li Qing'e, Section Head of the public prosecution section, Yanji City Procuratorate of Yanji City, Jilin Province: +86-433-2690053, +86-18744330095 (Cell), Zheng Zhezhu: +86-18043302188 (Cell)
An Yingji from Yanji City Arrested
On July 3, 2012, several police officers in Yanji City broke into the home of Mrs. Xu, who is elderly, and tried to arrest her. During the arrest attempt, her neighbors came to her rescue. Confronting the local people's resistance and condemnation, the police gave up the arrest. They arrested her nurse, Falun Gong practitioner An Yingji instead. The details of this case are under investigation.
In addition, many Falun Gong practitioners and local residents who installed NTDTV satellite dishes were harassed by the local police, who took away their satellite receivers. Some people tried to safeguard their personal rights and sued the police department. The police's behavior has caused a lot of public anger.
Yanji City Sets up Brainwashing Sessions Again
Recently, local CCP staff members in places like Dacheng, Hunchun and Yanji have set up brainwashing sessions again, and began to arrest Falun Gong practitioners. The list of those arrested is still under investigation. It is known that Jin Rentai, an older practitioner from Tienanfuyuan Residential Area, was arrested on June 28 and then sent to the Dacheng brainwashing center. Tian Guilan was arrested while she was talking to people about Falun Gong and the persecution and is now detained at the brainwashing center. Practitioners from Dunhua are also detained there.
Hunchun City 610 Office Sets up Brainwashing Sessions in Xiuzhu Hotel
The 610 Office in Hunchun City, Jilin Province set up brainwashing sessions in the Xiuzhu Hotel. Li Shuangqiang, the head of the 610 Office, ordered Jin Yongquan and his employees to break into several Falun Gong practitioners' homes to harass them. They arrested over a dozen practitioners and sent them to the brainwashing center for persecution. The manager of the Xiuzhu Hotel has been working with the 610 Office for the past three years to hold the brainwashing sessions in his establishment.
CCP Agents Force Local People to Sign a So-called "Promise Card"
Recently, CCP agents in various locations in the Yanbian region posted propaganda posters and large banners slandering Falun Gong along residential streets. Staff members from the residential committee in Yanbian City went to each home in the area and asked them to sign the "promise cards" not to practice or support Falun Gong. Staff members even stopped pedestrians and ordered them to sign. If they did not sign, those staff members would accuse them of being Falun Gong practitioners. The Bajiazi Forestry Bureau has been the most active in carrying out this round of persecution. In April 2012, under the command of Zhao Jing, the secretary of the Legal and Political Committee of the Bajiazi Forestry Bureau, Zhang Wenxin, the dean of the 610 Office, police officers Zhao Zhikui, Wang Jiahui, and a police officer whose last name is Dong, went door to door and forced people to sign the promise card. They arrested Falun Gong practitioners who did not sign the card. The Legal and Politics Committee of the Bajiazi Forestry Bureau, the 610 Office and staff members from various districts recently distributed large numbers of leaflets and promise cards slandering Falun Gong. The billboards of the forestry bureau have posted pictures and articles slandering Falun Gong. They use this method to deceive and poison the general public.
In the Yanbian region, the Yanbian Morning News has been particularly prominent in helping the CCP spread its poison. The Yanbian Morning News has used the newspaper repeatedly to campaign for the persecution and even publish false news to discredit Falun Gong.
Chaoyang Police Station, Yanji City (active in the persecution of Falun Gong): +86-18304336533(Cell)
Detention Centers Detain Falun Gong Practitioners for Long Periods
According to incomplete statistics, from April 16 to the present, over one hundred Falun Gong practitioners were arrested and sent to brainwashing sessions, where they were subjected to mental and physical persecution. Many Falun Gong practitioners suffered inhuman brutal persecution. The authorities would not even release practitioners in their 60s and 70s and tortured them to the brink of death. The following practitioners were arrested from their homes: Liu Chunli from Yanji City, Biao Wenzhe, Tai Hao, Cui Yuzi, Rui Kerong, An Yingji, Zhan Qiuzhen, Yu Xianglan and Gao Changsuo (married couple), Song Guihua, Shao Shuying, an elderly female practitioner from the Tianqiaoling Forestry Administration of Wang Qing County, Sun Qingju from the Bajiazi Forestry Bureau of Long City, and Yu Dongkui from the Chunhua Forest Field. These practitioners have been sent to Yanji City. Their specific situation is not known. Lu Hongyan, Mu Hengshun, and over a dozen Falun Gong practitioners from Tumen City are detained at various detention centers and the authorities have framed charges to persecute them.
The Legal and Political Committee of Hunchun City and related staff members:
Li Shuangqiang, Dean of the 610 Office, assistant secretary of the Legal and Political Committee: +86-13944358877 (Cell), +86-433-7568877 (Home)
Li Chengzhe, Secretary of the Legal and Political committee of Hunchun City: +86-433-7524956 (began working in that position in 2011)
Hunchun City Police Station
Zhang Huihua, Director of Hunchun City Police Station: +86-13904439986(Cell), +86-433-7513762(Office)
Hu Chunyou, Team Lead of the National Security Bureau: +86-433-7556333
Liu Hong, Squadron Leader of the National Security Bureau: +86-13904470038(Cell), +86-433-7512839 (Home)
Please refer to the original Chinese text for more names and telephone numbers.