U.S. Congress Holds Hearing on CCP's Human Rights Violations (Photos)
(Minghui.org) The U.S. Congress held a hearing titled "Investigating the Chinese Threat, Part II: Human Rights Abuses, Torture and Disappearances" on Capitol Hill on July 25, 2012. Falun Gong practitioner Mr. Li Hai was one of four witnesses who gave testimony at the House Foreign Affairs Committee hearing. He recounted his personal experience of being tortured physically and psychologically, and called for the U.S. and international community to openly condemn the persecution of Falun Gong and the Chinese Communist Party's (CCP) crime of harvesting organs from living Falun Gong practitioners.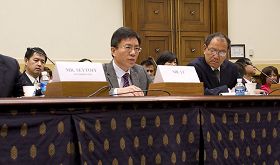 Falun Gong practitioner Li Hai (middle) exposes the CCP's persecution of Falun Gong on July 25, 2012, before the House Committee on Foreign Affairs.
The House Foreign Affairs Committee holds a hearing titled "Investigating the Chinese Threat, Part II: Human Rights Abuses, Torture and Disappearances."
Committee witness Mr. Li Hai, formerly a member of the Chinese Communist Party and former member of the Department of Treaty and Law, Ministry of Foreign Affairs, People's Republic of China, took part for several years in delegations representing the PRC in various unilateral and multilateral negotiations.
After the Communist Party began persecuting Falun Gong in 1999, Li was detained four times, with the longest detention lasting seven years. He suffered torture and the hellish experience of "transformation"—the forced abandonment of his belief in Falun Gong and embrace of Communist Party doctrine.
Li Hai testified that the persecution of Falun Gong is failing, with more and more people in China standing up against the CCP. He said that about 80% of the Falun Gong practitioners who had been "converted" during imprisonment ended up resuming cultivation in Falun Gong after they were released. At one point in his testimony, Mr. Li held up as an example a copy of a document from China that had been signed with the thumbprints of individuals from Donganfeng Village in Hebei Province.
In that petition 700 villagers demanded that the CCP release their fellow villager, a Falun Gong practitioner named Li Lankui. They submitted this petition after spontaneously joining together and forming a human wall that prevented regime officials from detaining Li Lankui on June 1. On June 7, officials returned and abducted Li Lankui when no one was around.

Signatures and thumbprints of 700 people who spontaneously demanded the CCP to release abducted Falun Gong practitioner Li Lankui.
The hearing before the House Foreign Affairs Committee was scheduled the day after the conclusion of the 7th US.-China Human Rights Dialogue. The hearing was chaired by Representative Ileana Ros-Lehtinen (R-FLA), Chairman of the House Committee on Foreign Affairs.
Li Hai said during his testimony, "If we truly want to free China, we need to free Falun Gong," and called upon the United States to publicly condemn the persecution. Li said that public condemnation by the international community is what the CCP fears the most. He also asked Congress to "urge the Department of State to disclose any such information it obtained from Wang [Lijun]," referring to media reports that Wang might have provided information about organ harvesting from living Falun Gong practitioners.
When asked about the organ harvesting question after the forum, Representative Chris Smith (R-NJ) said, "Organ harvesting is huge. It's hard to get information from a closed society, but we know it's happening, and I think we need to have a much more robust response to it." He added, "The Falun Gong have done great work in exposing this despicable, Nazi-like practice of taking people's organs for transplant for somebody else and obviously killing the donor in most cases in the process."
Jared Genser, human rights lawyer and the founder of Freedom Now, Bhuchung K. Tsering of the International Campaign for Tibet, and Rebiya Kadeer, the well-known Uyghur democracy activist, also gave testimony on how the CCP tramples the human rights of different ethnic groups in China.