Fishing Reels Made in Shandong Province First Women's Forced Labor Camp
July 30, 2012 | By a Minghui correspondent from Shandong Province
(Minghui.org) For many people, fishing with family and friends and enjoying fresh air under the blue sky is a very pleasant way to take a holiday break.
However, while you're enjoying fishing, has it occurred to you that the fishing reels on your rods could very well be a product of slave labor?

One of the fishing reels made in labor camps. They come in multiple colors.
A fishing reel is an essential part of a fishing rod. The fishing line that one casts the hook with is wound around it. Guangwei brand fishing reels are assembled by Falun Gong practitioners who are illegally detained at the Shandong Province First Women's Labor Camp.
Assembling these fishing reels is a form of slave labor carried out at the Shandong First Women's Labor Camp. The project began on September 1, 2011. There are two production lines in the Second Division, and each one has a daily quota of 3,000 pieces. To maximize their profit, the labor camp authorities force practitioners to do high-intensity labor in order to reach a daily quota of 5,000 to 6,000 pieces. Because of the huge profit, the Third Division joined the production in March 2012. It was reported that all the reels were to be exported overseas.
The work taken in by the labor camp is piece work, therefore increasing the detainee's speed and extending working hours are the guaranteed ways to maximize the labor camp's profits. Practitioners in the Second Division start working before 8 a.m. every day, and are not allowed to stop until 11 p.m. or even midnight; sometimes they are forced to work until 1 or 2 a.m. There is a lunch break and dinner break for 15 to 20 minutes at 11:30 a.m. and 6 p.m. The people making fishing reels are treated like animals. They must immediately return to the production line as soon as they eat.
Every division has over 100 laborers, and Falun Gong practitioners account for half of them. The guards do not allow practitioners to talk or sit next to each other. They put an inmate between them and make her watch the practitioners and report to the guards.
Take the Second Division as an example: there are 50 people on two production lines with over 20 people on each. Others that are not on production lines include those who learn or teach, and those who do other types of labor such as gluing cartons and bagging.
The labor camp authorities divide detainees into divisions, and each division has 6 – 7 groups. Each group stays in a dorm which normally holds 12 people. But usually 17 or 18 people are put in a dorm, and when there are not enough beds, the rest have to sleep on the floor.
The workload at the forced labor camp increases during the holidays, and working hours are consequently extended. There is supposedly one day off each week, but in reality no one gets a day off unless she gets visitors that day, and only then will she get a half day off. When the management comes for inspection, nobody dares to tell the truth about the long working hours, because after the inspectors are gone, it means brutal torture, removal of term reduction, or even an increase in the length of detention.
The fishing reels are made of metal, and carrying them from floor to floor is hard labor for women. They work 15 intensive hours each day under such harsh conditions.
Doing such intense labor, the laborer's "wages" are 5 yuan (US$0.78) for odd jobs, 20, 30, 80 or 100 yuan for other types of work, each month!
In China, the usual wages for such high-intensity work is between 200 and 300 yuan per day. If they received 200 yuan per day, 50 workers in two production lines should be worth 10,000 yuan per day and 300,000 yuan per month. Minus the so-called "wages" the labor camp gives out, the camp makes a profit of nearly 300,000 yuan each month by subjecting detainees, including Falun Gong practitioners and other detainees, to slave labor. For practitioners, this means restriction of their personal freedom, deprivation of their freedom of belief and their right to speak, in addition to being subjected to forced labor.
The labor camp stipulates three days off around New Year's Day and Chinese New Year, but in reality the detainees get at most one day off. Authorities at the labor camp level as well as each Division level disregard the rules and only care about how to quickly fill their own pockets.
Shandong First Women's Labor Camp detains 200-300 practitioners all year long. Besides torturing practitioners and brainwashing them, the guards also force them to do slave labor in order to line their own pockets so that they can buy houses, expensive cars and lead lives of luxury and dissipation.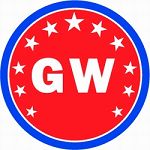 Weihai City Guangwei Fishing Tackle Co., Ltd. Trademark
Guangwei brand fishing reel is a product of the Shandong Province Weihai City Guangwei Group Co., Ltd. Established in November 1987, the group has 4,300 employees and is a large-scale fishing tackle group enterprise. The group has 16 subsidiary companies, including those located in Beijing, the United States, and Hong Kong.
From Left: Chairman of the European Fishing Association; Secretary-General of Fishing Tackle Professional Committee,Yi Xiao Li; Deputy Chairman of the United States Fishing Association; President of the Fishing Tackle Professional Committee, Chen Liang, at the 2012 European Fishing Tackle Show
The main product of the company are fishing rods and reels with an annual output of more than 8.8 million fishing rods (over 600 models and more than 16,000 varieties) and 5 million fishing reels (30 models and 65 varieties). Ninety percent of the products are exported to 74 countries and regions, accounting for more than 1/8th of the global fishing tackle market.
As an international business, Weihai Guangwei Group colludes with the notorious Chinese labor camps to reduce production costs. This negative association whereby products are made under slave labor conditions is bound to bring a huge negative impact to a free society.
Company address:
265 Shichang Avenue, Weihai City, Shandong Province, Zip 264200
Website: http://www.guangwei.com
Email: neixiao@guangwei.com
Tel: 86-631-5251384 - International Customer Service
FAX: 86-631-5251990, 86-631-5628705