Practitioners in Turkey Protest the CCP's Persecution in front of Chinese Embassy (Photos)
July 29, 2012 | By a practitioner in Turkey
(Minghui.org) On July 20, 2012, Falun Gong practitioners in Turkey gathered in front of the Chinese Embassy to protest the Chinese Communist Party's (CCP) thirteen-year-long inhuman persecution of Falun Gong, calling for an end to the atrocities.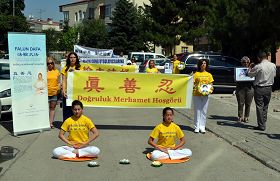 Falun Gong practitioners protest the CCP's persecution in front of Chinese Embassy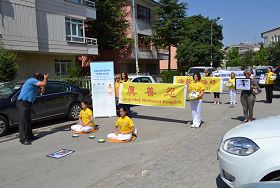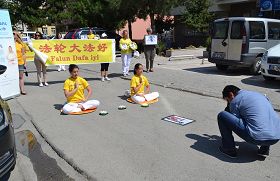 Several local media cover the event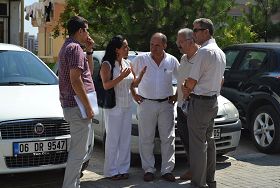 Practitioners expose the CCP's persecution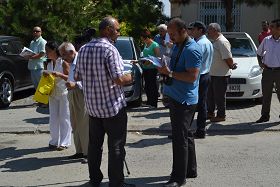 Local residents and passers-by drawn by the event
At half past ten in the morning, Falun Gong practitioners held a solemn and peaceful protest beside the Chinese Embassy. They displayed banners in both Chinese and Turkish, with such message as "Falun Dafa is good," "Truthfulness-Compassion-Forbearance," "Stop the CCP's persecution of Falun Gong practitioners," and "Disintegrate the CCP, Stop the persecution." Several practitioners held photographs of fellow practitioners who have lost their lives under the brutal persecution in China.

Practitioners distributed informational materials introducing Falun Gong and exposing the CCP's ongoing persecution of the practice. Many people condemned the persecution and expressed support for Falun Gong practitioners' efforts against the persecution.

Similar to Falun Gong practitioners from mainland China and all around the world, Turkish practitioners who participated in this event were from all walks of life. They have all benefited a great deal both in mind and body through practicing Falun Dafa. The practitioners hoped that through this peaceful protest, more people, including the embassy staff, would come to know that "Falun Dafa is good," learn about the CCP's true nature, and help stop the persecution as soon as possible.

A retired expert on agriculture, Ms. Ilhan was cured of many illnesses since she started practicing Falun Gong in 2004. Although she is in her seventies, she looks like she's in her fifties. Ms. Ilhan said, "Practicing Falun Gong gives me health and energy. My personal experience shows that Falun Dafa is good."

University professor Ms. Cansin Goldring said, "Falun Gong teaches people to be good people, following the principles of Truthfulness-Compassion-Forbearance. But thirteen years ago today, the CCP regime headed by Jiang Zemin launched an unprecedented, systematic, and brutal persecution of hundreds of millions of practitioners. For the past thirteen years, millions of practitioners have been illegally detained, sent to labor camps, sentenced, tortured, or even subjected to forced organ harvesting. It has been verified that at least 3,500 Falun Gong practitioners have died as a direct result of the persecution. The CCP has been persecuting Falun Gong for thirteen years. We hope that this persecution of Falun Dafa will end as soon as possible."
Retired senior banker Ms. Nesrin was full of emotion as she spoke about the benefits of practicing Falun Gong. She said, "Since I started cultivation practice six years ago, it's as if I've changed to a different person. I used to feel weak. Now, this condition has completely disappeared, as if I have endless strength. In addition, the practice has also restored my eyesight. I got rid of the glasses that I had to wear for years."

High school teacher Ms. Derya, a very popular and good teacher, rode for eight hours on an overnight bus from the southern city of Mersin to participate in this actity. She said, "Practicing Falun Dafa changed my previous impatience. Since I've been cultivating, I always strictly follow the principles of Truthfulness-Compassion-Forbearance."
Ms. Derrin, who grew up in Switzerland and is now a salesperson in a German company in Istanbul, was very excited to take part in the event. She said, "Today, I come to the embassy with other fellow practitioners to stage a peaceful protest against the CCP's persecution of Falun Gong. During the event, I could not hold back my tears when I thought of the torture that Falun Gong practitioners in China have suffered over the past 13 years. The CCP's persecution of Falun Gong must be stopped immediately."

Mr. Avni, who started practicing Falun Gong after seeing a Shen Yun performance two years ago, is a sales manager for DuPont products in the Turkish market. Concerning this event, he said, "I am a person with few emotions. But today in front of the Chinese Embassy, when I held high the banners calling for an end to the persecution and when the recorder started playing the music of Pudu, I burst into tears. This was my first time to take part in such protests. I am pleased to be able to join other practitioners to protest the CCP's atrocities as a Falun Gong practitioner; I regret that I had not been able to take part in such activities earlier. My only wish is for the persecution to end as soon as possible, and for those who have participated in the persecution to be brought to justice."
Among the protestors was a quiet young man by the name of Evren. He grew up in Germany and returned to live in Turkey in 2008. He started practicing Falun Gong in Turkey. From his steady demeanor, nobody could imagine that before coming across Falun Gong he was once a drug addict and a troublemaker. When he lived in Germany he was almost jailed on several occasions for injuring people in fights. "Falun Dafa made me give up evil for goodness. I found the real value of life. It made me understand how to behave, and how to do better than just being a good man. My family and relatives, friends and neighbors who knew about my past have all experienced the grace of Falun Dafa through seeing the changes in me."

Pinar, who is studying graphic design at Gazi University in Ankara, said, "My heart bleeds whenever I think of the countless students of my age in China, who should be pursuing advanced studies in institutes of higher learning but instead are forced to drop out of school or are expelled from school because of practicing Falun Gong... and they are subjected to torture. The CCP is indeed the evil never before seen on this planet."
Last year, Ayda was admitted with flying marks into the middle school affiliated with a well-known music conservatory renowned as the cradle of Turkish musicians. She just celebrated her twelfth birthday two and a half months ago. From the age of four, Ayda has followed her Falun Gong practitioner parents everywhere to participate in activities introducing Falu Gong. As usual, she came to the Chinese Embassy again with her parents to take part in the peaceful protest. She said, "In their persecution of Falun Gong, the CCP does not even leave the children of Falun Gong practitioners in peace. Like Mum, Dad and other Falun Gong practitioners, I will tell more people about the CCP's perescution, so that the children of Falun Gong practitioners in China can go to school like me."

In the course of the event, some of the embassy's Chinese staff stood on the balcony or came out to watch. Some mixed in with the reporters to secretly take photos of Falun Gong practitioners participating in the activities.

The protest in front of the Chinese Embassy caught the attention of several well-known Turkish media. Show TV, Turkey's largest private TV station, Haber Turk, and TV8, as well as Hurriyet, the newspaper with the largest circulation in Turkey, and the well-known online publications Sabah and Aksam sent reporters to cover the activity.