Malaysia: Candlelight Vigil Calls for an End to the Persecution (Photos)
July 27, 2012 | By a practitioner in Malaysia
(Minghui.org) July 20, 2012 marks the thirteenth year of Falun Gong practitioners' peaceful resistance to persecution by the Chinese Communist Party (CCP). Practitioners in Malaysia held a candlelight vigil in Kuala Lumpur, calling on people to extend help to end the persecution.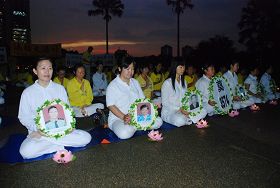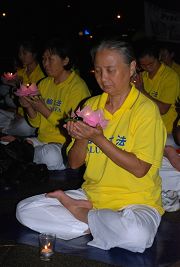 Practitioners in Malaysia hold a candlelight vigil in memory of the practitioners who have died as a result of the CCP's brutal persecution for the past 13 years
At sunset, more than 100 practitioners quietly sat in a park to mourn practitioners in China who were killed during the CCP's 13-year brutal persecution.
Ms. Li, spokesperson for the activity, said that the CCP's persecution has implicated everyone, including Malaysians. "Canadian human rights lawyer David Matas, co-author of the book Bloody Harvest, was invited by the Malaysian Health Ministry on July 10, 2012 to talk about the realities and risks of illegal organ trafficking & trade to Malaysian doctors and nurses. He spoke of his research into live organ harvesting abuses in China. Medical experts in Malaysia condemned illegal and unethical transplants and the great risks posed to the recipients. The Health Ministry is making an effort to curb such an illegal organ transplantation," said Ms. Li.
Ms. Li called on the Malaysian government and people from all walks of life to assist Falun Gong practitioners in ending the persecution. She said, "Falun Gong practitioners have made great efforts to raise awareness about the CCP's brutal persecution for the past 13 years, and the truth has been spread far and wide. Heaven will soon punish the evildoers, and the time left for people to learn the truth has become shorter and shorter. All those who have provided help for Falun Gong practitioners in tribulations today, will bring blessings to their futures."