Vancouver, Canada: Falun Gong Practitioners Expose Persecution on 13th Anniversary (Photos)
July 25, 2012 | By a Falun Gong practitioner in Vancouver
(Minghui.org) Close to 100 Falun Gong practitioners in Vancouver, Canada, held activities on the square in front of the Vancouver Art Gallery at noon on July 21, 2012. They did Falun Gong exercises in a group and exposed the persecution of the practice by the Chinese Communist Party (CCP). The activities attracted many people. They took pictures and talked to Falun Gong practitioners to find out more information. Some said they would like to learn Falun Gong themselves.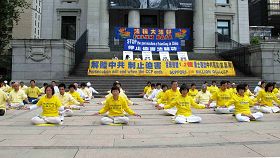 Falun Gong group exercise in front of Vancouver Art Gallery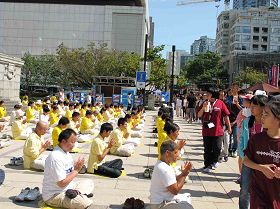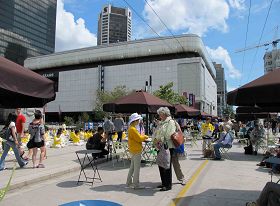 Thirteen years have passed since the former head of the CCP, Jiang Zemin, launched the persecution of innocent Falun Gong practitioners on July 20, 1999. Falun Gong practitioners in China and overseas have been persistent in their peaceful and rational campaign to stop the persecution.
Chinese tourists learned about the persecution from Falun Gong practitioners' activities. Andy and his two friends are Chinese students at the University of Victoria. Everything they had heard about Falun Gong when they were in China was negative information because of the CCP's propaganda. It wasn't until they came abroad that they started learning how serious the persecution of Falun Gong is. Andy said he would take pictures of the activities and share them with his friends at the university.
Ms. Darrin from the United Arab Emirates had been looking for a traditional cultivation practice. She was very happy to find Falun Gong practitioners and said she would like to learn the practice too. After finding the information she needed, she left happily with gratitude.s
A couple from the Netherlands spent a long time reading introduction materials about Falun Gong and the persecution. They asked how they could help Falun Gong practitioners. Both of them are teachers. They decided to publish Falun Gong information on their teaching website. They took some print materials including the information about organ harvesting crimes against Falun Gong practitioners. They shook hands with practitioners and thanked them for spreading the important information.