Chicago: Practitioners Hold Candlelight Vigil in Front of Chinese Consulate (Photos)
July 23, 2012 | By a practitioner in Chicago
(Minghui.org) Practitioners in the Greater Chicago area gathered in front of the Chinese Consulate on July 20, 2012 and held a candlelight vigil to honor their fellow practitioners who have been illegally imprisoned and killed in custody as a result of the persecution by the Chinese Communist Party (CCP). They called for an end to the 13-year long brutal persecution.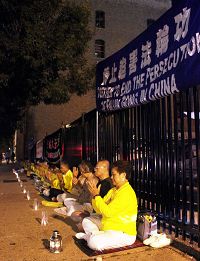 Practitioners in Chicago hold a candlelight vigil to peacefully protest the CCP's persecution
The Brutality of the Persecution Is Unprecedented
Ms. Yang was illegally detained five times for practicing Falun Gong in China. She said, "Today 13 years ago, a catastrophe fell from Heaven. The evil CCP mobilized all its national machinery to initiate a brutal persecution campaign. Over the past 13 years, I have been forced to leave my home to avoid the persecution, and I was arrested and detained five times. I was subjected to many kinds of tortures, and nearly had a mental breakdown as a result of the persecution."
Ms. Yang also told a story of a family of five: "Once I was held in a women's forced labor camp, and I met a practitioner in her 50s whose name was Li Yingxiu. Ms. Li told me that she had a family of five, her husband, 2 sons and a daughter. They were all Falun Gong practitioners. Her daughter and her husband went to Beijing to appeal for Falun Gong, and were sentenced to forced labor. Her younger son Mr. Peng Min was incarcerated in a brainwashing center. She herself was sent here for speaking with people about Falun Gong. Her older son's whereabouts are unknown."
After I was released and went to visit her at home, she told me that her younger son, Mr. Peng Min was disabled as a result of severe physical abuse and torture at the brainwashing center. He was sent to a hospital.
Shortly after, on April 8, 2001, Mr. Peng Min died at the hospital as a result of his serious injuries. To block the information, the CCP agents sent Ms. Li and her older son to a brainwashing center. One month later, Ms. Li died as a result of torture in the brainwashing center.
In this family of five, two members died as a result of the persecution within a month, only for remaining steadfast in their belief and being better people. Such a tragedy has continuously been going on during the CCP's 13 years of persecution in China.
Peacefulness and Rationality Emit Strong Energy, People Learn the Truth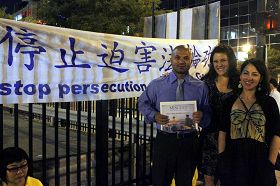 Passersby are drawn to the peaceful and solemn candlelight vigil to learn about Falun Gong
As the night slowly arrived, candles were lit one after another. Accompanied by peaceful music, practitioners did the meditation. The peaceful and magnificent scene attracted many passersby who walked closer to find out more information.
Amy and Kathy from Wisconsin saw the candlelight vigil and stopped. Upon learning that the practitioners' vigil was to mourn Falun Gong practitioners who were killed during the CCP's brutal persecution in China, Amy said, "[The scene] makes me sad. Is it only because its such a peaceful practice? What can I do to help? My husband's family fled Germany to avoid the persecution by the Communist Party, so I understand some of the Communist Party's evil deeds. I'll help raise awareness about Falun Gong."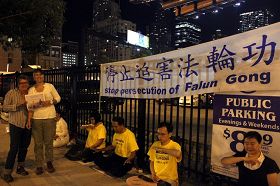 Allie and Marie are interested in Falun Gong
Allie and Marie came to Chicago for on a tour. Allie said that it was her first time to come to Chicago, and she saw from a distance the candle lights. She was impressed by the solemn and peaceful scene. She thought, "So beautiful, what are they doing there? I want to be one of them!" She said, "We heard about Falun Gong for the first time. I'm sad that Falun Gong practitioners in China have been deprived of their inner peace. It is inconceivable that they are persecuted this way, and it has persisted for so long. Today is my birthday. I appreciate that you let me know all this, as it's very meaningful." She continued, "Your efforts to stop the Communist Party's persecution helps more people learn about Falun Gong and more people may come to learn it. I may begin to practice it."