US Congressman Maurice Hinchey: The Influence of Falun Dafa Has Only Continued to Grow
(Minghui.org) On the occasion of Falun Dafa practitioners' peaceful protest against the 13-year-long persecution, U.S. Congressman Maurice Hinchey from New York wrote the following letter of support for the public rally that took place in front of the U.S. Capitol in Washington, D.C, on July 12, 2012.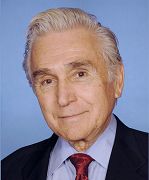 Congressman Maurice D. Hinchey
U.S. House of Representatives
July 12, 2012
Dear Friends,
I am delighted to offer my greetings and warm regards as you gather today to support human rights and defend the critical freedom of religion and spiritual practice. I deeply appreciate your dedicated efforts and commitment to raising awareness of the ongoing persecution of Falun Dafa practitioners in China since 1999, and I am proud to add my voice to your call for an end to the violence and oppression against those who embrace the practice of Falun Dafa.
Falun Dafa offers important teachings for daily life, including the use of meditation and exercise. This teaching serves to remind us of the principles of truthfulness, compassion, and tolerance. Despite 13 years of persecution of the Falun Gong by the Chinese government, the influence of this spiritual practice and movement has only continued to grow. The Chinese government would be wise to recognize that rather than a threat, Falun Dafa is a practice of peace and tolerance that can impact positively the health and well-being of its citizens.
I thank all of you attending the events today in Washington, and I salute you for your continued struggle to ensure that all Chinese will soon have the right and freedom to express and practice their spiritual faith and discipline.
Sincerely,
Maurice D. Hinchey
Member of Congress