Washington, DC: Candlelight Vigil in Memory of Practitioners Killed in Persecution Touches People's Hearts (Photos)
July 17, 2012 | By Xu Jing in Washington, DC
(Minghui.org) Approximately one thousand Falun Gong practitioners from around the world gathered in the U.S. capital on July 13, 2012, to remember fellow practitioners killed by the Chinese Communist Party (CCP) over the course of the 13-year-long persecution that is still ongoing today. They sat quietly in front of the Washington Momument, a symbol of freedom and hope, in the formation three Chinese characters: Truthfulness, Compassion and Forbearance, the main principles of Falun Gong. Attendees lit candles in memory of thousands who have been murdered for their faith, honoring their unwavering spirit and steadfast belief.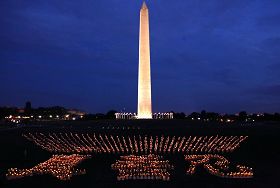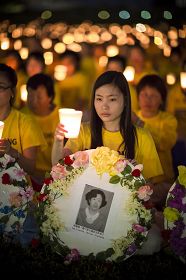 Falun Gong practitioners from around the world hold a candlelight vigil in front of the Washington Monument on July 13, 2012, forming Chinese characters Truthfulness, Compassion and Forbearance in memory of those killed by the Chinese Communist Party for practicing Falun Gong.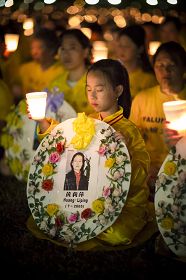 A young Falun Gong practitioner holds a candle and a portrait of Ms. Huang Liping, who was persecuted to death in 2005 for practicing Falun Gong.
A Falun Gong practitioner from India remembers fellow practitioners murdered by the Chinese communist regime for their faith.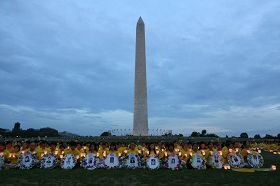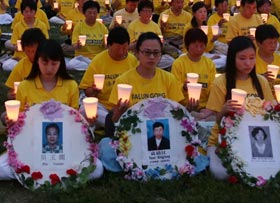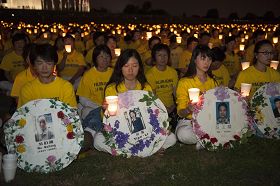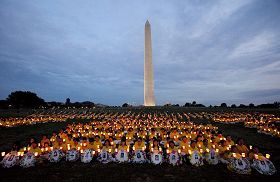 Practitioners from all walks of life light candles to honor fellow practitioners who were killed by the Chinese Communist Party.
People Learn the Facts and Help Spread the Truth
The event began at sundown, as practitioners lit candles to honor those who lost their lives while holding on to their faith. The solemn and magnificent scene drew many passersby, who paused to learn more about Falun Gong and the ongoing persecution in China.
A family of five from Ireland was deeply impressed by the peaceful scene. The wife said: "It is the first time we've heard about Falun Gong. It is inconceivable to be persecuted to such an extent, and it has lasted for so long! They [practitioners] are so peaceful. My husband has been taking pictures. We came to the U.S. on vacation, and we are grateful to you for letting us know all this; it is very meaningful." The entire family sat on the lawn and watched the vigil until it ended.
Sally, an Italian-American living in Washington, D.C., couldn't help but stop her bicycle when she saw the candlelight vigil. Upon learning that Falun Gong practitioners are being persecuted in China, she said: "I'm sad [to hear this]. [They are being persecuted] only because of such a peaceful practice? I give my best wishes to you."
Joe drives a tricycle to take tourists around the U.S. capital for sightseeing. He stopped at the vigil venue and introduced Falun Gong to the tourists on his tricycle, getting off the tricycle to ask for informational materials from a practitioner, which he then passed to the tourists. He said: "I see Falun Gong practitioners do the exercises every day, and I have learned the facts. I also want to tell people about the truth."
After a practitioner spoke to the tourists on Joe's tricycle about Falun Gong and the persecution, Joe joyfully said: "You see, I had told you all that she told you." The tourists nodded and thanked him. Before leaving, Joe said, "I'll continue [telling people the truth]!"
New Chinese Immigrants Learn the Truth
Mr. He and his family from Beijing immigrated to the U.S. less than a year ago. The couple and their child passed by and stopped to listen to a practitioner speaking with others about Falun Gong. Mr. He was surprised to learn that practitioners came to the event voluntarily from around the world. He talked with the practitioner for more than 30 minutes to find out more about Falun Gong.
Mr. He said: "It has been quite a long time since we have seen so many Falun Gong practitioners. We could always see them in Beijing before [the persecution started]." However, such a gathering is not possible in China today, he noted.
Mr. He pointed at the scene of the candlelight vigil and asked: "Are people sitting here all Falun Gong practitioners? From what you said, I can see that Truthfulness-Compassion-Forbearance is really great." He said that he and his wife have begun reading The Epoch Times and the Minghui website now that they live in the U.S. He was especially concerned about the CCP's autrocious crime of organ harvesting from living Falun Gong practitioners and asked many questions.
Falun Gong Practitioners: We Will Continue Our Efforts to End the Persecution
Mr. Du from New York participated in the candlelight vigil and said: "I come every year. I spoke with government officials in my state about Falun Gong this year, as in previous years. We have never stopped and will continue to do more to raise awareness about the persecution. My friends and people around me are not practitioners, but they have begun spreading the truth. The day when the persecution ends is not far off."
Mr. Xu from Michigan said: "When I held up the candle, I suddenly felt that I was so close to those practitioners who have died as a result of the persecution. We have been together all this time, to end the persecution and to help people learn the truth."