Washington DC: Grand March of Nearly 5,000 Practitioners Marks 13 Years of Efforts to Raise Awareness of the Persecution in China (Photos)
July 15, 2012 | By Xiao Yan and Zhang Yun in Washington DC
(Minghui.org) Nearly 5,000 Falun Gong practitioners from around the world, including Europe, the Americas, Asia, and Australia, comprising different ethnicities and races, gathered at noon on July 13, 2012 for a rally and march in Washington DC. They wanted to let people know the wonderfulness of Falun Dafa and at the same time protest the Chinese Communist Party's (CCP) 13 years of inhuman persecution of the practice. They also called upon the American government, the governments of other countries, and people from all walks of life to express their support to stop the persecuiton of Falun Gong.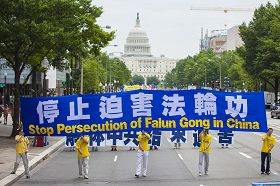 Practitioners carry banners reading "Stop Persecution of Falun Gong in China" in both Chinese and English and other messages in a parade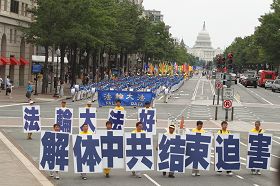 Practitioners carrying huge placards reading "Disintegrate the CCP, End the Persecution" and "Falun Dafa Is Good"
Divine Land Marching Band marches through downtown DC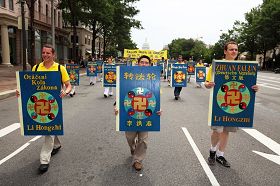 Practitioners carrying large models of Zhuan Falun in different languages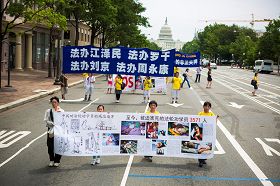 Banner depicting torture methods used by the CCP against practitioners with pictures of practitioners who have died as a result of torture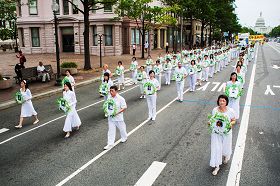 Practitioners dressed in white, carrying flower-wreathed photos of practitioners who have died as a result of the persecution in China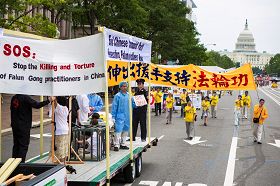 A float with reenactments of torture and organ harvesting from living Falun Gong practitioners – aspects of the cruel persecution taking place in China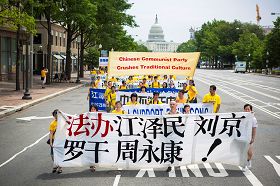 Bring Jiang Zemin, Liu Jing, Luo Gan and Zhou Yongkang to justice!
Please extend your help to support Falun Gong
The procession set off from John Marshall Park, traveled down Pennsylvania Avenue and Constitution Avenue, and ended at Constitution Gardens. It took nearly 2 hours to complete the 1.5-mile parade route.
The procession was divided into several themed sections, including, "Falun Dafa Has Spread Far and Wide Around the World," "Injustice in China – Falun Gong Persecuted," and, "Support the 120 Million Chinese People Who Have Resigned from the CCP and Its Affiliates." Colorful banners and placards reading "Falun Dafa Is Good," "The World Needs Truthfulness-Compassion-Forbearance," "Stop the Persecution of Falun Gong" and other messages formed a magnificent scene along Pennsylvania Avenue.
Tears of Sadness for the Persecuted Falun Gong Practitioners
Mr. Zheng, a chef for a restaurant in New York, has been in the U.S. for 11 years. He traveled to DC today to relax and have some fun, and saw the grand march as soon as he arrived. Zheng said that he often saw information about Falun Gong on the Internet, and also knew that Falun Gong has been severely persecuted in China. He said, "The CCP is too cruel. Thirteen years... it is time to stop the persecution. Such a good group of people, who have done nothing but meditation and exercises. Why treats them so cruelly?" Mr. Zheng wept, and stopped speaking here.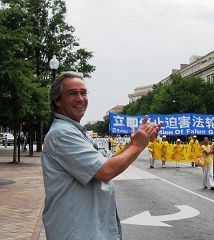 Robert applauds to express his support as the procession passes by
Robert, who watched the parade, cried upon seeing the practitioners dressed in white carrying flower-wreathed placards with photos of individual Falun Gong practitioners who died from persecution in China. He sobbed and said, "I'm sad! Really sad! There's no reason to subject people to such persecution." Robert added that he understood from the march that Falun Gong is a peaceful practice, and a group of compassionate people, but they are persecuted in China. "They have not done any harm to anybody, they only want freedom. They should have human rights. I give my best wishes to them!" said Robert.
The Persecution Is Ongoing
At the starting point of the march, the reporter saw a young lady who looked worried. She told the reporter that five members of her family were arrested for practicing Falun Gong only 10 days ago by the CCP. The young woman recounted, "On the evening of July 1, 2012, officers from the Xining Police Department in Liaoyuan City, Jilin Province broke into my home and took my parents Liu Jingli and Zhang Jinghua into custody. They took away cash, our computer, TV set and many other personal belongings. The same evening, officers from the Nankang Police Department in Liaoyuan City also took my uncle Liu Jingjun and his wife Ms. Kang Limin into custody on July 3. They took away more than 10,000 yuan from my uncle's home, and most of their personal belongings. My cousin Liu Xinyu is only 17 years old. He was also arrested by officers from the Dongji Police Department on July 2. The five of them are currently held in the Xiangyang Detention Center. My relatives went to demand their release, but the officials threatened that they would repatriate me to China."
The young lady is Liu Junchen. She began practicing Falun Gong in 1997. When she was 7 years old, she was hospitalized with a terminal illness—thrombocytopenic purpura, a condition of having an abnormally low platelet count. The doctors told her mother that there was no hope for Junchen.
Junchen was discharged from hospital and stayed with her grandma who was a Falun Gong practitioner. Junchen felt very comfortable at her grandma's home and soon she regained her health and started practicing Falun Gong with her grandma. Her mother witnessed the miraculous effects of Dafa and joined in the cultivation practice with Junchen's father. Junchen's uncle suffered from bone tuberculosis. His lower back bowed 90 degrees, and the side effect of the medications he took caused him to become almost completely deaf. He lost the ability to work. Junchen's mother introduced him to Falun Dafa. Junchen's uncle soon recovered his health. His hearing returned to normal, and his entire family of three practiced Falun Gong together.
"Dafa gave us a happy life, but the CCP started the persecution. My family's telephone was often tapped, my mother was followed many times, and my teacher threatened to report me to the police because I gave my classmates CDs about Falun Gong. Under those kinds of circumstances, I was unable to study and work. I came to the U.S. last September," said Junchen.
"Keeping Silent in the Face of Evil Is Equivalent to Committing a Crime"
Mr. Lu Dong, spokesperson for the Christian Demoratic Party, along with 41 members of the organization, made a special trip from New York to take part in the Falun Gong activities in DC. They have participated in the event for six consecutive years. Mr. Lu said, "It's not justified to persecute Falun Gong, because people are free to believe what they want to believe."
Mr. Lu shared his understanding of why the CCP persecutes Falun Gong. Mr. Lu believes that Falun Gong's principles of Truthfulness, Compassion and Forbearance reflect the universal values of humankind. The CCP can't tolerate them, because the CCP follows evil principles, fighting with heaven, earth and people.
"As an ordinary citizen, you should have a conscience. When you see a robber killing people on the street, and you keep silent, are you a good person? Remaining silent in the face of evil is equivalent to commiting a crime," said Mr. Lu.
Coming to DC 13 Times in the Past 13 Years to Voice One Concern – Stop the Persecution
Ms. Zhi Jing from Canada said, " It has been 13 years since I first came to DC to participate in this event, on July 22, 1999. I've come here 13 times to voice one concern: 'Stop the persecution.'"
"As a Falun Gong practitioner who has benefited from Dafa, I know Falun Gong is a good practice that can benefit individuals, families and society. I was shocked when I heard that a persecution had begun in China. I had no idea what to do at the time, but just felt that I should make our voice heard – calling for an end to the persecution," said Zhi Jing.
Stop the Persecution Immediately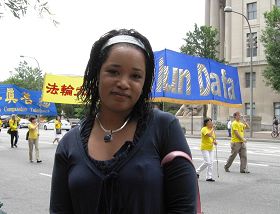 Gwen
Parade spectator Gwen told the reporter as she held a small paper lotus flower, "I work nearby. I'm glad to see this parade every year. It's very peaceful and spectacular."
She continued, "Unfortunately, Falun Gong is such a good group but it is persecuted so cruelly in China. I admire their efforts to raise people's awareness about the persecution in a variety of ways. I believe they will definitely succeed! I appeal here: The CCP must stop the persecution immediately!"
Tourists Judy (R) and Claudia (L) from New York have a photo taken with a Falun Gong practitioner
Judy and Claudia were visiting Washington from New York. Judy said, "I know there are many Falun Gong practitioners in New York. I didn't expect to see so many of them here. I feel that such a grand parade should go to the Chinese Consulate, because the CCP severely persecutes Falun Gong. What is wrong with doing meditation and exercises?! Everyone should stop the acts of human rights abuses."
Claudia said, "I have learned some about the persecution of Falun Gong in newspapers and the news. I'm really touched to see such a maganificant scene today. I support them. The persecution must stop now! Falun Gong will definitely win!"
"Our Family Is Lucky"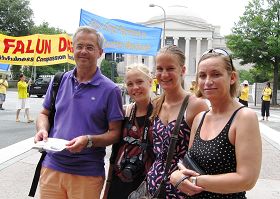 Ragnhild (L) and his family
Ragnhild's family of four, from Norway, were visiting the Capital city together. It was the first time for them to see the Falun Gong parade. Ragnhild said, "A very peaceful parade, the first time we see it. Our family is very lucky to get such a good message in Washington DC. We will learn more about it online when we get back."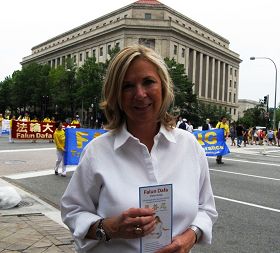 Washington DC resident Sheila
Another spectator, Washington DC resident Sheila, said, "This is a very beauitful parade. The music is inspiring, and the exercise demonstration is peaceful, but it is inconceivable that it is persecuted in China. I will learn more online. I appreciate getting this message today."