Sydney, Australia: "Great Wall of Truth" Calls for the End of the Persecution (Photos)
(Minghui.org) Falun Gong practitioners and supporters in Sydney held a "Great Wall of Truth" activity on Victoria Avenue in Chatwood on July 7, 2012, to spread awareness about the brutal persecution of Falun Gong in China. Many local citizens and tourists spoke with the practitioners and signed their petition, expressing their support for Falun Gong. Many Chinese people also stopped by. They took pictures with practitioners and accepted informational materials.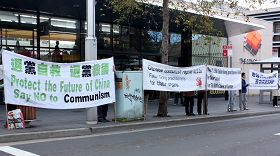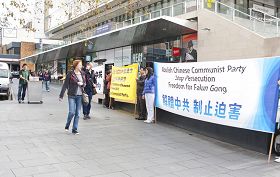 "Great Wall of Truth"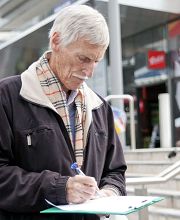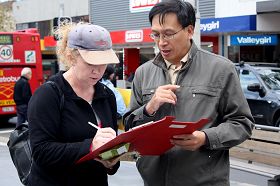 People sign the petition
A former professor from Shanghai Jiaotong University told practitioners that many Chinese people confuse the concept of China with the concept of the Chinese Communist Party (CCP). He said that he has recognized the CCP as the regime responsible for ruining the traditional culture of China. He and his family were tortured by the CCP during the Cultural Revolution.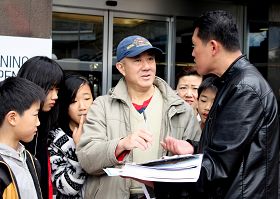 Chinese people speak with a practitioner
Deming is an Australian Chinese who grew up in China. He said, "People all over the world are looking for the universal values of peace, democracy, freedom and human rights. But the CCP violates human rights. I heard about the persecution of Falun Gong. It is ridiculous. Chinese people have the traditions of respecting Buddha and heaven, but the CCP has ruined these traditions and persecutes people who have spiritual beliefs. The CCP's story will not have a good ending."
Mr. Ding is from Hong Kong. He said he escaped to Australia when the CCP started governing Hong Kong. "I came to Australia for freedom. I tried to avoid the communists." Mr. Ding has been to many places in the world, and he said that he has seen Falun Gong practitioners' activities everywhere. "Heaven condemns the CCP for persecuting Falun Gong. I support the trend of quitting the Party," he said.