562 Signatures Urge Release of Honest Businessman Mr. Zheng Xiangxing
June 09, 2012 | By a Minghui correspondent from Hebei Province, China
(Minghui.org) Tanghai County Court of Hebei Province held a court hearing on Falun Gong practitioner Mr. Zheng Xiangxing's case at 2:40 p.m. on May 29, 2012. The defense attorneys submitted a letter signed and fingerprinted by 562 people, calling for Mr. Zheng's release. Hundreds of people went to the two and a half hour hearing, including many non-practitioners.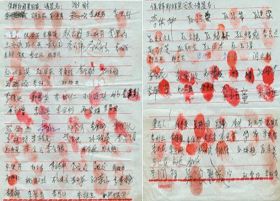 People jointly sign a letter calling for the release of Mr. Zheng Xiangxing
Mr. Zheng Xiangxing is the owner of a consumer electronics store in Tanghai County. Mr. Zheng and his wife are well-known for being trustworthy business owners. They never sell any counterfeit or inferior goods. They help customers install and tune TV sets until their customers are completely satisfied. Everyone knows Mr. Zheng's store is the best place to buy electric bikes, refrigerators, other household electronics, because he and his wife conduct themselves according to Truthfulness, Compassion and Forbearance. You can rest assured when you purchase from their store.
The local police maintained a tight guard against the people who tried to go to the court hearing. They set up a security line and warned people not to enter the court. Officials from nearby state farms also monitored their employees and the employees' families. Police from the 8th State Farm were mobilized to disperse Falun Gong practitioners from the court house, but the practitioners refused to leave.
The court police obstructed, threatened and deliberately made things difficult for Mr. Zheng's two defense attorneys for more than ten minutes.
Mr. Zheng's attorneys listed the facts, cited the law, and convincingly argued that Falun Gong taught people to be good citizens, and that Mr. Zheng hadn't violated any law by practicing Falun Gong or distributing Falun Gong materials.
Attorneys also presented the testimonies of Mr. Zheng's friends. They testified how practicing Falun Gong changed Zheng Xiangxing from a thug to a great person who put others before himself. The attorneys also submitted three letters from the people in the 10th and 11th State Farm with 562 signatures and fingerprints calling for the release of Mr. Zheng Xiangxing.
An unidentified man sat in the gallery during the court hearing. He directed the judge throughout the proceeding with his hands. The judge's eyes always turned to this man. During the attorney's statement, this man interfered by kicking the table or making other noises. It was said the man was from the 610 Office in Tangshan.
When Mr. Zheng was taken out of the courtroom after the hearing, many Falun Gong practitioners waiting outside shouted, "Falun Dafa is great!"