Quebec, Canada: Divine Land Marching Band Participates in Saint-Jean-Baptiste Parade (Photos)
June 29, 2012 | By Xiao Yan
(Minghui.org) The annual traditional Saint-Jean-Baptiste Day (Quebec National Day) celebration fell on June 24, 2012 in Quebec, Canada. Salaberry-de-Valleyfield, located at the junction of Quebec and Ontario, celebrated the festival with a grand parade held that same evening. Falun Dafa Divine Land Marching Band was once again invited to participate.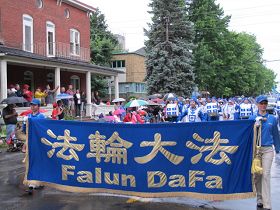 Divine Land Marching Band participates in Quebec's 2012 Saint-Jean-Baptiste parade held in Salaberry-de-Valleyfield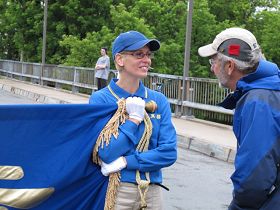 A spectator asks about Falun Dafa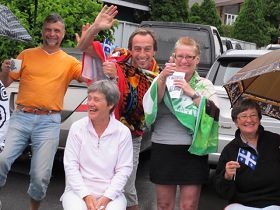 Local people praise the Divine Land Marching Band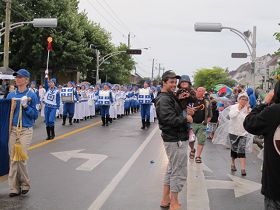 Spectators pose for a photo with the Divine Land Marching Band on the background
The parade began at 6:00 p.m. On both sides of 4-km parade route were tens of thousands of spectators. The Divine Land Marching Band performed the music "Falun Dafa Is Good," "Delivery of Gifts," "The Fa Rectifies Heaven and Earth," "Falun Holy King," and other pieces. As the band passed by, spectators couldn't help dancing to the drumbeat. From time to time, some spectators walked up to ask "Where are you from?" "What is Falun Dafa?"
The Divine Land Marching Band composed of Falun Dafa practitioners from Montreal, Ottawa and Quebec dressed traditional Chinese uniforms, marched with orderly steps and performed majestic music, adding to the liveliness of the celebration.
Divine Land Marching Band Makes a Favorable Impression on Spectators
Parade spectator Daciere said, "I found today's band (Divine Land Marching Band) is the best of all. It's the first time I saw such a wonderful band, which brings us different culture and music from another country."
Another spectator, Diane, said, "The music the band performs is beautiful, very special. It gives me a different feeling."
Ms. Louise Ouimet was delighted and said, "I'm very pleased to see a band composed by Chinese people. They performed very well. I loved it."
Genevieve watched the parade from in front of her home and said, "Their performance was terrific, very interesting. I'm looking forward to seeing them next year."
Ghislaine is a person in charge of another parade entry next to the Divine Land Marching Band. She was impressed by the lineup of the band, and wanted to know more about the band. After she learned that there are Divine Land Marching Bands in many countries, she was amazed and said, "It's a world-class band!" She commended the band, saying, "What a beautiful and touching music!"
Falun Dafa in Salaberry-de-Valleyfield
On reaching the end point of the parade, local practitioner Gisele Ricest excitedly said, "I began practicing Falun Gong six months ago. There was only Falun Gong practitioner here last year, but now we have 15 new practitioners." She also said, "The largest local French newspaper Le Soleil published an article yesterday which featured special coverage of Falun Gong."