Denmark: Falun Gong Practitioner's Peaceful Effort to Raise Awareness about the Persecution Moves People (Photos)
June 24, 2012 | By Lin Tongdan in Denmark
(Minghui.org) During Chinese President Hu Jintao's state visit to Denmark on June 14 -16, 2012, the Danish government and citizens again paid much attention to issues related to China. Despite the excitement of people in the political and commercial fields, as China brought huge orders for goods, the majority of Danes still voiced criticism and condemnation with regards to the severe human rights abuses taking place in China.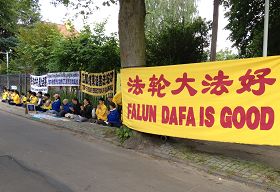 Falun Gong practitioners stage an appeal in front of the Chinese Embassy, calling on Hu Jintao to take this historical opportunity to stop the persecution of Falun Gong and to bring Jiang Zemin and his group to justice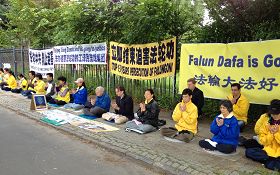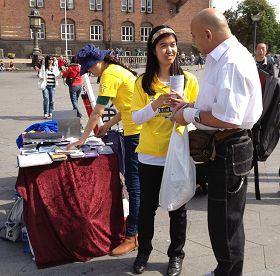 People learn about Falun Gong and the persecution in China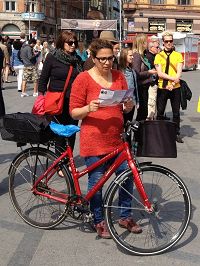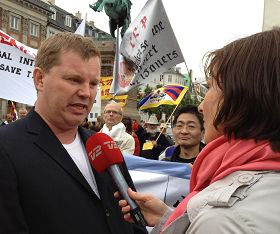 Falun Gong spokesperson Benny Brix interviewed by Danish TV station TV2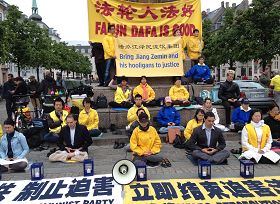 Falun Gong practitioners meditate peacefully during Hu Jintao's state visit
Falun Gong, which has been persecuted for 13 years by the Chinese Communist Party (CCP), once again became a major focus of the media. TV stations, newspapers, and radio stations contacted the local Falun Gong spokesperson for interviews and reported on practitioners in Denmark who have suffered personally under the CCP's persecution. These interviews provided deep insight into Falun Gong.
On June 15, Falun Gong practitioners staged peaceful vigils from dawn until nightfall in front of the Chinese Embassy, the Central Town Hall square and Christiansborg Palace, the seat of Parliament, where the Danish Queen held a state banquet for Hu Jintao in the evening. The practitioners called upon Hu Jintao to take the historical opportunity to stop the persecution of Falun Gong and to bring Jiang Zemin and his gang to justice. They also called on the Danish government to bear in mind that the foundation underlying Denmark was built upon human rights, freedom and democracy despite, outside of any financial interests. They demonstrated the Falun Gong exercises and exposed the facts of the CCP's brutal persecution of the practice.
At 8 o'clock in the evening, Danish officials dined with Hu Jintao at Christiansborg Palace. For several days Falun gong practitioners had clarified the truth and communicated with the Danish policemen about their upcoming peaceful protest. The policemen were fully aware of Falun Gong practitioners having always been peaceful over the past 13 years of persecution. During the conversations, one of the policeman confessed frankly to practitioners about his disagreement with the Danish officials' unfairness in positioning Falun Gong practitioners at Højbro Square, which is 1.5 kilometres away from the main entrance to Christiansborg Palace. There were also other Danish groups as well who wished to voice their opinions regarding China issues. With this arrangement, Hu Jintao and his party would have had no chance at all to see these groups. Furthermore, swayed by the massive financial incentives and interests, before Hu Jintao's motorcade arrived, Danish officials sent out four police cars to stop in front of those groups who voiced different opinions, and forbade the broadcast of any music. This made certain that Hu and his party heard and saw nothing of the people trying to make their voices heard.
Such irrational actions went beyond the Danish people's bottom line. Having been treated unfairly, the other groups of protesters stood in front of police cars and shouted out protest slogans against the CCP, their voices rising one after another. Among this noisy commotion, only Falun Gong practitioners sat at their original spot and stayed in meditation, unmoved by the external commotion. A reporter from Denmark TV station TV2 interviewed Falun Gong spokesperson Benny Brix at the scene. Mr. Brix pointed to the peacefully meditating Falun Gong practitioners and said, "This type of peacefulness comes from the depths from within; no matter what problem and difficulty we face, this will allow matters to be well resolved." The TV2 reporter's heart was moved. She said wholeheartedly with great respect, "You are the future of humankind."
At last, under a heavy police escort, Hu Jintao's motorcade drove into the Parliament building. The protesters' chants and slogans started to die down. At that moment, people turned around and looked back at the Falun Gong practitioners, still quietly meditating. People were moved by such a strong contrast, shaken by their peacefulness. Many people raised their cameras and camcorders to capture this moving scene.