San Francisco: Falun Gong Practitioners Expose CCP Hate Crimes (Photos)
(Minghui.org) Falun Gong practitioners in San Francisco held a demonstration and press conference on the steps of City Hall on June 14, 2012 to expose the ongoing hate crimes committed by the Chinese Communist Party (CCP). Practitioners called upon the city government to bring the criminals to justice and protect Falun Gong practitioners' rights.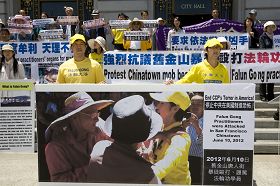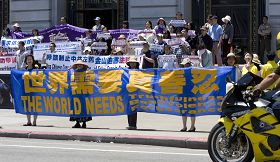 Falun Gong practitioners in San Francisco call attention to the CCP's hate crimes at a press conference on the steps of San Francisco's City Hall on June 14, 2012 (photos courtesy of the Epoch Times)
Dr. Zhang Xuerong, Falun Gong spokesperson, pointed out, "Confrontations like this have happened five times in the past seven months. On two previous occasions we had female practitioners struck. We have had materials torn out of our hands and stolen or ripped up. And we have regularly encountered the foul words and the cursing.
"But it is not just these past seven months. The practitioners of Falun Gong in San Francisco have patiently endured treatment like this for 13 years," Dr. Zhang said.
"These are hate crimes. The only reason for them is because people influenced by the Chinese Consulate want to attack Falun Gong. We went to the City Hall on Thursday asking that these crimes be stopped," said Dr. Zhang.
A recent occurrence of violence against Falun Gong practitioners prompted the June 14 demonstration. On Sunday, June 10, at the corner of Grant and Washington streets in Chinatown, a group of four or five practitioners gathered to give out fliers and hold up a placard that tells about Falun Gong and how the practice is persecuted in China. According to practitioners present at the scene, the following scenario played out.
At this same street corner, a Chinese man wearing a red t-shirt stood on a stool behind the practitioners. Standing above the practitioners on his stool, he loudly cursed Falun Gong and shouted out slogans that support the Chinese regime.
An older Chinese man wearing a hat then approached the Falun Gong practitioners. He also cursed Falun Gong and then took a swing at one of them, a young man named Derek Wang, connecting with his jaw. He then struck Wang's face a second time.
The man in the red shirt then got down off his stool and urged the older man to leave before the police arrived, as practitioners had photographed the man striking Wang and called 911 asking for assistance.
The older man started to leave but practitioners blocked his way. The man in the red t-shirt then punched one of the female practitioners, Ms. Wang, in the face. Ms. Wang is not related to Derek Wang.
Before the police arrived, a Chinese woman in the crowd that had formed urged the old man to lie down and pretend he was the one who had been struck. He lay down and closed his eyes, and when the paramedics arrived, they loaded him into an ambulance and took him away.
Police reports have been filed against both the older man in the hat and the man in the red t-shirt. At the trauma center of the San Francisco General Hospital, Derek Wang and Ms. Wang were both diagnosed as having contusions on their faces.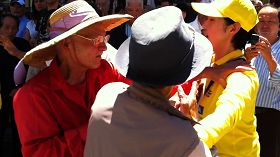 Photographs taken by Falun Gong practitioners of a Chinese man attacking practitioners in San Francisco's Chinatown (photos courtesy of the Epoch Times)
Ms. Wang, one of the victims, said, "The violent attacks to Falun Gong practitioners have happened before in Chinatown. I wonder, why do some Chinese people hate Falun Gong? When I talked to them, I found that many of them don't even know what Falun Gong is. They have no idea why the CCP launched the persecution of Falun Gong."
Ms. Wang's sister was murdered while in custody in China, and when Ms. Wang inspected the corpse, she found that her sister's arms had been bound tightly with bloody tape, her left arm was swollen like a loaf of bread, and her lower body was completely naked. Rape and sexual assault are a widespread form of torture used against female Falun Gong practitioners in China.
Ms. Wang's brother has been detained for more than 10 years because of his practice of Falun Gong and has suffered severe torture.
Ms. Wang said, "I have talked to many American people. Once they learned the facts of the persecution and the truth of Falun Gong, they support us and expressed sympathy for my loss. All of them condemned the human right violation. To me, American people's attitude toward Falun Gong is so different than some Chinese people in Chinatown. This makes me realize that the CCP has extended their hatred [campaign] to the U.S.A., and has been trying to brainwash the Chinese people here."
According to Ms. Wang, the Chinese man in the red shirt, who attacked her, has for many years often stood at the intersection of Washington St. and Grant St. cursing and insulting Falun Gong practitioners and other groups who are against the CCP. "A lot of Chinese people in Chinatown know about him," Ms. Wang said.
Derek Wang recounted how he started practicing Falun Gong in 1997 when he was only 10 years old. After the persecution started in July 1999, his mother was detained for practicing Falun Gong, tortured to the brink of death, and then released. Derek continues to worry for her safety back in China.
"Those men who attacked us on Sunday, they don't want the people of Chinatown to hear what Ms. Wang and Derek have to say," Dr. Zhang said. "They interfered in order to keep people from hearing what is going on in China."
Zhang said the incident in Chinatown this past Sunday is part of a pattern of incidents aimed at silencing Falun Gong practitioners. She believes the Chinese Consulate in San Francisco is behind the attacks and the abuse and pointed to similar incidents in other U.S. Cities.
One of the incidents Zhang mentioned involved attacks on Falun Gong practitioners in Chinatown in Flushing, New York, that began in May 2008 and lasted for months. In that case, Chinese Consul General Peng Keyu was caught in a taped phone call bragging that he had personally encouraged the attacks.
Immediately following the press conference, Falun Gong practitioners, including Derek Wang and Ms. Wang paid visits to the offices of Mayor Lee, City Supervisor Chiu, and the district attorney. They presented several requests to the officials: to bring to justice those accused of violence in the recent incident; to learn more about Falun Gong; and to strongly condemn the persecution of Falun Gong in China and to admonish the Chinese Consulate for its interference with Falun Gong activities in San Francisco.
Additional source: http://www.theepochtimes.com/n2/united-states/falun-gong-practitioners-in-san-francisco-call-for-end-to-hate-crimes-252464.html