Ms. Xie Xiugai from Anping County, Hebei Province, Subjected to Cruel Torture
May 09, 2012 | By a Minghui correspondent from Hebei Province, China
Name: Xie Xiugai (谢秀改)
Gender: Female
Age: Approximately 50
Address: Anping County, Hebei Province
Date of Most Recent Arrest: October 2002
Most Recent Place of Detention: Luquan Women's Prison (鹿泉女子监狱)
City: Luquan
Province: Hebei
Persecution Suffered: Electric shock, sleep deprivation, forced labor, brainwashing, illegal sentencing, forced injections/drug administration, beatings, hung up, imprisonment, solitary confinement, torture, violent interrogation, detention
(Minghui.org) Ms. Xie Xiugai, who is over 50 years old, is a Falun Dafa practitioner from Anping County, Hebei Province. She has followed the principles of Truthfulness-Compassion-Forbearance since she started practicing Falun Dafa in 1996. As a person who's benefited both physically and spiritually, she deeply understands the significance of Falun Dafa's acceptance throughout the world. Since July 1999, when the Jiang Zemin regime of the Chinese Communist Party (CCP) regime started brutally persecuting against Falun Dafa practitioners, Ms. Xie has been arrested five times and sentenced to nine years in prison. During this period, she suffered brutal torture both physically and spiritually. She was released and returned home in the fall of 2011.
At approximately 8:00 p.m. on February 23, 2012, government officials from Liangwa Township and officers from Liangwa Township Police Station—over 10 people in all—broke into Ms. Xie's home. They ransacked it and tore down her calligraphy painting that read "The Buddha-light illuminates everywhere and rectifies all abnormalities." Ms. Xie advised them not to commit sins against the Buddha Fa, but was shoved aside. The officials confiscated some Dafa materials and cash. Since mid-February, the Hebei Hengshui 610 Office has directed officials from townships, towns, villages, and workplaces in Anping County to harass Falun Gong practitioners in all kinds of ways. Many practitioners were arrested.
Ms. Xie was subjected to torture during the past 12 years. The following is a partial record of what she has endured.
In order to validate Dafa and help people to understand the facts about Falun Gong, Ms. Xie appealed to the government and clarified the truth to officials. From 1999 to 2002, she was arrested four times and held for over four months at the Anping Detention Center and Raoyang Detention Center. Hou Dajian, Wu Zhenxiang, and Zhao Bingqiang from Anping County Domestic Security Division, and police officers from Anping County Detention Center extorted 15,000 yuan (approximately $2,380 USD) from her family. In October 2012, Ms. Xie was arrested for the fifth time because she explained the facts about Falun Dafa and exposed the CCP's staged self-immolation incident in Tiananmen Square. She was arrested by Yan Youzeng, the Xushui Criminal Police Department commander. They ransacked her home and confiscated her motorcycle, car, about 10,000 yuan in cash, kitchenware, clothes, and other personal property.
Beaten by Over 20 Police Officers
Yan Yongzeng, Sun, and other officers interrogated Ms. Xie using torture. When he first saw her, Yan Yongzeng made three statements. First: "Listen, Jiang Zemin gave an order that stated that it's not a crime to beat a Falun Gong practitioner to death, and to just treat it as a suicide." Second: "My last name is Yan, which is the same word as the King in Hell (pronounced Yan Wang). So today, meeting me is equivalent to meeting the King in Hell." Third: "In order to find you, I haven't been home for a month." He then started to brutally beat and curse her. He struck her face until he was fatigued. He grabbed her hair and thrust her head against a wall.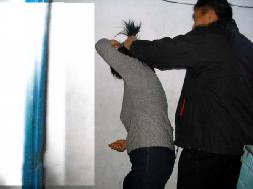 Torture re-enactment: Grabbing hair and ramming the head against a wall
Later, Yan Yongzeng handcuffed Ms. Xie to a tiger bench and tried forcing her to reveal the names of her fellow practitioners. Over 20 officers took turns beating her with a wooden stick. They struck her lower legs, kneecaps, ankles, and feet. Over an hour later, the officers cursed her and said, "We are too tired to beat you anymore. If you don't tell us who your associates are, we'll bury you alive."
Electric Shock and Burned with Cigarettes

Once the officers realized that Ms. Xie wouldn't talk, they forced her hands to her feet, and then tortured her with electric shocks. Her pain was beyond description. Her heart beat wildly, and she told us later that her agony was indescribable.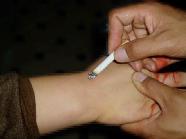 Torture reenactment: Burned with cigarettes
They burned Ms. Xie's fingernails and skin with cigarettes. First, they sucked the cigarette to make it glowing hot, then burned her fingernails. If her fingernail didn't turn completely black, they repeated the process until it was completely scorched. Her body was covered with scars from the cigarette burns.
As a result of this torture, Ms. Xie became blind and deaf, and her head was swollen. Police officers failed to retrieve any information about other practitioners from her. They then took her to the Xushui Detention Center.
Handcuffed and Hung Up
One day, Ms. Xie and other practitioners were subjected to violent beatings because they did the Falun Gong exercises together. Two practitioners were tied to each other with dog chains. This kind of torture forces the person to stay in a squatting position for seven days. When the dog chains were loosened seven days later, one of the practitioners, Ms. Niu Minjie, was disabled and forced to use a wheelchair, yet was sentenced to eight years in prison. Ms. Xie later went on a hunger strike. On the ninth day, she spat up blood and was taken to the hospital.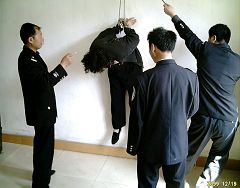 Torture reenactment: Handcuffed and hung up
Ms. Xie was taken from the hospital to Mancheng Detention Center, where she was held for another three months. During her detainment, she was handcuffed and hung up because she practiced the Falun Gong exercises. The other inmates burst into tears when they saw her tortured like that. They saw her wrists bleeding and were very scared. They shouted, "Someone slashed her wrists!!" The guard came, loosened her handcuffs, and let her down.
Due to her blurred vision, the Mancheng Detention Center officers felt that she was a burden. They called Xushui Detention Center several times to request a transfer.
Sentenced to Nine Years in Prison
Not long after Ms. Xie was taken back to Xushui Detention Center, she was sentenced to nine years in prison. Another 15 practitioners were sentenced to prison terms at that time.
In October 2003, Ms. Xie was taken to Baoding Taihang Prison, where the staff attempted to brainwash and "transform" her. She was transferred to Group 2 in Shijiazhuang Women's Prison the following day. Two years later, she was transferred to Ward 9, Luquan Women's Prison. Since she resisted the CCP's brainwashing attempts, refused to be "transformed," and continually disclosed the Jiang Zemin regime's crimes, she was placed in solitary confinement for over 40 days. During that time, she was given only two pieces of leftover steamed bread and a small piece of pickle each day.
Ms. Xie was held in Ward 9 for five years, then transferred to Sub 11, which was actually a psychiatric ward. Practitioners resisting the "transformation" process were detained in Ward 11. Two inmates, Zheng Xiaoyu and another named Li, explained to Ms. Xie, "Just 'transform' immediately. If you don't, the commander told me that she will add drugs to your food. I asked her what kind of drugs, and she said, 'That is an absolute secret. Don't let her know.'"
Given Drugs

The staff added unidentified drugs to Ms. Xie's food. During her year in prison, she frequently felt heavy-headed and suffered memory loss. She became very quiet after losing her memory. Zhang Luhua, head of Ward 11, tortured her severely in order to get a promotion. Psychiatric patients were allowed to sleep after taking medication, but Ms. Xie was subjected to sleep deprivation. Zhang Luhua ordered inmates to take turns monitoring her. Whenever she closed her eyes, they beat her violently and stuck her with bamboo sticks. She was deprived of sleep for over 10 days. Finally, Zhang Luhua threatened Ms. Xie and said, "If you don't 'transform,' we'll take you to Ward 13. You will either die, or at least suffer tremendously."
She was then transferred to Ward 13, where she remained for seven months, until her prison term expired. As soon as she arrived, she disclosed Zhang Luhua's evil acts to the commander and told them that she would further disclose their actions as soon as she was released, if they continued torturing Falun Gong practitioners. From then on, they stopped torturing her.