Montreal: Celebrating the 20th Anniversary of the Introduction of Falun Dafa to the Public (Photos)
(Minghui.org) On May 5, Falun gong practitioners from Montreal, Canada, celebrated the 20th anniversary of the public introduction of Falun Dafa in Chinatown.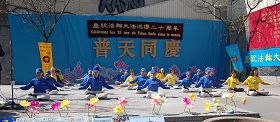 Demonstrating the exercises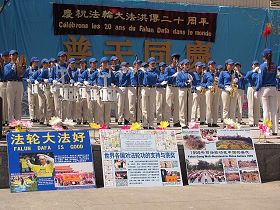 The Divine Land Marching Band perform
During the event, practitioners introduced Falun Gong to the public in French, Vietnamese, English, Spanish, Portuguese and Chinese. They also shared their experiences of practicing Falun Gong.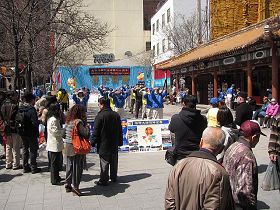 People stop to watch the exercise demonstration.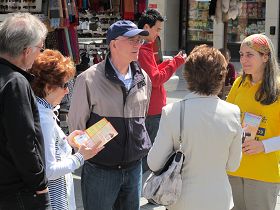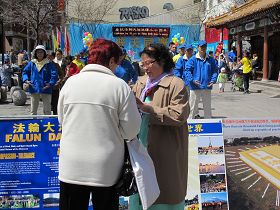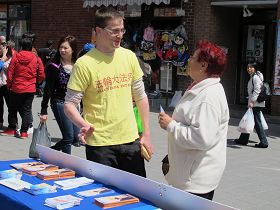 Raising awareness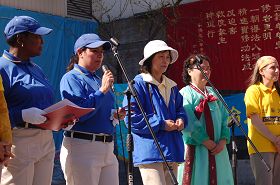 Nathalie shares how she has benefited from practicing Falun Gong.
Many practitioners gave speeches, telling people how they have benefited from practicing Falun Gong both physically and spiritually.
Nathalie, a local citizen, said that she had suffered from pain in her knees since she was a kid. She had her first knee surgery when she was 14. When she was 24, she walked like an 80-year-old. Besides the pain in her knees, she also had severe back pain. Once she visited one of her friends in India. Her friend used to have all kinds of diseases, but when Nathalie saw her, she was healthy. She told Nathalie that practicing Falun Gong healed her diseases. Encouraged by her friend's story, Nathalie started practicing. Six weeks later, she was able to climb the mountain with a 20-lb knapsack on her back. Later, her back pain was completed healed.
Practitioners set up display boards and demonstrated the exercises. The Divine Land Marching Band also performed several songs. Many Chinese people stopped at the event. They talked to practitioners and learned the truth behind the Communist regime's vicious lies.