Ms. Sun Xiuxia Dies after Being Abused in Jilin Province Women's Prison
May 08, 2012 | By a Minghui correspondent from Jilin Province, China
Name: Sun Xiuxia (孙秀霞)
Gender: Female
Age: 51
Address: Erdao District, Changchun City, Jilin Province
Occupation: Unknown
Date of Death: April 30, 2012
Date of Most Recent Arrest: September 29, 2009
Most Recent Place of Detention: Heizhuizi Women's Prison (黑嘴子女子监狱)
City: Changchun
Province: Jilin
Persecution Suffered: Sleep deprivation, illegal sentencing, imprisonment, solitary confinement, home ransacked, interrogation, detention
(Minghui.org) Falun Gong practitioner Ms. Sun Xiuxia died on April 30, 2012, after being abused in Heizuizi Women's Prison (also called Jilin Province Women's Prison). She was carried to the Sino-Japanese Friendship Hospital on a stretcher for "emergency treatment" that same day. Because Ms. Sun refused to give up her belief and resisted the "transformation," she was locked in solitary confinement many times while in the prison.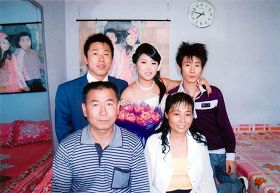 Ms. Sun Xiuxia and her family
Ms. Sun and her husband, Mr. Wang Zhihong, were kind people, and both were very well respected at work and at home. Whenever there was a natural disaster, they donated money and materials to the Jilin Province Red Cross. They worked hard at work and always followed the rules. They strived to abide by the principle of Truthfulness-Compassion-Forbearance. They tried not to violate any laws or hurt anybody, yet they were persecuted for practicing Falun Gong. Ms. Sun had been held in forced labor camps several times previously.
On the evening of September 29, 2009, dozens of Erdao District 610 Office agents and officers from the Erdao District Police Department and the Jinqian Police Station broke into Ms. Sun's home without showing any identification or legal documents. They illegally arrested Ms. Sun and her husband and confiscated personal computers, a television set, and other items. Mr. Wang was held at the Shuangyang Third Detention Center in Changchun, and Ms. Sun was detained at the Tiebei Police Hospital.
Ms. Sun's son and daughter went to the Erdao District Police Department several times to request their parents' release but were turned away without justification. The Erdao District Procuratorate submitted Mr. Wang and Ms. Sun's case files to the Erdao District Court twice, but the cases were rejected because of insufficient evidence. Even though the court found no incriminating evidence, the Jilin Province 610 Office still refused to release Mr. Wang and Ms. Sun. The 610 Office also obstructed lawyers from meeting with Mr. Wang and Ms. Sun.
On September 14, 2010, Ms. Sun's son and two lawyers went to the Erdao District Court and asked to see his parents' case documents. Judge Yan Hongyi refused to let them see the documents, offering the excuse that lawyers are prohibited from working on cases outside of their own province. The next day, the son and the lawyers went to the Shuangyang Third Detention Center in Changchun and asked to see Mr. Wang, but the executive division head told them, "Judge Yan Hongyi from the Erdao District Court called us and told us not to allow you to visit."
The Erdao District Court tried Mr. Wang and Ms. Sun on October 21, 2010, without informing their family or their lawyers. Without any legal evidence, Ms. Sun was sentenced to ten years in prison, and Mr. Wang was sentenced to three years in prison. Ms. Sun was later taken to Heizuizi Prison.
Ms. Sun's son went to the prison on January 5, 2011, to visit his mother, who had been detained for nearly a year and a half without any visits. Ms. Sun told him that several inmates, who were instigated by the guards, did not let her sleep for 24 hours at a time and kept her standing at attention and facing a wall. Ms. Sun's feet had started to swell, as did the rest of her body. Ms. Sun's son appealed to the Prison Political Division and the Procuratorate, but he did not receive any response.
Related reports:
An Open Letter to Expose the Persecution of My Parents by Law Enforcement Authorities (http://en.minghui.org/html/articles/2010/11/15/121434.html )