Practitioners Participate in Hiroshima Flower Festival (Photos)
May 08, 2012 | By a practitioner in Japan
(Minghui.org) On May 3, 2012, the three-day 36th Hiroshima Flower Festival started in Hiroshima Peace Memorial Park and Peace Boulevard in Japan. This was the 11th year the Falun Dafa Association was invited to participate in this event.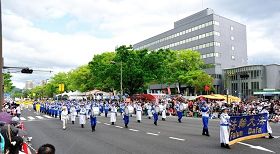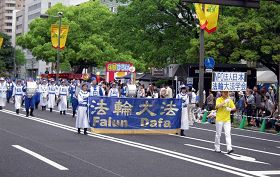 Falun Gong practitioners participate in Hiroshima Flower Festival parade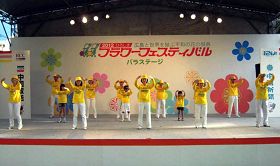 Falun Gong practitioners demonstrate the exercises on stage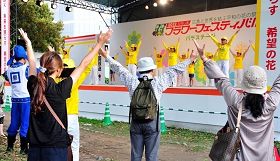 Spectators learn the Falun Gong exercises by imitating the practitioners on stage
This year's theme was "Smiles are flowers of hope that illuminate our future."
Seventy-seven groups participated in the General Flower Parade on Peace Boulevard in the afternoon. Spectators from Japan and other countries crowded along Peace Boulevard in the festive atmosphere. The Falun Dafa procession drew the attention of an appreciative audience. The magnificent Divine Land Marching Band, graceful exercise demonstration group, and engaging lion dance were often photographed or video recorded.
One spectator excitedly waved her hands along with the band performance. When a practitioner asked her, "Do you know Falun Gong?" She replied, "This is the first time I've ever seen this. I think they are great. Unfortunately, my camera has run out of battery. Will you come tomorrow and the day after tomorrow?" She was disappointed to find out that the parade was only held on the first day. But she was pleased to accept a paper-folded lotus flower from a practitioner and said she would treasure it. Many spectators said they knew of Falun Dafa and had seen practitioners in many parades.
At 5 p.m., on the stage next to Peace Boulevard, the Divine Land Marching Band and lion dancers performed and practitioners demonstrated the Falun Gong exercises. Many viewers learned the exercises by imitating the practitioners. Some asked for contact information from local practitioners and planned to attend teaching sessions or wished to view the International Truth-Compassion-Forbearance Art Exhibition in two weeks. A student from China said after seeing the practitioners' performance, "I feel like I am in my hometown."