Practitioner Chen Xin from Dalian Goes on Hunger Strike to Protest Torture
May 31, 2012 | By a Minghui correspondent from Liaoning Province, China
Name: Chen Xin (陈鑫)
Gender: Male
Age: 44
Address: Paoyazi, Ganjingzi, Dalian
Occupation: Financial Cashier
Date of Most the Recent Arrest: April 27, 2002
Most the Recent Place of Detention: Jinzhou Prison (锦州监狱)
City: Jinzhou
Province: Liaoning
Persecution Suffered: Forced labor, brainwashing, illegal sentencing, imprisonment, solitary confinement, torture, detention
(Minghui.org) Falun Gong practitioner Mr. Chen Xin is from Dalian. He was sentenced to thirteen years in prison by the Chinese Communist Party (CCP) court on September 28, 2002, simply because he practiced Falun Gong. He has now been imprisoned for over ten years. As of December 19, 2007 when Mr. Chen was transferred to Liaoning Jinzhou Prison, prison officials have denied all family visitation. During his imprisonment, Cui Yuanqi, director of the First Division, and instructor Liu Hongwei placed Mr. Chen in solitary confinement in an attempt to brainwash him into giving up his belief in Falun Gong. Available information indicated that Mr. Chen has been on a hunger strike for over two months to protest the torture. His health and safety are of concern for his family.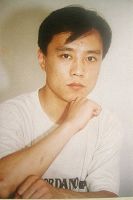 Photo of Chen Xin taken ten years ago
Before he started practicing Falun Gong in September 1996, Mr. Chen suffered from hepatitis B. After he practiced Falun Gong, he fully recovered and all physical examination results showed normal in 1998. Mr. Chen lived according to the standards of Dafa, and gained wisdom from the practice. He developed an amazing memory - he could remember everything after reading it only once. He was the cashier in his work unit. He followed the principles of Truthfulness-Compassion-Forbearance, and was dedicated to his work, which gained him the trust of his supervisors.
On July 20, 1999, the CCP started persecuting Falun Gong. On the evening of July 20, and during the day on July 21, Mr. Chen went to the Dalian government building to appeal for the right to practice Falun Gong. On July 22, he was arrested by two officers and taken to the police station, where he was handcuffed to heating pipes for one day, and not given food or water. His work supervisor came to look for him; however, officers forced his supervisor to terminate Mr. Chen's employment.
In mid-October, 2000, Mr. Chen's son was only five months old, yet Paoya Police Station officers frequently harassed him at his home in attempts to force him to give up his Falun Gong practice. The harassment lasted about four to five months. At around 12:00 a.m. on April 24, 2001, Mr. Chen and his wife were about to bathe their baby, when director Liu of the Paoya Police Station (in his forties), instructor Zhang (in his fifties) and officer Zhou Lianyuan (in his forties) led seven or eight policemen and broke into his home. They threatened him to give up his practice of Falun Gong. Mr. Chen was forced to leave home in order to avoid further persecution.
Mr. Chen Xin was arrested on April 27, 2002. On September 28, 2002, he was sentenced to thirteen years in prison, and then detained at Dalian Wafangdian Prison on April 23, 2003. On December19, 2007, he was transferred to the Liaoning Jinzhou Prison, where he has been detained for nearly nine years.
On Aug 6, 2010, his family traveled to Jinzhou Prison from Dalian to visit him. However, their request was blatantly denied by the prison director. He also ordered prison officers to disperse them. Mr. Chen's family was denied visitation for over two years, beginning on April 17, 2009. The prison officials said, "It is the decision the 610 Office of the Provincial Public Security Bureau." As of March 2011, Falun Gong practitioners have been forced to perform intense labor in Jinzhou Prison; otherwise, they are placed in the strictly monitored division.
Cui Yuanqi, director of the First Division in Jinzhou Prison, actively persecuted practitioners in other divisions, and was subsequently placed in the First Division to torture practitioners. At that time, five practitioners were detained in the First Division. Mr. Chen Xin had been detained for the longest period of time (his total term was thirteen years). Cui started with Mr. Chen and told him to give up his beliefs. Mr. Chen refused, angering Cui Yuanqi, who said, "The Falun Gong in this division are very stubborn." He tortured practitioners ruthlessly, at will.
Liu Hongwei worked as an officer for less than two years. He is very muddle-headed and became a prison thug. He actively followed all orders to torture practitioners. Practitioners clarified the truth about Falun Gong to him, but he didn't listen and said, "I will not listen or believe you. Whoever my supervisor asks me to brainwash, I will follow his orders." Later in 2011, Cui Yuanqi transferred Mr. Chen to the division in which Liu Hongwei worked. Liu never stopped torturing practitioners.
Liu Hongwei didn't allow Mr. Chen to write to his family, and also withheld all letters to him from his family. On February 17, 2012, Mr. Chen's family went to the Prison Administration Department in Jinzhou Nanshan Prison to appeal. His family finally received his letter on February 26, 2012. Liu Hongwei openly deprived the family of their legal rights to visit and communicate with him.
In early March 2012, Mr. Chen went on a hunger strike after being imprisoned for ten years. His hunger strike was in protest of Liu Hongwei's brutal torture and attempts at "transformation," to force him to give up his belief in Falun Gong. Liu used multiple torture methods. Mr. Chen has been on this hunger strike for over two months and is now emaciated. Liu Hongwei said proudly, "This is my job. My job is to 'transform' him!"
Contact information for Cui Yuanqi and Liu Hongwei, those responsible for Mr. Chen's torture:
First Division of Jinzhou Prison: +86-416-3496428
Prison Administration Department in Jinzhou Prison: +86-416-3496242
Jinzhou Prison Office: +86-416-3496358
Liu Hongwei, officer: +86-15541618353 (mobile)
Chen Xin's mailing address:
Mail box 999, The First Division, Jingong, Jinzhou City, Liaoning Province, China,
Zip Code: 121013