Queensland Falun Dafa Practitioners Celebrate World Falun Dafa Day (Photos)
May 19, 2012 | By Chen Xinning from Brisbane Australia
(Minghui.org) On May 13 2012, Falun Dafa practitioners gathered at Brisbane Square in Brisbane to celebrate World Falun Dafa Day with exercise demonstrations and performances.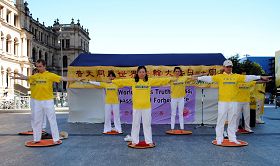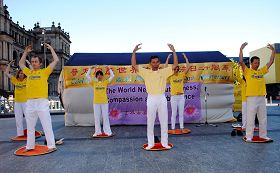 Falun Gong exercise demonstration
Clarifying the truth to residents of Brisbane, Australia
Lion dancers, dragon dancers, singers and waist drum performers attracted many passersby. Besides the performances, the practitioners demonstrated the exercises repeatedly so people could see and feel this profound practice based on the principles of Truthfulness Compassion Forbearance.
Local elected officials wrote greeting letters to Falun Dafa Association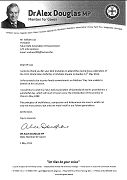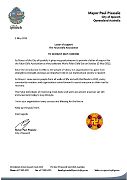 City of Ipswich Mayor Paul Pisasale's letter of support to Falun Dafa Association.
Westerners show their support
While celebrating world Falun Dafa day, the practitioners did not forget the fellow practitioners who are still being persecuted in China.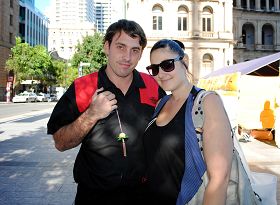 Gregory Hanson and Melissa Topwell expressed their concern about the situation of Falun Gong practitioners in China.
Gregory Hanson and Melissa Topwell originally came from Russia. They signed their names on the petition form and talked to a practitioner. "Our family escaped from Russia when the communists were ruling. We have some understanding of the Communist Party. I don't like people being tortured and suppressed. That is very wrong. I have many friends who had the same experiences (as the Falun Gong practitioners), I am upset that we can do nothing to help them. So if I can be of help, I am very willing to extend my hand."
Greetings to Master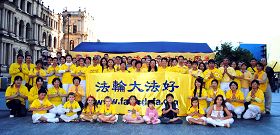 Participating Falun Dafa practitioners greet Master.
Before the event completed, all participants sent greetings to Master Li for a happy birthday and thanked Master for his compassionate salvation.